Biman Bose rejects Mamata Banerjee's slur
'Charges of hiring anomalies during Left rule baseless'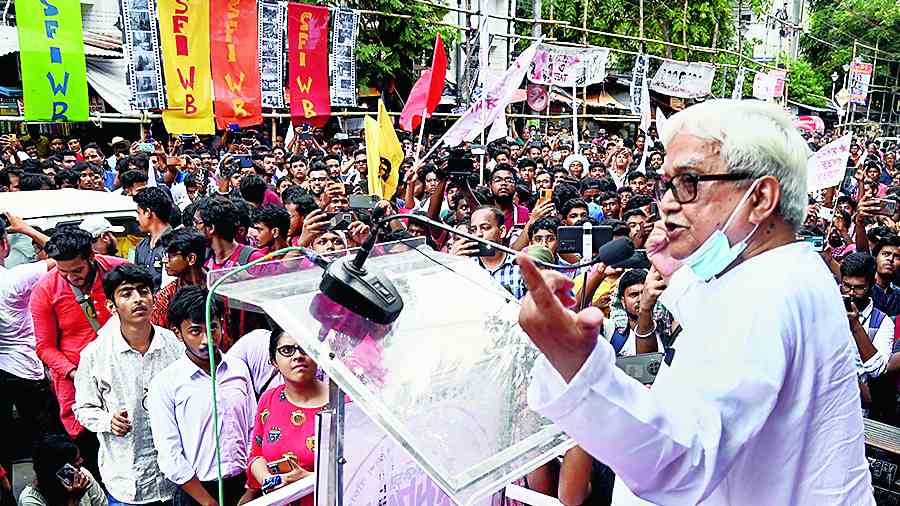 CPM veteran Biman Bose addresses the College Street event in Calcutta on Friday.
PTI
---
Calcutta
|
Published 03.09.22, 12:32 AM
|
---
CPM veteran Biman Bose on Friday termed chief minister Mamata Banerjee's allegation that the erstwhile Left Front government used to make "appointments through chits" as "baseless".
Addressing a large students' rally on College Street, the chairperson of the Left Front committee of the state said: "They have alleged recruitment malpractices prevalent during the Left rule. It is a lie. Yes, government jobs were given on the basis of messages scribbled on packets of cigarettes, but in 1973 during the rule of Siddhartha Shankar Ray (of the Congress)."
Ever since the arrest of Trinamu's former minister Partha Chatterjee in the teachers' recruitment scam, Mamata has been accusing the Left Front government of distributing government jobs on the basis of references of scribbled notes from party leaders during its 34-year regime.
The party's state secretary Md Salim and veterans Bikash Bhattacharya and Sujan Chakraborty have challenged Mamata to provide evidence in support of her claim and set up a probe, but Bose on Friday became the first to attack the Trinamul supremo on the issue from a public rally.
On corruption in Trinamul, Bose, who was the founder secretary of the SFI, said: "It won't be right to call everyone in Trinamul a thief. It is better to call Trinamul leaders thieves."
A source in the party said Bose didn't want to antagonise grassroots Trinamul workers.
"As a veteran in Bengal's politics he understands the importance of reaching out to Trinamul's support base. We are seeing large turnouts in our rallies... It is possible that many Trinamul workers are upset with the party and may switch. Hence, Bimanda has rightly said that everyone in Trinamul should not be tarred with the same brush," the source added.
The SFI on Friday held a massive rally to mark the culmination of the march of its eastern and north-eastern wings against the Centre's New Education Policy and recruitment scam in Bengal. According to SFI leaders, around 10,000 activists took part in the event that saw four rallies reaching College Street from Howrah, Sealdah, Hooghly and Shyambazar. Several SFI leaders from Tripura, Assam and Odisha also took part.
"The Centre's education policy is a brainchild of the RSS and we reject it outright," said SFI state secretary Srijan Bhattacharya. "We have given an alternative education policy today where we speak of inclusion. Education must be ensured for the marginalised, there must be more reservation for women and the downtrodden."
"A special package must be announced for students who had to quit school because of the Covid-19 induced lockdown," Bhattacharya said.
He added that after the festive season, the SFI will embark on a movement demanding students union polls in colleges and universities of the state.