Trinamul might be in for bypoll surprise, says Hardeep Singh Puri
The Union minister alleged that TMC had won its third consecutive victory in Bengal on the basis of a 'vitiated' narrative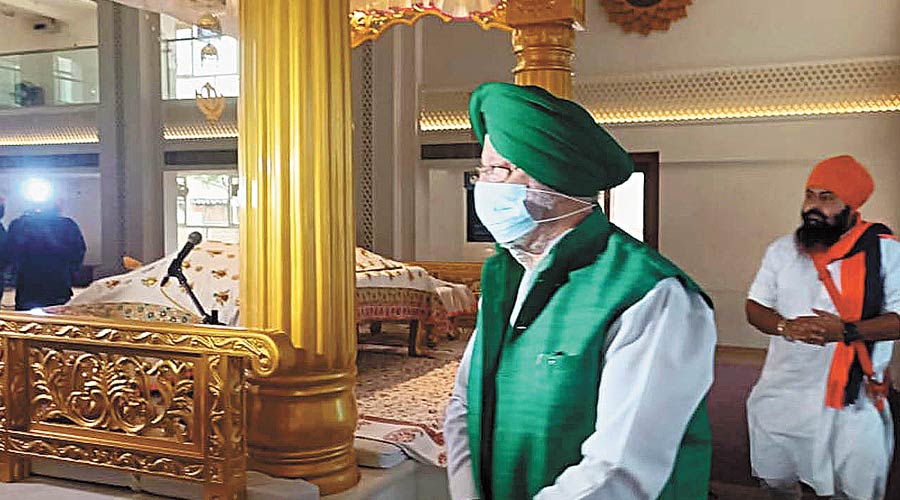 Union minister Hardeep Singh Puri at the Gurdwara Sant Kutiya in Calcutta on Wednesday.
Telegraph Picture
---
Calcutta
|
Published 23.09.21, 02:12 AM
|
---
Union minister Hardeep Singh Puri on Wednesday campaigned for the BJP candidate for the Bhowanipore bypoll with "a great deal of confidence and hope" after paying a visit to a gurdwara as "a proud Sikh".
Puri, the central minister for petroleum and natural gas, and housing and urban affairs, said if voting took place the way it should, the Trinamul Congress might even be in for a surprise in the constituency where chief minister Mamata Banerjee is its candidate.
"I can tell you, looking at the composition of the electorate, looking at the qualities of our candidate, I certainly approach this with a great deal of confidence and hope. Bhowanipore is a constituency with people from all over the country…. It reflects Bengal's syncretic culture. They are mature voters. I hope they see through this (various alleged dualities in Trinamul's stand on national issues)," Puri told this newspaper.
"If the voting takes place in the manner in which it should, don't be surprised if the result is not according to the 'popular expectation', and it is more a reflection of the will of the people. Trinamul may be in for a surprise," the Union minister said regarding the constituency never lost by Trinamul since a delimitation resurrected it in 2011.
The BJP lost the seat by a margin of 22.55 per cent of the vote share in the Assembly polls this year.
The BJP has fielded Priyanka Tibrewal in the bypoll.
Puri alleged that Trinamul had won its third consecutive victory in Bengal on the basis of a "vitiated" narrative.
"Let's be serious, anybody pitted against Mamata Banerjee, with so many years in power, and other things.… We all know what we're talking about here. These things happen in certain places and can't happen in other places. So the political narrative here, I found vitiated in the last election. But I see remnants of that taking place this time as well," said Puri — a 1974-batch retired Indian Foreign Service officer with nearly four decades as a civil servant.
Puri, who calls himself "a proud Sikh", was sent by the BJP to campaign in the cosmopolitan south Calcutta constituency with a considerable Sikh and non-Sikh population originally from Punjab.
The 69-year-old began his day with a visit to the Gurdwara Sant Kutiya on Harish Mukherjee Road, which Mamata had visited exactly a week ago.
Asked what he thought had gone wrong for the BJP in its quest for conquering the unvanquished territory of Bengal, Puri said he was "not sufficiently familiar" to do that.
"Each election has its own defining characteristics. Whether we should have done this or that. I am a student of political processes and I am more interested in the study of where we started out and where we reached," Puri said, apparently choosing to focus on the BJP's rise from three MLAs in 2016 in the 294-seat Assembly to 77 in 2021. The tally has subsequently come down to 71 following resignations and defections.
Asked what he thought were Mamata's chances nationally, he said: "I wish her the very best. There are a lot of very senior, seasoned leaders that are there…. I keep hearing of interesting sparks flying every time they try to resolve these issues (of leadership)."
The Union minister conducted a door-to-door campaign on Ray Street, visited Jana Sangh founder Syama Prasad Mookerjee's residence, then Netaji Subhas Chandra Bose's residence, followed by lunch at a party worker's residence on Alipore Park Road.
Post lunch, he met students at a Lord Sinha Road address and then met representatives of the business community at the Hotel Hindustan International. He went back to Lord Sinha Road for a street-corner there, followed by a visit to the Ajanta Dhaba, and then another meeting with representatives of the business community in the evening.
"When I went to the Gurdwara Sahib this morning, seeking blessings, both for
myself and the candidate... somebody told me there that she (Mamata) had come there and spoken about the kisan andolan (farmers' movement). Now what the kisan andolan has to do at a gurdwara or in the Bhowanipore constituency is something that escapes me altogether," said Puri.
Regarding the alleged kick-up to Dilip Ghosh, who was replaced before the end of his term as state president earlier this week, Puri said it was because the BJP was "truly democratic".
"In one of my books, Delusional Politics, one of the comments I recall making was that during the 16 years in which Shrimati Sonia Gandhi was Congress president, the BJP had changed six presidents. Our presidents, both at the national and state levels, have defined terms. I think the gentleman's (Ghosh's) term was anyway coming to an end, in November," he said.
Bhowanipore has about 3-5 per cent Punjabi electorate and bringing Puri to campaign for Tibrewal was a strategic move on the BJP's part, sources in the party said.
He reached the gurdwara around 8 in the morning and "paid obeisance and sought blessings".
Additional reporting by Arkamoy Datta Majumdar