Bhowanipore bypoll: Priyanka active, but not BJP, on polling day
The absence of any organisational backup for the saffron party nominee proved that the outcome of the poll became a forgone conclusion for them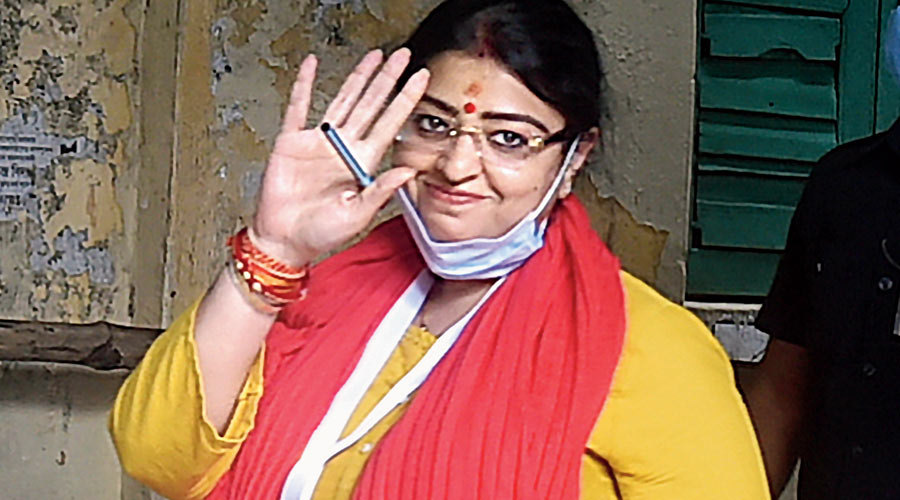 BJP candidate Priyanka Tibrewal during a visit to a polling station in Bhowanipore on Thursday.
PTI Photo
---
Calcutta
|
Published 01.10.21, 03:08 AM
|
---
Priyanka Tibrewal, BJP's Bhowanipore bypoll candidate, cut a lonely figure on Thursday as the young lawyer was seen running across the length and breadth of the South Calcutta constituency all alone when the voting was underway.
The absence of any organisational backup for the BJP nominee proved that the outcome of the bypoll became a forgone conclusion for the party.
Although Tibrewal — and scores of state and central BJP leaders — had campaigned in the run up to the byelection claiming that people of Bhowanipore would spring a surprise in the EVMs, the ground reports on the poll day told a different story.
Even the BJP's chief spokesperson changed the narrative at the end of the polling.
"We are not talking about winning or losing. What we are saying is that Trinamul had fought this poll with all its might. They made a mere bypoll look like a national election as Mamata Banerjee herself urged that not a single vote should be wasted. Yet, voters didn't come out to vote," Samik Bhattacharya said as the poll process was nearing its end.
According to BJP sources, Bhattacharya's reaction summed up that the party had left the field even before the polling was over.
The fact that the BJP was not in the fight was evident across Bhowanipore with Tibrewal alone — the absence of party machinery around her was striking — running around accusing the ruling party of using the administration to vitiate the poll process.
Although she kept levelling the same allegation through the day during her interactions with the media, what struck even ordinary voters was the absence of even BJP camp offices, which parties set up near polling booths, across Bhowanipore.
"Many areas were unmanned today. Where do we get people from to sit in our camps?" a BJP office-bearer asked.
This person added that even the CPM — which is often mocked by the saffron camp for being reduced to zero representation in the Bengal Assembly — had set up camps at most places.
Another state BJP leader said the party's poll war room set up in its Hastings office also cut a deserted look. "Today (Thursday), most leaders came late and spent little time…. I understand it is a bypoll, but it is an important one nonetheless. The lack of interest among our leaders was so apparent and that was why Priyanka looked all alone in an unequal fight," the BJP functionary said.