State government takes over road at Visva-Bharati
Residents wrote to CM that varsity authorities placed barricades on the road to restrict movement of goods vehicles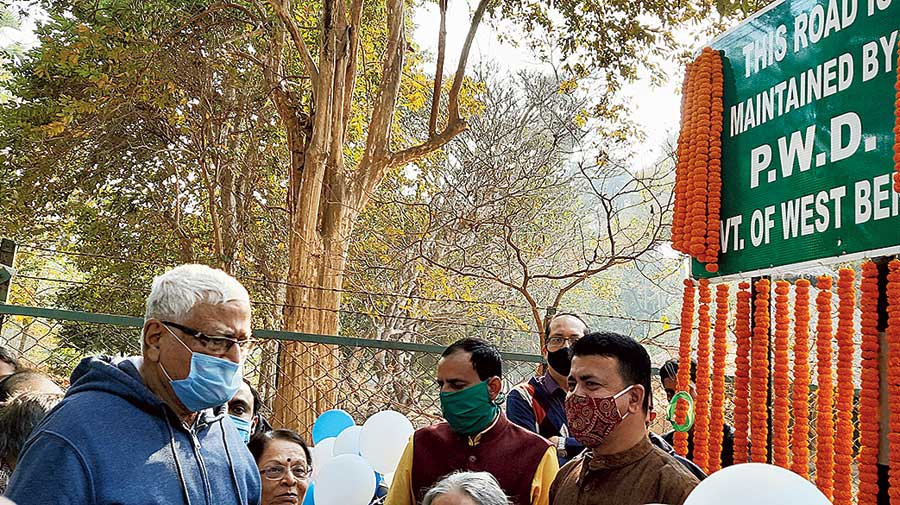 ---
Santiniketan
|
Published 02.01.21, 02:26 AM
|
---
Three days after chief minister Mamata Banerjee's announcement at the Birbhum administrative review meeting, the state government on Friday formally took back control of a 2.9km road connecting the Visva-Bharati campus in Santiniketan to Sriniketan.
"Today, we took back the control of the road that the chief minister had announced at the administrative meeting," said Vijay Bharti, the Birbhum district magistrate.
In her administrative meeting in Bolpur on December 28, Mamata accepted the plea of Santiniketan residents who had wanted the government to take back control of the road that it had handed over to Visva-Bharati in 2017.
The residents had written to her that the varsity authorities had placed barricades on the road to restrict the movement of goods vehicles.
In a formal ceremony on Friday, a new board declaring that the "road is maintained by PWD, Govt. of West Bengal" was placed on the road. The board was decorated with flowers and several Santiniketan old-timers, including Rabindranath Tagore's descendent Supriya Tagore and economist Amartya Sen's cousin Shanta Bhanu Sen, were present. Tagore cut the ribbon to complete the formality of the state taking back the road.
District police chief Shyam Singh said law enforcement personnel would be deployed on the road to ensure free movement of local residents and tourists.
While the district administration completed the formalities, Visva-Bharati vice-chancellor Bidyut Chakrabarty wrote to Mamata requesting her to reconsider her decision of taking back the road from the varsity's control.
He apprehended that the decision would lead to movement of heavy vehicles and encroachment in the vicinity of old buildings and sculptures located on either side of the road.
District magistrate Bharti, however, said: "There will be no plying of heavy vehicles and the state government will take better care of the road."
On the day the road was being taken back, the Visva-Bharati authorities embarked on a new project, which Sanitiniketan residents said was a "retaliation" of the state government's decision, to put up a boundary wall on an existing metal road near Santiniketan Doordarshan Kendra.
The officials went to the site where the wall was being built and stopped the construction.
A varsity official said: "We have already constructed an alternative road and the existing road will be closed for security of the campus and staff quarters."