Malbazar accident: Bengal govt did a lot of help, says Mamata
CM rejects Opposition charge over flash flood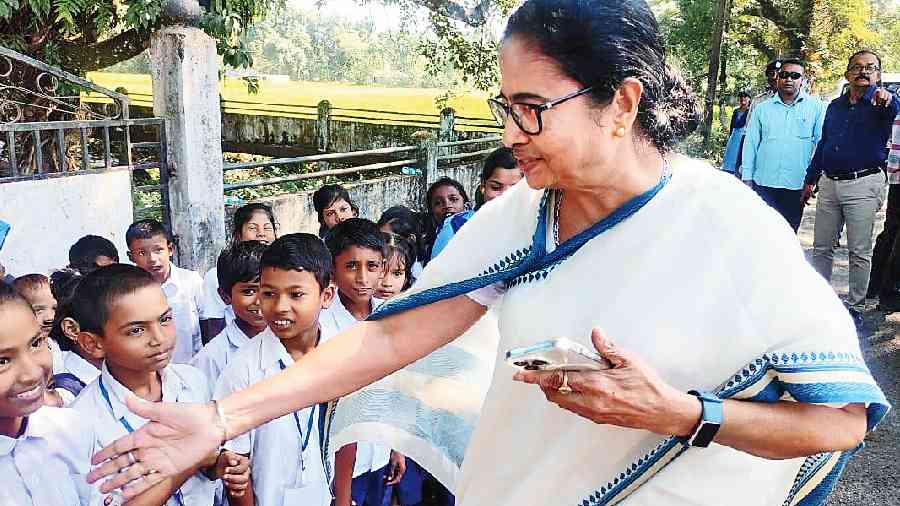 Mamata Banerjee with children in Malbazar on Tuesday.
Biplab Basak
---
Siliguri
|
Published 19.10.22, 12:40 AM
|
---
Mamata Banerjee on Tuesday said there had been no inkling that there would be a flash flood on the Mal river at Malbazar on October 5 and the Jalpaiguri district administration had done everything possible after the tragedy.
The chief minister was at Malbazar in Jalpaiguri district on Tuesday to hand over job offer letters to the relatives of the eight deceased persons and felicitate those who had taken part in the rescue operations.
"People had been alerted in a regular manner after they congregated on the riverbank and some of them walked to the river bank.... There was no inkling of such a flash flood and unfortunately, lives were lost. The administration also did a lot to help people after the tragedy," said Mamata as she tried to contest the Opposition's charge that the lax approach of the administration had resulted in the tragedy. 
"The Kali Puja and the Chhat Puja are ahead and we have to take all precautionary measures to avert such incidents," the chief minister said while she was addressing an administrative meeting at Mal Adarsha Vidya Bhavan.
After the incident, questions were raised by Opposition parties and a section of local residents as to whether there had been adequate preparations on the riverbank to rescue people in case of a disaster.
Dilip Pandit, a Malbazar resident who had lost his wife and son in the tragedy, alleged that a bund raised by the civic body on the river had led to the flash flood.
He also filed a police complaint against the Malbazar municipality run by the Trinamul Congress.
Referring to the charge that the artificial structure had caused the disaster, the chief minister on Tuesday said: "We have started a probe. Anybody found guilty will face action."
Mamata asked chief secretary H.K. Dwivedi to speak to the Centre to create an alert mechanism so that the state government and the administrations of districts concerned in north Bengal got information in advance if water was released upstream in any of the rivers which originate from Sikkim and Bhutan.
In north Bengal, especially in the Dooars, many rivers and streams flow in from Bhutan. The rivers include the Torsha, Jaldhaka (which though originates from Sikkim) and Sankosh. The main river that flows to Bengal from Sikkim is the Teesta.