Classes IX to XII of state-run, aided schools to resume from Nov. 16
Sources at Nabanna said the lower classes would be reopened in a phased manner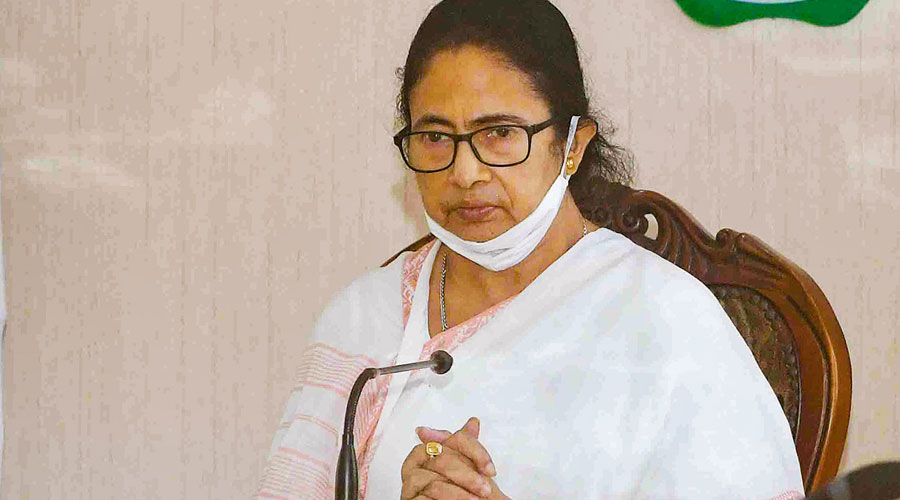 Mamata Banerjee
File picture
---
Siliguri/ Kolkata
|
Published 26.10.21, 02:41 AM
|
---
Mamata Banerjee on Monday announced that Classes IX to XII at state-run and state-aided schools will reopen across Bengal from November 16 along with colleges and universities, some 20 months after the pandemic forced them to close.
The decision doesn't strictly cover private schools, a senior government official said.
But a copy of the state government's order meant for government and government-aided schools will be shared with the boards that affiliate private schools, another official said. The boards can pass on instructions they deem fit to the private schools, he added.
Several private schools are said to be eager to reopen as early as possible although many parents are still unsure. 
The chief minister said at a review meeting for Jalpaiguri and Alipurduar districts in Siliguri: "It's been decided to reopen the schools for Classes IX to XII, along with colleges, universities and other institutions of higher education, from November 16."
She instructed chief secretary H.K. Dwivedi to ensure the necessary preparations, such as sanitisation and repairs, before classes resumed.
Schools and colleges in Bengal have been closed since March 16 last year. The government and government- aided schools in Bengal had reopened for students of Classes IX to XII for two months in February. But the government had to shut the schools again in April following a spike in Covid cases.
The state government had about 10 days ago signalled its latest plan to reopen schools when it allotted Rs 110 crore to carry out repairs in 400-odd schools that prolonged closure had left in poor shape.
Sources at Nabanna said the lower classes would be reopened in a phased manner.
"In the next phase, we plan to reopen Classes VI to VIII. The decision will be taken only following an assessment of the situation after in-person teaching resumes in Classes IX to XII," a senior government official said.
Since nobody under the age of 18 has received Covid-19 jabs in the country, the Bengal government is in no hurry to reopen the lower classes, a bureaucrat said.
Another official said: "We are not stressing the reopening of private schools at this moment because the private schools are holding online classes regularly from the nursery to the higher secondary level. But not all the state-aided schools have the infrastructure to hold regular online classes, so they need to resume physical classes."
He suggested a couple of other reasons why the private schools are not being asked to reopen immediately.
"Teachers of state-aided schools have been given two doses of the Covid-19 vaccine. But the government has no record whether all teachers of private schools have received two doses. Besides, most of the private schools are in Calcutta, where Covid-19 cases are rising," he said.
Sources said the health department would issue a Covid-19 safety protocol before the schools reopen.
A source said: "The guidelines will make it clear how many students would be allowed in a class at a particular period (lesson), whether the students and teachers must wear masks throughout, and how far two students should sit apart."
A health department official said that when some polytechnic colleges were allowed to reopen in January and February, only half the students were allowed to attend class together.
"So, each student attended classes on alternative days. This plan is likely to be followed at the schools, too, initially," he said.
Mamata said: "We had initially planned to reopen the schools from November 15 (Monday). But the day had already been declared a holiday because it's the birth anniversary of (tribal freedom fighter) Birsa Munda. So, the educational institutions will reopen the next day."