Bengal government to start housing scheme for tea belt
A sum of Rs 500 crores allocated for the 'Chaa Sundari' scheme in the current fiscal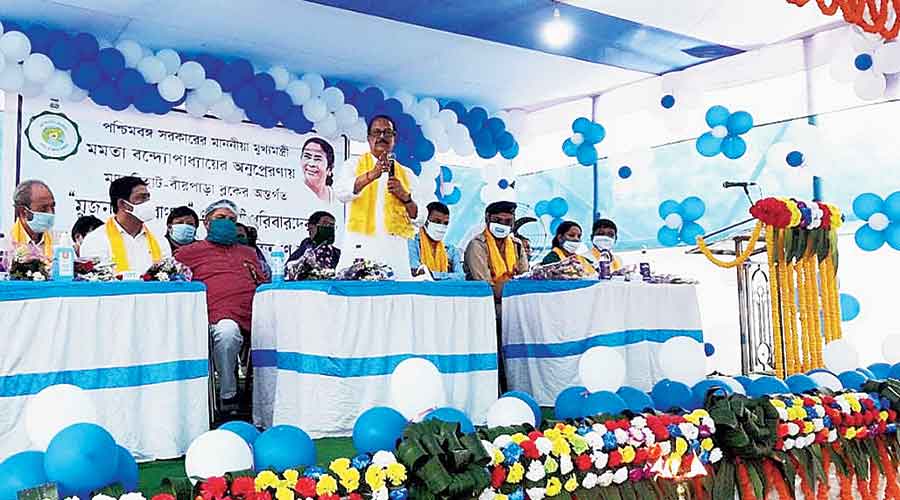 ---
---
The Mamata Banerjee government will soon initiate a housing scheme for tea workers of north Bengal, state labour minister Moloy Ghatak hinted on Thursday.
Ghatak, who was at the Mujnai tea estate in Madarihat block of Alipurduar district to attend a government even, said: "Under the 'Chaa Sundari' scheme, the state government will construct houses for 792 families who dwell in this tea estate. The state has taken a number of other initiatives for the tea population, which include distribution of ration to the workers at subsidised rates."
In February this year, Amit Mitra, the finance minister of Bengal, announced the "Chaa Sundari" scheme while tabling the state budget of the current fiscal (2020-2021).
He had said that during the next three years, the state would give funds for construction of houses for all permanent workers of tea estates without a house of their own. A sum of Rs 500 crores was allocated for the project in the current fiscal.
The labour minister's announcement comes at a time Trinamul is trying to revive its support base in north Bengal, keeping in mind the 2021 Assembly elections. In 2019, BJP had managed to wrest seven of eight Parliament seats in the region and could secure a lead in almost all the Assembly segmentsin the tea belt.
"It is evident that the state is playing the development card again, this time through the housing scheme. If the state initiates this project, it would be a poser for the BJP" opined an observer.
Ghatak also referred to hike in tea wages since 2011 after Trinamul came to power.
"When the Left Front government was there in the state, tea workers used to receive Rs 67 as daily wages. We could increase it to Rs 176. Soon, the wage is likely to be revised again," he said.
The minister asked the workers to understand who is working for them.
"You should realize whom you will support for your betterment and who can work for you.
Here in Bengal, BJP shouts for minimum wage but in the neighbouring state of Assam, where the party is in power, no such wage has been fixed so far. The Trinamul government is doing a lot for you but you are voting for the BJP. We feel if Trinamul does not stay in power in the state, conditions of tea estates will deteriorate," said Ghatak.
A senior Trinamul leader, who also heads the tea trade union of the party, said the state has taken the task to facilitate reopening of three closed tea estates in the Dooars.
"We have information that the state finance department has approved reopening of shut Madhu, Bundapani and Surendranagar tea estates which are close for years now. The state cabinet will soon make a decision and then prospective investors would be selected for these gardens," said Mohan Sharma, chairman, Cha Bagan Trinamul Congress Mazdoor Union.