Bengal government readies e-challan route for sand mining
The new system is expected to help the state in many ways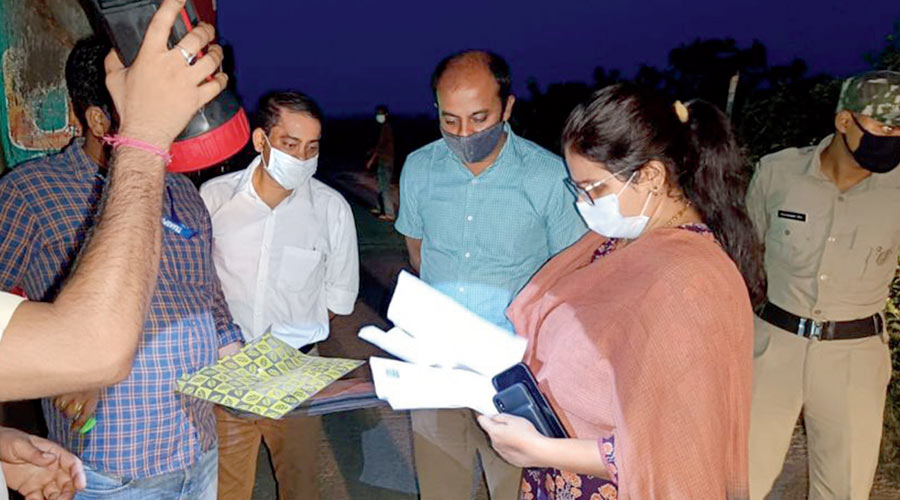 Bankura district magistrate K Radhika Aiyar during the inspection of sand-laden trucks on Sunday morning.
Telegraph Picture
---
Bolpur(Birbhum)
|
Published 07.09.21, 01:39 AM
|
---
The Bengal government is set to launch a centralised e-challan system within a couple of weeks for the transportation of sand extracted from authorised sand mines.
The move is part of an attempt to curb illegal sand mining and ensure more government revenue.
"The centralised e-challan would be introduced by the mid of this month by doing away with manual challans issued by district administrations. This will help the government curb illegal sand mining," said a senior state government official.
According to the plan, every miner — 700-odd sand mines in the state are leased out — has to log in with his or her credentials on a portal that would be managed centrally to get the e-challan after paying required royalty to the government's industry and commerce department. There will be a barcode on each invoice comprising the quantum of sand to be carried, its price, the registration number of the truck, source and destination of the sand and details of the seller and the buyer.
"As soon as the centralised e-challan system would be in place, it would be easier to track the vehicle whether it was carrying sand against which the royalty was paid.... The e-challan would have a time-limit and no one would be able to use the e-challan for multiple use," said an official in Calcutta.
The new system is expected to help the state in many ways, sources said.
The existing system in which districts used to issue challans manually had its limitations.
"Often these challans were forged to carry more sand than the quantum for which royalty was paid. This was hurting the state in many ways," said a source.
First, the overloading trucks were damaging roads across the state. Second, the state was being denied the legitimate royalty.
Moreover, the ruling party was facing infighting over the spoils of sand mining.
"If these irregular practices can be stopped, the state government as well as the ruling party would be spared of multiple embarrassments," said the source.
The new system is expected to help the state generate more revenue as rapid checking of trucks carrying sand over the past few weeks has revealed that many of the miners were digging and supplying sand illegally.
"The state has earned a sum of Rs 30 crore in the past few weeks during raids by means of fines from the trucks carrying sand illegally. This makes it clear that if the new system is put in place, the state can generate more revenue," said the source.