Red pandas await radio collars
The Bengal forest department intends to release the mammals in the Singalila National Park of Darjeeling hills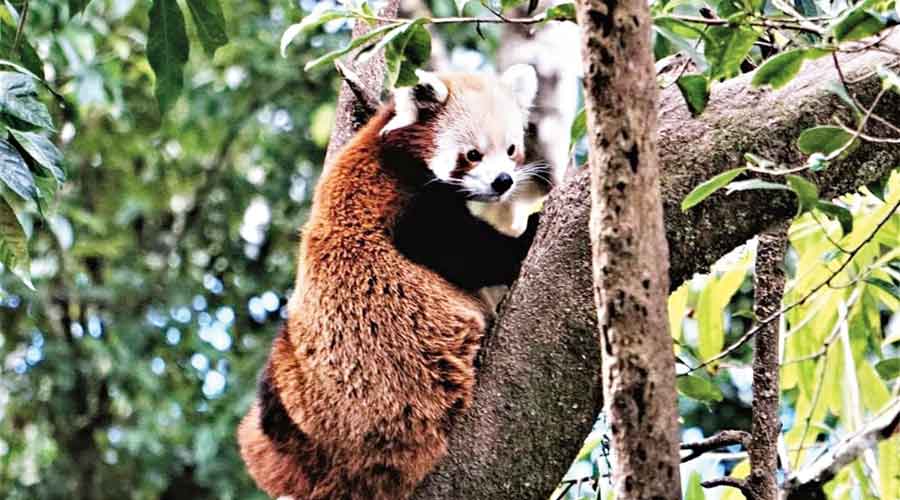 A Himalayan red panda at the Singalila National Park in Darjeeling hills
File picture
---
Jalpaiguri
|
Published 02.09.20, 02:56 AM
|
---
Bengal forest department is waiting for an approval from the Centre to put radio collars on four Himalayan red pandas, which the department intends to release in the Singalila National Park of Darjeeling hills.
The radio collars, fitted with transmitters accessed through iridium satellites, will enable foresters to know more about the species, their numbers and health of their habitat.
Singalila, on the upper reaches of Darjeeling close to the India-Nepal border, is a habitat of pandas. The species is also found at the Neora Valley National Park in Kalimpong. 
To know the status of wild habitats of the Himalayan red pandas, the state forest department has received approval from the Union ministry of forests and environment on a five-year-long project.
As part of a recent survey in both parks, the forest staff could collect the scat of around 65 pandas. The samples have been sent to a research institute to know the exact population of the species. 
"As a part of the project, it has been decided to release two male and two female pandas, in Singalila. These animals have been identified at the Padmaja Naidu Himalayan Zoological Park in Darjeeling. All four will be fitted with radio collars. To monitor them and collect data on their habitat, we need to use radio collars with sophisticated transmitters that can be tracked by iridium satellites. For this, we need approval from the Union ministry of science and technology," said Rajendra Jakhar, chief conservator of forests (wildlife, north Bengal).
The department will also fix trap cameras in both parks to gather data about the species and their habitat. "We plan to fix the cameras in March next year. Two watchtowers would be built in remote locations in Singalila to augment our vigilance," Jakhar said. "As cellphone networks are not available (inside the forest), we will use high-frequency radio transmission networks to keep in contact with our men posted in watchtowers," he added. 
Based on the data collected, the department will take steps to improve the habitat and food stock for pandas in these parks, the forester said.