Bengal first state to replace old water pumps to save energy
The project plans to replace 1,060 pumps used in drinking water treatment and supply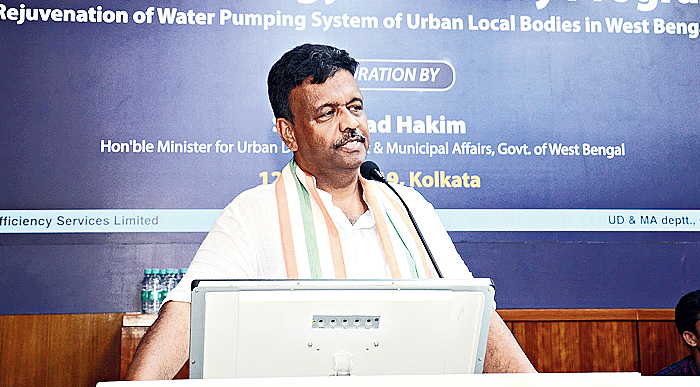 Minister Firhad Hakim at the programme at Subhanna
The Telegraph picture
---
Calcutta
|
Published 25.07.19, 10:51 PM
|
---
West Bengal will be the first state in country to initiate an ambitious programme in association with an agency under the Union power ministry to increase electric consumption efficiency of municipalities across the state to the tune of 15 to 40 per cent by overhauling their pumps used in water supply.
The project, apart from promoting good environmental practice, is expected to give monetary benefit to 39 municipalities from power saving involved in the makeover and is expected to spread to major municipal corporations like Calcutta Municipal Corporation, Bidhannagar and Howrah subsequently.
The project — municipal energy efficiency programme — undertaken by Energy Efficiency Services Limited in collaboration with state municipalities, plans to replace 1,060 pumps used in drinking water treatment and supply. According to the agency, most of the pumps currently used in water supply are 15 to 20 years old, and hence become highly inefficient with respect to electricity consumption.
The project was launched recently by urban development minister Firhad Hakim at the newly constructed Subhanna building in DF Block in presence of municipal secretary Subrata Gupta, municipal chairmen across the state and senior officials of a Delhi-based central agency.
"There is severe water scarcity everywhere. Today our chief minister has walked for the cause of water and it's a coincidence that on the same day we are initiating a programme which will help in increasing efficiency of water supply. We are also happy that West Bengal is the first state to initiate the programme," said Hakim.
He also requested the central agency to complete the project within six months instead of scheduled nine months.
"We undertook an energy audit in 39 municipalities and found that there has been average energy waste to the tune of 15 to 40 per cent in water treatment and supply sector mainly due to usage of old pumps. Under the programme, we will replace all these old pumps and set up new energy efficient pumps," stated S. Gopal, a director of the agency. The official also clarified that the agency would fund the capital investment of Rs 50 crore required for the replacement which they plan to realise from the energy cost savings over the next seven years.
"The municipalities need not pay any cost upfront. We expect that they collectively will get a benefit of around Rs 70 crore even after we take our scheduled amount, which will be around Rs 80 crore including interest and maintenance, over the seven years. After seven years, the entire benefit will go to the municipalities. This seems to be a useful project for us," said a municipal chairman present at the meeting.
The officials claimed that apart from the energy savings and monetary benefit, the project would play a significant role in cutting toxic and globe warming carbon dioxide gas. "The project will lead to reduction of 27,245 tonnes of carbon dioxide annually by saving over 33 million units of electricity; hence it will make significant contribution in reducing warming," explained one.
"Once we are through with 39 municipalities, we will reach out to municipal corporations like Calcutta, Bidhannagar and Howrah," added one official. The agency targets more than 310 cities for this energy efficiency programme throughout the country. "India has an international commitment in terms of energy minimisation and carbon dioxide reduction and we expect the project to contribute in this context," explained one of the officials.