Bengal exits Ayushman scheme, with 'meddle' salvo at Modi
Mamata indicated the state might opt out of the crop insurance scheme also if the Centre continued to claim full credit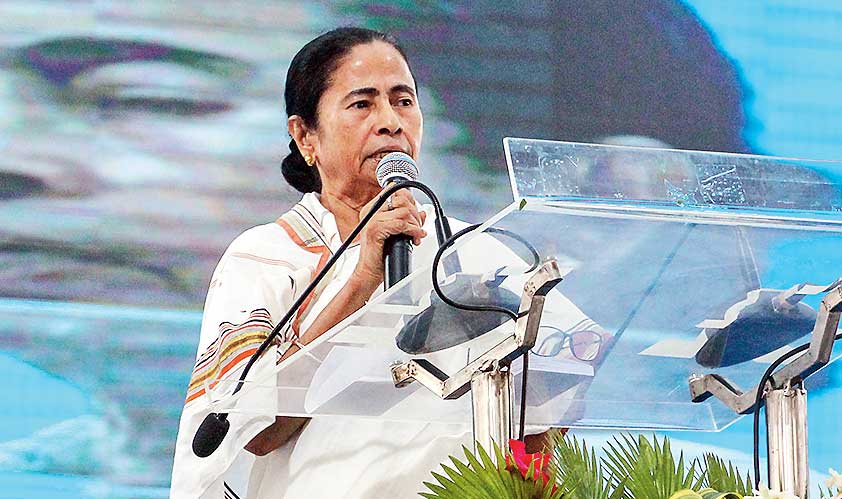 ---
---
Bengal chief minister Mamata Banerjee on Thursday likened Narendra Modi's decisions to those of "Mussolini and Hitler" while accusing the Prime Minister of "destroying" the country's federal structure.
"This decision will shrink the job prospects of the general category. He is doing whatever he likes. This is more dangerous than Genghis Khan, Mussolini and Hitler," Mamata said at a meeting in Krishnagar, referring to the Centre's 10 per cent reservation for the economically weak sections.
Soon after, Mamata announced that Bengal was "withdrawing" from the Centre's flagship health protection scheme, Ayushman Bharat.
She said her government was compelled to take the decision after it found that the Centre had been sending letters to lakhs of beneficiaries in the state with Prime Minister Narendra Modi's picture on it, claiming credit for the scheme.
The programme is funded by the Centre and the state in a 60-40 ratio. "I opt out of the scheme. You (Modi) pay the entire amount. I will not pay anything. When you claim sole credit for the scheme, it's your duty to pay the whole amount," Mamata said.
"Being in the state government, we play our role properly by paying our contributions for health, panchayat works, agriculture and many other schemes. But you play the role of a middleman," the chief minister added.
Mamata alleged similar tactics in crop insurance and indicated the state might opt out of that scheme, too, if the Centre continued to claim full credit.
In Howrah's Uluberia, Trinamul youth wing chief and MP Abhishek Banerjee said "achhey din (good days)" will come "when this government at the Centre" is thrown out.