Civic polls: 180 votes helped BJP win three Siliguri wards
As the results came out on Monday, it was found that the saffron party's support base had drastically dwindled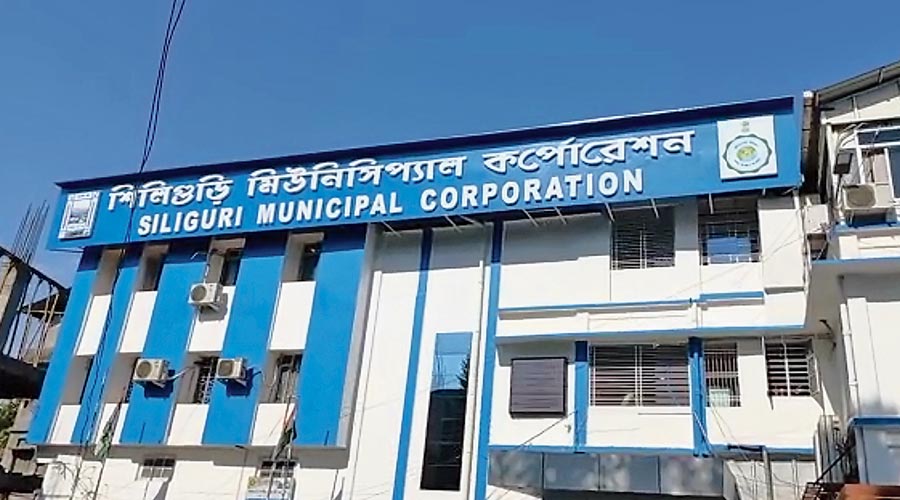 The SMC headquarters.
File picture
---
Siliguri
|
Published 16.02.22, 01:27 AM
|
---
One-hundred-and-eighty voters of three wards of the Siliguri Municipal Corporation (SMC) emerged as "saviours" for the saffron camp, helping it secure three wards out of the five that it won in the 47-ward civic body.
As results of the SMC polls came out on Monday, it was found that BJP's support base had drastically dwindled. The party which had in the 2021 Assembly elections won both Siliguri and Dabgram-Fulbari Assembly seats that cover Siliguri civic area and secured around 50 per cent votes, received only 23 per cent vote share at the civic polls.
While the BJP won in wards 4, 5, 8, 9 and 11, its margins were very slim in three.
"The total margin of votes by which three BJP candidates won is exactly 180," said a political observer.
He said in ward 4, the BJP candidate won by 69 votes, while the margin of win of the BJP candidates of ward 9 and 11 were 71 votes and 40 votes, respectively. "These 180 votes helped the BJP win 10 per cent wards (five of 47 wards). If 180 voters had not backed the party, its tally would have been two," the observer added.
Trinamul, which won 37 wards, also won two of them with narrow margins — by 11 votes (the lowest margin in any seat of the SMC) in ward 24 and by 63 votes in ward 28.
"But the fact of the matter is that if Trinamul had lost these two, it would have still comfortably secured a two-thirds majority in the SMC," said a party insider.
Trinamul's win clearly indicated that the party has started reviving its support in Dabgram-Fulbari, the Assembly seat from where party veteran Gautam Deb lost to the BJP in last year's Assembly elections, the source added.
"There are 14 added wards of the SMC which are under Dabgram-Fulbari Assembly constituency and within the jurisdiction of Jalpaiguri district. Trinamul candidates have won from all of these 14, which is another record," the party leader added.
He said that since 1994, when the civic body was upgraded into a municipal corporation, this is the first time Siliguri will have a mayor — Deb — elected from one of these 14 wards.
Deb won from ward 33, one of the added wards.