Trinamul celebrates 'ModiShahsurmordini'
Mamata wins by a record margin, bolsters Trinamul's national ambitions
Didi steps out of home to greet supporters, names October 30 bypoll candidates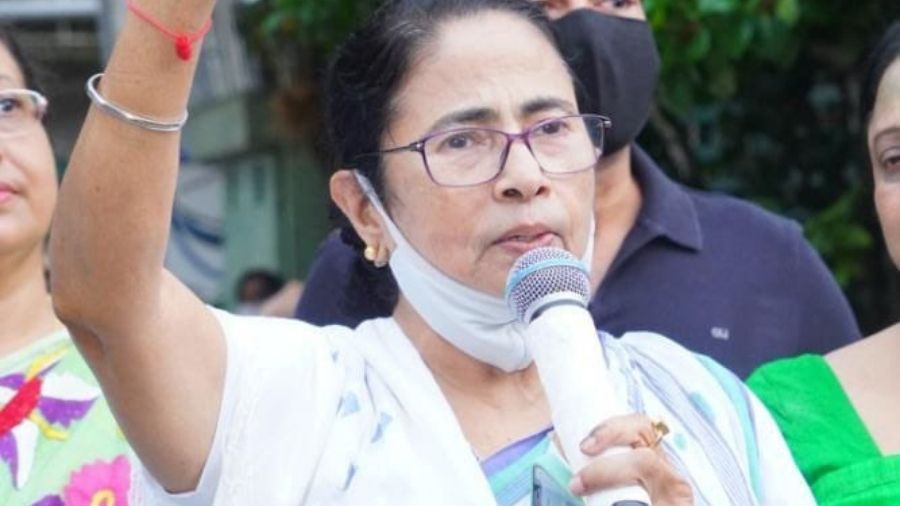 Mamata Banerjee on Sunday outside her Calcutta residence
Twitter/ @BanglarGorboMB
---
Calcutta
|
Published 03.10.21, 08:52 AM
|
---
A lazy, relaxed, bright Sunday turned brighter for Mamata Banerjee as she sealed her claim to the chair of Bengal's chief minister cruising to a smooth victory over her nearest opponent from the BJP, while the CPM nominee was always out of the frame.
Mamata's final victory margin was 58,832, surpassing her  2011 margin of 54,213. Earlier, at the end of counting for round 21, she was leading by 58,389 votes,  breaking former chief minister Buddhadeb Bhattacharjee's record of a 58,128-vote victory margin as a sitting chief minister in 2006.
There of course lies a difference between Mamata and her former bete noire Buddhadeb Bhattacharjee. Mamata also happens to be the only chief minister to have continued as CM despite facing a loss while her party romped home in the summer of 2021.
Around 2.30 pm, just before  fresh downpour lashed south Calcutta, Mamata stepped out in the open to greet party workers who had assembled at her Kalighat  residence.
"I am grateful to the people of Bhowanipore. Despite  Covid and rains they came out to vote. I have received the highest votes in all the wards. Bhowanipore has shown the country, who Bengal's favourite is," said Mamata.
She also announced candidates for the coming October 30 bypolls _ Sobhandeb Chattopadhyay will contest  from Khardah, Brajakishore Goswami from Santipur, Udayan Guha from Dinhata. For Gosaba Trinamul would  either field  Bappaditya Mandal or Subrata Naskar.  "We will announce the Gosaba candidate later," she said. 
Around 1 pm, as Mamata was gradually cementing her position, a poster claiming her as "ModiShahsurmardini", a clever play  on "Mahishasurmardini",  the name given to Bengal's favourite Goddess Durga, the slayer of the Buffalo Demon. It's another matter that Trinamul fanboys and the RSS pracharaks have viewed Mamata through the same prism.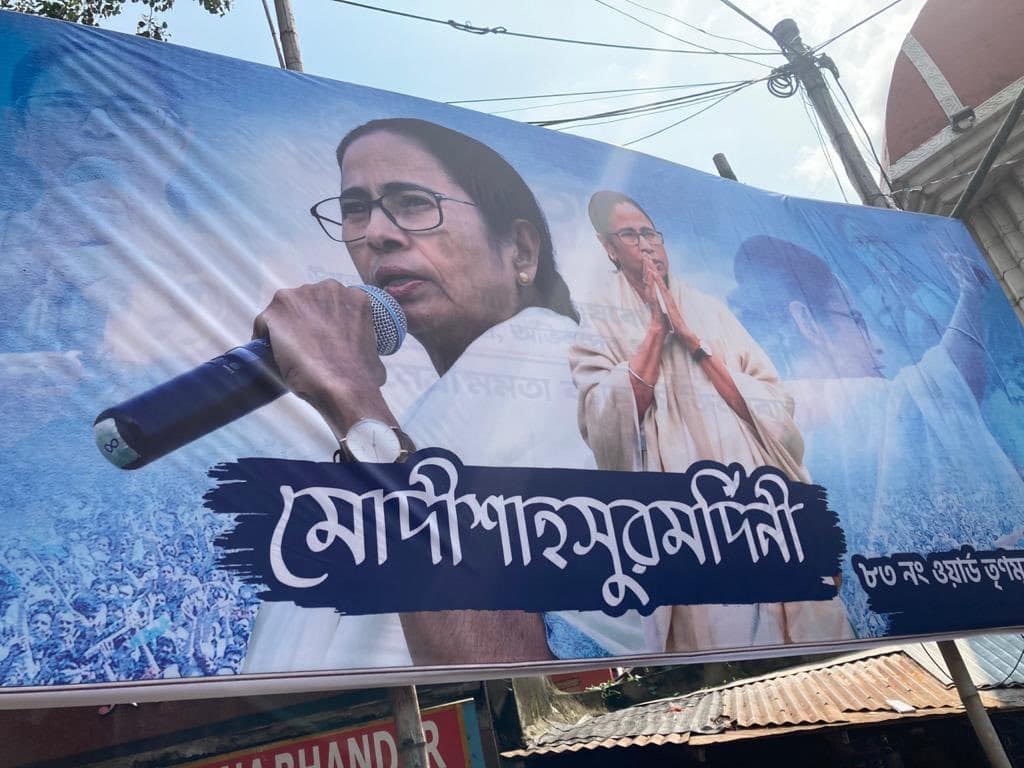 Sunday's emphatic win cements Mamata's claims at the national level for the 2024 Lok Sabha polls. The Trinamul mouthpiece, Jago Bangla, has already staked her claim to the space of the leaderless Congress and positioned itself as the main challenger to the Modi-Shah combine.
Mamata has a distinctive advantage over three other chief ministers who have kept the BJP in abeyance in their respective states. Uddhav Thackeray in Maharashtra, M.K. Stalin in Tamil Nadu and Pinarayi Vijayan in Kerala. A fourth chief minister, Naveen Patnaik, has largely been ambivalent in his stance towards the BJP.
Both Stalin and Thackeray have the disadvantage of being successors of parties which were born with a distinct identity, the Dravidian movement of the Dravida Munnetra Kazhagham in Tamil Nadu and the Maratha Manoos for the Shiv Sena. Vijayan on the other hand is leading a party which is facing an existential crisis in parliamentary democracy and is largely restricted to agitprop.
The emergence of Mamata and the Trinamul was only to dislodge the Left from power in Bengal, and not to protect the Bengali identity. That is the reason why Mamata's first cabinet even had a Sikh minister.
While she projected herself as the protector of Bengal from the alleged atrocities of the Left, she extended the same privilege to members of other communities, religious or linguistic, keeping true Calcutta's cosmopolitan identity. She has been careful to address the individual needs of linguistic and social minorities in the hills of Darjeeling or the tribals of Jhargram. That is one of her biggest advantages, which is why she can think of extending her party to distant parts of India like Manipur and Goa, which have little in common with Bengal.
Mamata's claim for a bigger role in national politics will only get louder in the coming days and one can expect more defections, not just in Bengal, where dissidents and disgruntled political elements rally around the three-time Bengal chief minister.
One of the factors behind Mamata's success is her reliance on cash-driven politics providing short-term benefits to the needy through various schemes launched by her government. Mamata is likely to turn more aggressive in pursuing the same policies, which have paid her rich dividends in these 10 years and will continue to do so for the next five years.