Bimal camp to Gorkhas: Vote for Trinamul
President of the Gorkha Janmukti Yuva Morcha, alleged that the BJP was using the hill party as a scapegoat to hide its alleged failures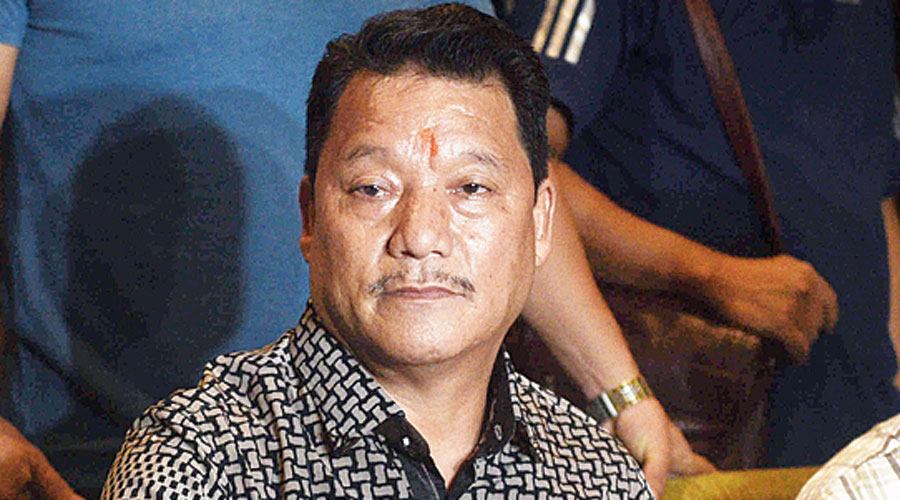 ---
---
The youth wing of the Gorkha Janmukti Morcha's Bimal Gurung faction on Sunday said there would be worse days for the Gorkhas if the BJP came to power in Bengal and asked the community and adivasis to vote for the Trinamul Congress in the next Assembly elections.
Prakash Gurung, the president of the Gorkha Janmukti Yuva Morcha (Gurung camp), alleged that the BJP was using the hill party as a scapegoat to hide its alleged failures.
"It will be worse days for Gorkhas if the BJP comes to power (in Bengal). We want to remind the Gorkhas of this. We have known them (BJP) closely," Prakash said in a video posted from Calcutta.
"The BJP has no history of providing anything to the Gorkhas and we want to appeal to them and the adivasis to ensure Trinamul's victory (in the Bengal Assembly polls)," said Prakash.
The Darjeeling Gorkha Hill Council — which was later disbanded — and the Gorkhaland Territorial Administration were formed and the Gorkha/Nepali language included in the 8th schedule of the Constitution when the Congress was in power at the Centre.
Anil Lopchan, the vice-president of the Yuva Morcha (Gurung faction), accused the BJP of turning the Bengal governor, Jagdeep Dhankhar, into its activist.
"The BJP has made the Bengal governor its worker. He is a constitutional head and he should not make political statements as it does not suit him. The esteemed post (of the governor) has been insulted," said Lopchan.
Much of the tirade was, however, reserved for Darjeeling BJP MP Raju Bista.
"Raju Bista has said all political parties must unite for Gorkhaland. We want to ask the BJP and the MP (Bista) whether all parties had been consulted when Article 370 was abrogated in Kashmir and Ladakh given Union territory status or when Opposition leaders were kept under home arrest?," asked Lopchan.
The Gurung camp as well as the Binay Tamang faction of the Morcha now back Trinamul.
The Gorkha population can influence verdicts in six to seven Assembly constituencies in north Bengal.
The other allegations by the Gurung faction were the BJP's silence during the 2017 agitation, failure to grant tribal status to hill communities and start tripartite meetings on Gorkhaland and "double standards" on issues like law and order in different states.