Baul who fed Amit Shah hosts Didi in heart
Basudeb Das Baul was invited to lead a team of singers at Mamata's Bolpur march on Tuesday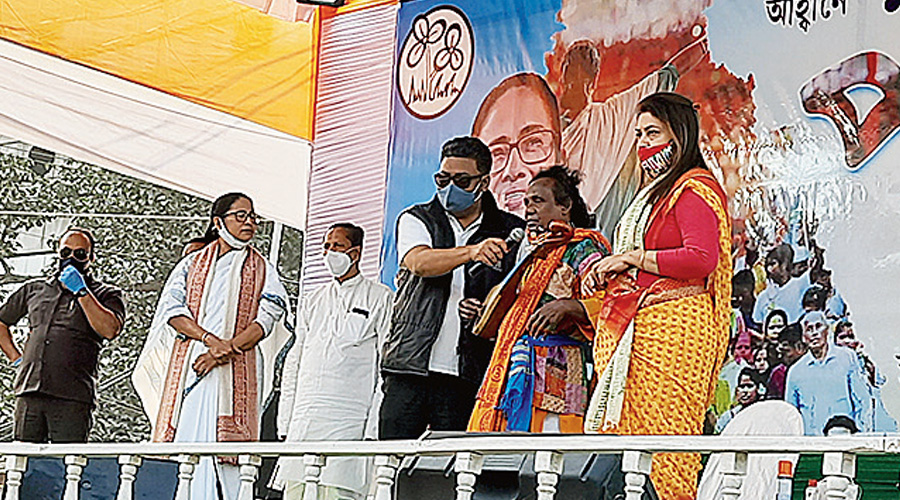 Mamata Banerjee on the dais with Basudeb Das Baul, flanked by Trinamul's Indranil Sen and Satabdi Roy.
(Amarnath Dutta)
---
Bolpur(Birbhum)
|
Published 30.12.20, 01:53 AM
|
---
Basudeb Das Baul, who had hosted lunch for Union home minister Amit Shah on December 20, went on the dais with Mamata Banerjee on Tuesday and sang that Didi was "in his heart".
"Basudebda, please come on the dais," Mamata invited him before her speech and the man smiled his way to the dais.
At the end of her 30-minute speech, Mamata said: "May I request Basudeb babu to sing two lines to bless us? Bolpur is the soil of the Bauls and here is a master performer like him."
During Shah's visit in Bolpur, he had a Bengali lunch at the folk singer's modest home. For the Union home minister, Basudeb had sung "Tomai hrid majhare rakhbo, chhere debo na (I will keep you in my heart and will not leave you)".
On Tuesday, as he picked his dotara, he sang the same lines, but customised the song using "Didi" many times.
Bausdeb's presence at Mamata's event nine days after hosting Shah became a talking point in Bolpur on Tuesday afternoon.
Sources said within 24 hours of Shah's visit, a group of around five local Trinamul leaders reached out to him to win him over. He was invited to Trinamul's district party office in Bolpur town where party's district chief Anubrata Mondal assured him help for his daughter's education that had stopped midway over money problems.
As soon as Mamata's visit was confirmed, he was invited to lead the team of Baul singers on Tuesday's march and he readily accepted it.
"I love Didi and so I came here as soon as I was invited. I am very happy that she felicitated me with her own shawl. I will come again when she calls me," said Basudeb, overwhelmed by the warm reception.
If getting the folk singer was a cultural coup of a kind, the other big achievement of Birbhim district Trinamul was ensuring a turnout far bigger than the one at Shah's road show. The Shah event, according to police, drew a footfall of 40,000 while Mamata's one had a turnout of more than 1.6 lakh on Tuesday.
Even if one discounts the police estimate, there was little doubt among eyewitnesses that the crowd was bigger in Mamata's road show.
"It was a gigantic show and we had to divert the crowd in lanes to avoid a stampede-like situation," said a senior police officer. "When Mamata finished her march at Jambuni the tail of the rally was at least 2.3km away," he added.
Trinamul's Anubrata Mondal who accused the BJP of bringing people from outside Bolpur for Shah's road show, said "more than two lakh" came from four blocks of Bolpur subdivision alone for Mamata.
"Several leaders in charge of managing the crowd requested me to stop vehicles approaching the town. I think the BJP will understand the strength of Trinamul and Mamata Banerjee as well," said Mondal.