Bangur Avenue goes to polls on June 26
Decks cleared after court case gets over; Ward 29 seat reserved for women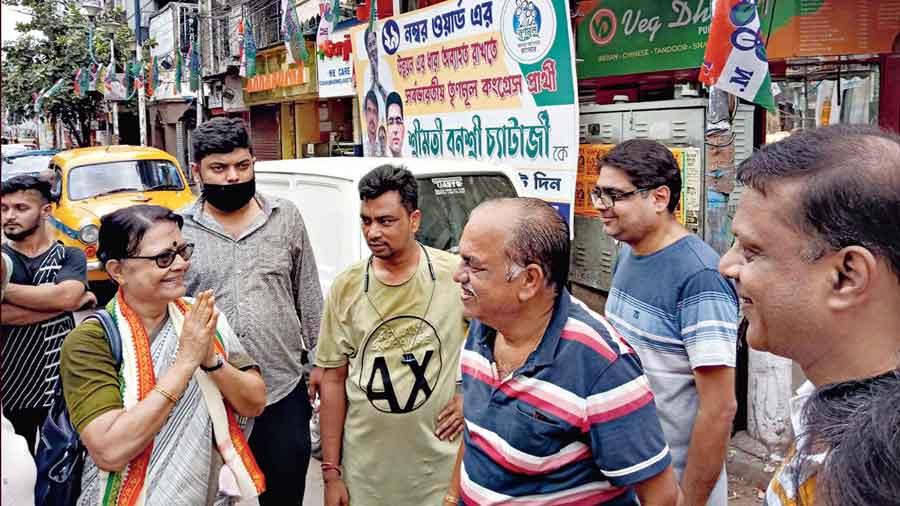 Trinamul candidate Banasree Chatterjee greets voters in her constituency.
Pictures by Showli Chakraborty
---
Salt Lake
|
Published 18.06.22, 08:08 AM
|
---
After four years without a councillor, Bangur Avenue will finally go to polls. So long, the elections were being held back due to an ongoing court case but now that the verdict is out, polling has been set for June 26, with results to be declared two days later.
Campaigning is on in Ward 29 of the South Dum Dum Municipality now but this election seems rather muted. There are no political bigwigs coming to draw crowds or address rallies near the supermarket, no flags and hardly any posters. Even campaigns through microphones fitted to autos or rickshaws are not audible. Only the candidates are going door to door.
This is in sharp contrast to the frenzy of political activities seen before February 27 when the rest of the municipality went to polls.
Wooing voters
The seat has been reserved for a woman candidate this time and all major parties — Trinamul, BJP and the Left Front — have endorsed debutantes. None of the three women candidates have prior experience of governance at a party level. Though they are going door to door to campaign, they seem a little awkward speaking to the public. Nonetheless there are issues galore to address.
Trinamul Congress has pitched 65-year-old Banasree Chatterjee. "I have belonged to the party cadre for more than 25 years. I live in Lake Town and have been working as a marriage registrar for 28 years," said the lady, who prioritises health over other issues. "There are no government health centres in Ward 29 and I want to bring this to the notice of the authorities at South Dum Dum Municipality."
She also wants to repair the footpaths in Bangur Avenue and Lake Town. "The pavements are broken, a lot of shopkeepers have encroached the space in front of their shops... Unpaid parking of cars in every lane is also a big problem, especially at night. Ambulances or fire engines are sometimes unable to enter a lane because of such vehicles. I shall impose fines on those who park cars in lanes because they want to avoid paying for garage space. Steep fines will push people out of this habit of parking on roads," Chatterjee said.
The BJP candidate does not sound too optimistic but is campaigning nonetheless. "Trinamul has unleashed autocratic rule in Bengal. They dislike any kind of dissent or opposition. I want to break the myth that no one is going to oppose them," said 43-year-old Mousumi Sen, a resident of Bangur Avenue's Block A.
"People here are living in fear; there is no freedom of speech for them. There is a lot of underlying tension," said Sen, a home-maker.
CPM candidate Bandana Ghosh Roy has several poll planks. "Bangur has been without a councillor for years. The last municipal poll here was in 2015. Since then, there has been no development in this area. Footpaths and street lights need to be repaired. Treated water is still not available in many households, promoters have a free run and syndicates are a menace," says the 54-year-old resident of Block A of Bangur Avenue. She also works as an agent at the local post office. Behind the court case
At the heart of the litigation that had kept elections on hold for four years in Bangur Avenue was former councillor Mriganka Bhattacharya. And the fact that the seat has been reserved for a woman candidate is the reason for it.
Bhattacharya had been Trinamul councillor in the South Dum Dum Municipality area off and on since the 1990s and had earned praise for giving Bangur Avenue a facelift. He is credited for taking the initiative to improve the drainage system that was notorious for inundating the streets after the shortest of showers. He also enforced a ban on plastic in the ward.
Then before the 2015 polls, the Election Commission (EC) declared the Bangur Avenue seat to be reserved for a woman candidate. Bhattacharya was asked to contest from Kalindi, where he won.
At Bangur Avenue, Trinamul fielded Deepti Roy, who won in 2015 but died in 2018. No by-election was held thereafter.
Then in 2019, when the next elections were being planned, Ward 29 got reserved for women yet again. Suspecting foul play, Bhattacharya quit Trinamul and joined BJP. Meanwhile a resident lodged a court case against the EC for reserving the seat for a woman twice in a row.
"Initially, the EC had lost the case before the single bench of Calcutta High Court where it was ruled that a particular ward cannot be reserved for a woman candidate twice in a row," said Bhattacharya. "The EC then appealed before a double bench which, in March this year, ruled out foul play."
Looking ahead
Bhattacharya, who is with the BJP now, did not contest in the civic polls earlier this year and is now forced to be a by-stander in the upcoming Ward 29 polls too. But he is optimistic about his party's chances by banking on communal voting.
"BJP has every chance of winning this time as this is a constituency with Hindu majority, most of whom are non-Bengalis with business establishments in Burrabazar. But that will only happen if free and fair elections are held, which I am sure the Trinamul goons will not allow at any cost! We saw this in the last polls too when there were no fair elections anywhere in West Bengal," claimed Bhattacharya.
Many voters believe Bhattacharya — then a popular councillor — was tactfully sidelined. Either way there is no denying that the ward has suffered for the want of a leader. "It is because of this case that we did not have local representation in the municipality. MLA Sujit Bose is helpful, but he cannot be everywhere at the same time. All the development that had happened in this area quickly went down the drain because of the delay," said Anupama Ghosh, a resident of Block A in Bangur Avenue.
Some voters are expecting no surprises in the upcoming poll results. "We all know who is going to win. I don't think the result will be shocking or upsetting for anyone. Even if battle lines are drawn, no one really expects a major upset here," said Shitish Bansal, a shop owner in Bangur Avenue.
Timeline of events
2000-2013: Trinamul councillor Mriganka Bhattacharya earns laurels for giving Bangur Avenue a facelift, particularly for improved drainage systems.
2015: Ward 29 is reserved for women by the election commission (EC). Deepti Roy contests from Trinamul and wins. Mriganka wins on Trinamul ticket from Kalindi.
2018: Roy passes away. Bangur remains without a councillor.
2019: EC once again declares Ward 29 to b reserved for women in the upcoming elections. Bhattacharya quits Trinamul and joins BJP. An unknown resident files a court case against EC accusing them of wrongfully reserving the ward for women twice in a row.
March 2022: Municipal polls held in South Dum Dum Municipality. Trinamul registers majority. Ward 29, however, still waiting for a court verdict, does not go to polls.
l In the last week of March, the court verdict is out. The court rules in favour of the EC.
June 2022: Ward 29 to go to polls on June 26 with results expected on June 28. Bhattacharya will not contest.
Write to saltlake@abp.in