ATM kiosk unlocked, debit card comes out
Chinmoy Chakraborty inserted his card, which he couldn't retrieve, and calls to the helpline of the PNB proved futile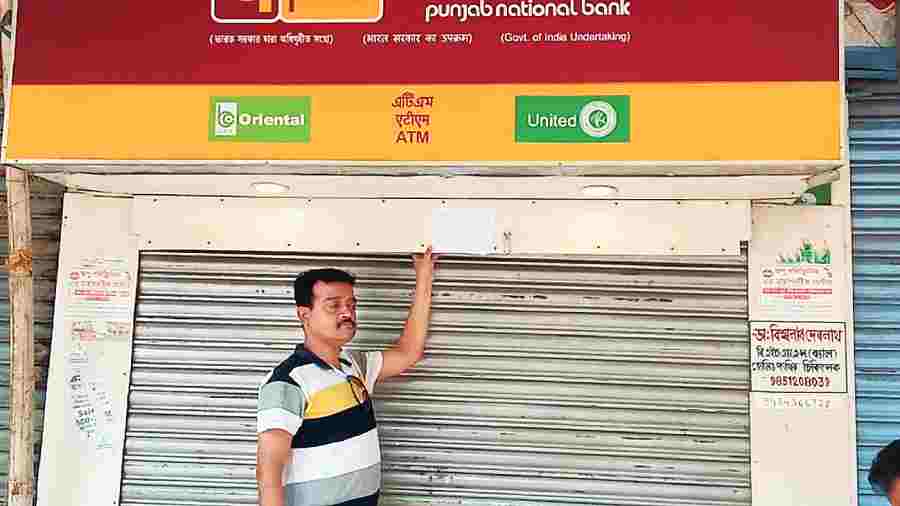 Chinmoy Chakraborty in front of the ATM counter in Mathabhanga town of Cooch Behar district on Sunday.
Telegraph photo
---
Cooch Behar
|
Published 26.04.22, 01:28 AM
|
---
Mathbhanga town resident Chinmoy Chakraborty, who on Sunday afternoon took the desperate measure of locking up an ATM kiosk of Punjab National Bank after his debit card stayed stuck inside the slot, got his card back on Monday.
On Monday morning, Chakraborty, who is in his late 40s and works at a private firm, went to the local branch of PNB located near the kiosk.
"I introduced myself. After some time, a person from the bank accompanied me to the kiosk. I had the key of the lock that I had put on the shutters of the kiosk. I opened it. We got inside and he switched off the ATM. Soon, my debit card came out of the slot," he said.
On Sunday around 1pm, Chakraborty had gone to the ATM of PNB to withdraw cash with his Central Bank of India debit card. But when he inserted his card, it got stuck in the slot.
He couldn't retrieve it and calls to the helpline of the PNB proved futile. So he downed the shutters of the ATM and locked it up to prevent anybody else from accessing his card. He also wrote what he had done on a piece of paper, and with his cell phone number, stuck it on the shutters.
On Monday, Chakraborty said: "The person (bank employee) who accompanied me to the ATM admitted that the machine was causing problems. This is a classic case of people getting harassed when ATMs are not maintained properly."
Other residents pointed out that this ATM kiosk stood at Chowpathi, the town's most prominent crossing.
"It is unfortunate that ATMs in prime locations are not well maintained," said Barun Sarkar, a businessman.
Officials of PNB did not issue any formal statement on the issue. "We are looking into the case. Necessary steps for repairs would be taken," said one of them who did not want to come on quote.