Assembly polls: Rival Morcha camps vie for three hill seats
Observers said the decision by the two factions to contest would end up helping the BJP, which has an alliance with the GNLF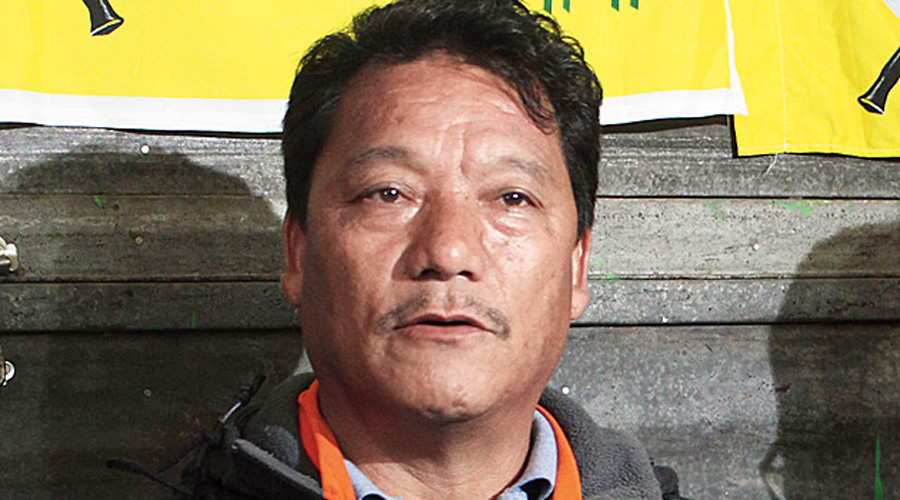 Bimal Gurung.
File picture
---
Darjeeling
|
Published 17.02.21, 01:52 AM
|
---
Both rival factions of the Gorkha Janmukti Morcha, allies of Trinamul, are preparing the ground to field their respective candidates in the three hill Assembly seats, a development further complicating politics in hills.
Anit Thapa, general secretary of the Binay Tamang faction of the Morcha on Tuesday said their faction would not only contest all three seats but do so in their own symbol.
"We are in alliance with TMC (Trinamul) and it is a past understanding that we would support (Trinamul ) during MP elections and TMC would support us during the MLA election. The chief minister has also said this in various stages. We are sticking to this line and three of our candidates will stand in the election on our own (symbol)," Thapa said on the sidelines of a government function in Mungpoo.
Amar Singh Rai of the Tamang camp had contested on a Trinamul ticket during the 2019 Lok Sabha polls, and  Tamang was supported by Trinamul in the Darjeeling Assembly bypolls in 2019. Both  lost to the BJP alliance.
The decision by the two Morcha factions to contest would, observers said, end up helping the BJP, which has an alliance with the GNLF.
However, though Morcha sources admitted they were aware of the likely outcome of a fight between them, they are sticking to their guns.
While Thapa made his stand clear on Tuesday, the Bimal Gurung faction has also been stating that they, too, would field their own candidates in the three hill seats.
"We will sweep the three hill seats even if an election is held tomorrow," Gurung recently said in a public meeting.
Trinamul, which has never won an Assembly seat from the hills, is eyeing the three hill seats through support from both Morcha factions.
The two factions have publicly refused to come to any understanding and are getting increasingly critical of each other.
"The situation is such that the only hope is Mamata Banerjee's intervention (Gurung hinted that the I-PAC team, poll strategist for Trinamul, tried to patch up things between the two factions but in vain) but things do not look easy," said a hill observer.
Many are talking about three permutations to solve this deadlock but none looks watertight, said an observer.
The first option being mulled is to divide a seat each among three alliance partners. "Going by party workers' mood, a supporter of one faction is mostly unlikely to vote for the other faction," said an observer. "Accepting a rival faction's candidate is seen as a loss of face by party cadres."
Many believe the other option would be to ask both factions to vote for an independent candidate of Trinamul's choice. "This option is easier said than done as both factions are unsure if hills will vote for Trinamul," said another observer. A Bimal Gurung faction leader said in a public meeting that she will never be able to vote for Trinamul, a statement reflective of the mood of some Morcha workers.
The third option is about Mamata Banerjee letting both factions contest the election as a win by any would mean Trinamul's win. "But such a move would mean a split of anti-BJP votes," the observer added.
No faction seems to be in a mood to yield an inch as winning the Assembly polls is seen as a test of their strength and a mandate to be in the GTA.
"This is because to be in power in the hills is to have the GTA under one's control," the observer added.
At the moment the GTA is being headed by Anit Thapa.