Asani alert: Sea out of bounds
Unlike previous years, when the news of a cyclone would drive the tourists away from the beaches, there has been footfall of over 50,000 in the last two days in resorts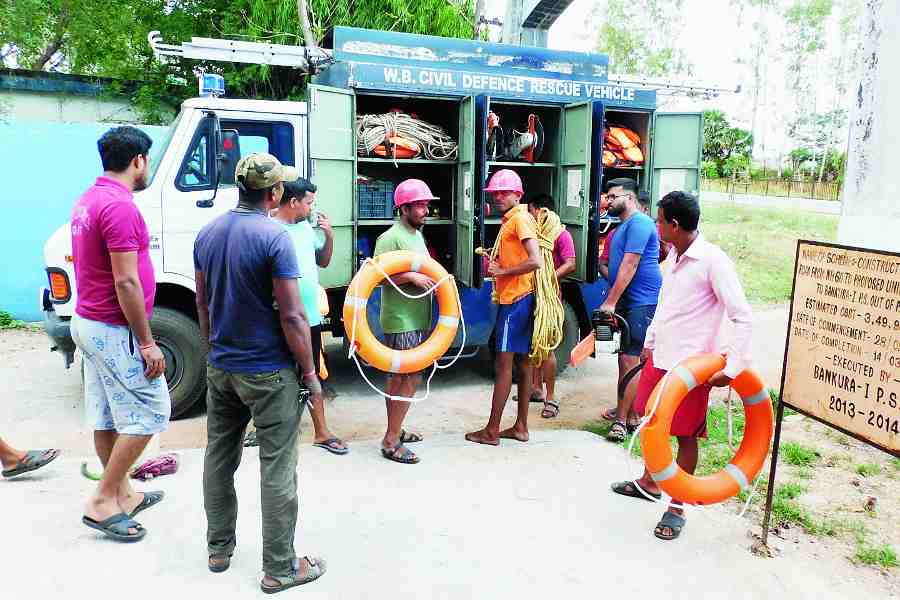 Disaster management team in Bankura.
Rupesh Khan
---
Tamluk(EastMidnapore)
|
Published 10.05.22, 02:36 AM
|
---
Rain lashed several places in south Bengal on Monday under the impact of impending Cyclone Asani.
While officials across south Bengal are taking up several precautions, the impending cyclone played spoilsport for tourists in the sea resorts of East Midnapore as district officials barred people from  going to the sea.
Popular coastal towns in the district — Digha, Mandarmani and Shankarpur — have been witnessing huge tourist footfall in the last few days. Unlike previous years, when the news of a cyclone would drive the tourists away from the beaches, there has been footfall of over 50,000 in the last two days at these sea resorts.
"The long weekend due to Id and Rabindra Jayanti, coupled with the beginning of the summer vacation, has encouraged tourists to turn up in hordes. Even the impending cyclone has not been able to deter them," said Bipradas Chakraborty, the joint secretary of the Digha Sankarpur Hoteliers' Association.
However, the administration decided to restrict movement near the sea beaches. Members of the civil defence deployed on the beaches tied long ropes to prevent people from going close to the sea.
Civil defence worker Ratan Das said that the sea has been tumultuous for the past few days and two persons drowned to death at Mandarmani on Saturday. In Digha as well, a bather could be saved from drowning.
Local police and members of the Digha Sankarpur Development Authority issued warnings to fishermen and tourists, urging them to not go to the sea.
"We have barred people from going to the sea, but have not issued any restriction for the tourists to vacate hotels," said Manas Kumar Mondal, the executive officer of the DSDA. "We are in touch with the Meteorological department and will tell hoteliers the instructions we receive from them," he added.
In previous years, the administration would ask hoteliers to get their rooms vacated ahead of an upcoming cyclone. This has not been done this time, which according to sources is an indication that Cyclone Asani will not have much impact.
Still, an NDRF team of 25 persons from Barrackpore reached Digha on Monday. Coast guard personnel kept vigil on beaches. All cyclone centres around Digha, in Ramnagar Blocks 1 and 2 have been activated and 100 school buildings have been taken to be used as shelters. However, tourist inflow shows no sign of ebbing.
Sheikh Ansari, a tourist from Murshidabad, told this newspaper that he and his friends had come to Digha because they wanted to experience the cyclone near the sea.
"As far as I know, the coastal areas will be primarily affected by the cyclone. However, we are on the alert to ensure that villages around Mukutmanipur don't suffer much," said Jyotsna Mandi, state minister and Ranibandh MLA.