Armed gang makes off with 12 kilos of gold in Asansol
Police said the value of the looted gold was estimated around Rs 6 crore and this makes it the second-largest heist of the precious metal in the region in the past one decade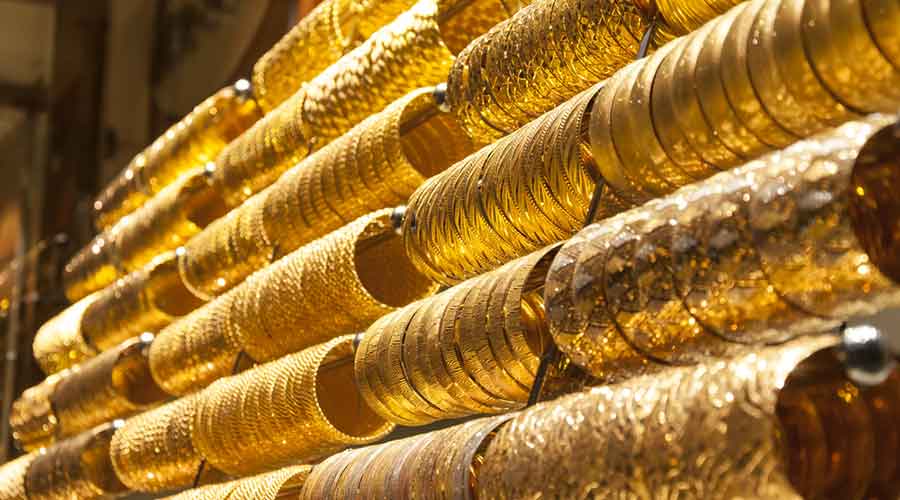 ---
Asansol
|
Published 12.09.21, 12:51 AM
|
---
A gang of four armed robbers decamped with Rs 10 lakh in cash and 12kg of gold ornaments from the Asansol branch of a Kerala-based gold financing company on Saturday afternoon.
Police said the value of the looted gold was estimated around Rs 6 crore. This makes it the second-largest heist of the precious metal in the region in the past one decade.
A police officer said one of the robbers entered the office of Muthoot Fincorp Express Gold Loan located at a shopping complex near Asansol (south) police station posing as a customer around 2pm when the office was about to close for the day.
Within a few minutes, three more barged into the office brandishing firearms after overpowering the security guard. "They beat up the security guard and other employees at the office and held them at gunpoint," a police officer said.
Security guard Anil Kumar Pandey said the first robber approached him, pretending to seek information about a gold loan.
"I allowed him inside after completing the initial formalities. Within a few minutes three more youths brandishing revolvers barged into the office. They snatched my gun and pushed me inside holding a revolver on my temple. They hit my head with the revolver's butt. All of them spoke in Hindi," said Pandey.
One of the employees, Sonali Gupta, said the first youth even handed her some jewellery and asked how much loan he would get against the items.
"I was examining the ornaments, when I suddenly saw three youths brandishing guns enter our office after overpowering the guard. The youth in front of me asked me to come to the counter. I realised then he too was a part of the group," said Gupta.
The goons confined all the four employees and one customer present at the office inside a small room. "They snatched our phones and taped our
lips. They threatened to kill us if we raised an alarm. They then decamped with cash and ornaments from the vault," said Gupta.
"As of now we have estimated Rs 10 lakh in cash and 12kg gold was taken," said Saikat Das, branch manager of the finance company.
After the goons left, the employees broke open the door and called the police. The cops rushed to the spot and collected the CCTV footage from the office.
"We have alerted all neighbouring police stations, including our counterpart in Jharkhand. We have sealed the borders and special checking is on," said a police officer in Asansol.
Sources said the goons arrived at the office on two motorbikes and also fled on them. "They finished their operation within 20 minutes. We are trying to identify the gang from the CCTV footage. We are suspecting the gang might have fled to Jharkhand," said another police officer.
In 2010, gold worth Rs 14 crore was looted from the office of another gold financing company in Durgapur.