Appeal sounds 'like threat'
Government cites patient distress, doctors seek CM visit
---
|
Calcutta
|
Published 13.06.19, 01:41 AM
---
The state government on Wednesday issued a formal appeal to the agitating junior doctors of medical colleges "to immediately withdraw their agitation and get back to their duty".
The appeal stated that the agitation was leading to "neglect of proper patient care and harassment of common people" and disruption in providing healthcare services to people is "not desirable".
It also added that the chief minister "has been personally monitoring the entire situation".
The junior doctors, however, refused to budge from their ceasework. One of them said that the language of the appeal was "like a threat" and promised to carry on with their agitation till chief minister Mamata Banerjee visited Paribaha Mukhopadhyay, an injured intern who is undergoing treatment at Institute of Neurosciences.
The common refrain among the agitating junior doctors was: "Why can't the chief minister visit the injured intern in hospital? She is able to visit everyone but not a doctor who is assaulted for no reason?"
Paribaha suffered head injuries after some men, who attacked junior doctors of NRS hospital late on Monday following the death of a patient, allegedly assaulted him.
The first line of the written appeal, which was signed by health secretary Rajiva Sinha, however, said: "This is an appeal to the good senses of the agitating junior doctors."
It claimed that "all necessary administrative measures have already been taken, there is no need to continue the agitation and thereby causing hardship and suffering to the people".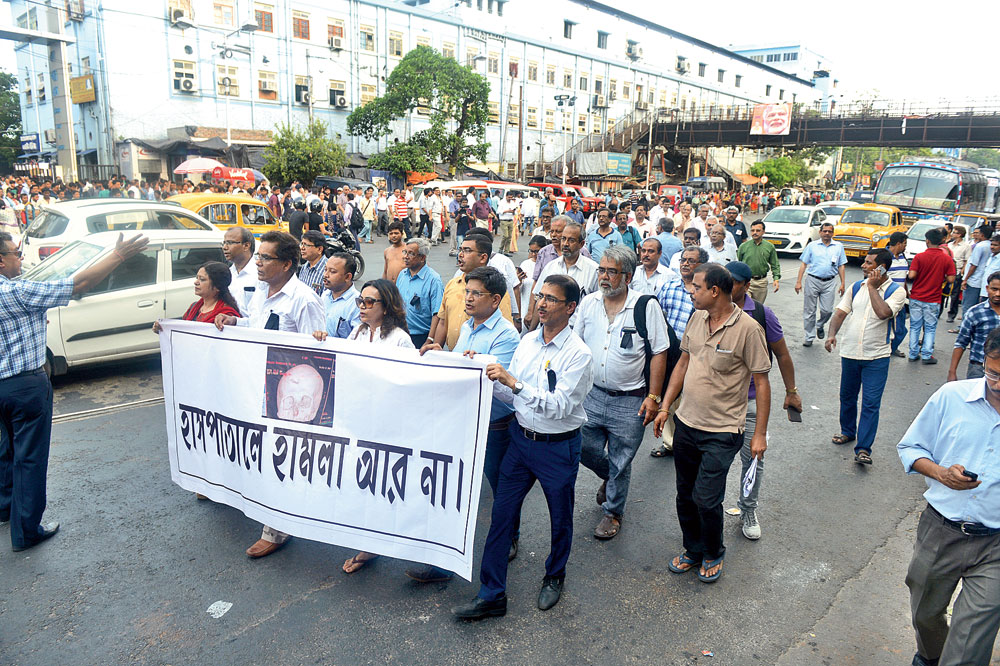 Through Wednesday, NRS hospital remained in lockdown for the second consecutive day as junior doctors protested an assault on two of their colleagues following the death of 75-year-old Mohammad Sayeed on Monday.
A junior doctor said Sayeed had suffered acute cardiac arrest. The junior doctors have alleged that three interns were first heckled inside the hospital's medicine ward around 5.45pm on Monday. Later around 10.45pm, nearly 200 men arrived at the hospital in trucks, a junior doctor alleged.
"They assaulted four students who were returning to hostel after dinner. These students informed others at the hostel. When other hostel inmates came out, many of them were assaulted too," said a doctor.
It was during this time that Paribaha was hit.
On Wednesday, tens of thousands of patients suffered as the OPD and emergency services remained shut. Relatives of patients admitted in the indoor wards, too, complained that services had been hit.
The agitating junior doctors blocked the road inside the hospital that leads to the emergency. They sat down across the road, leaving no scope for any ambulance to carry patient to the emergency unit.
It was also impossible for any patient to walk to the emergency department without jostling through the melee of agitating junior doctors. The students have been sitting there since Tuesday.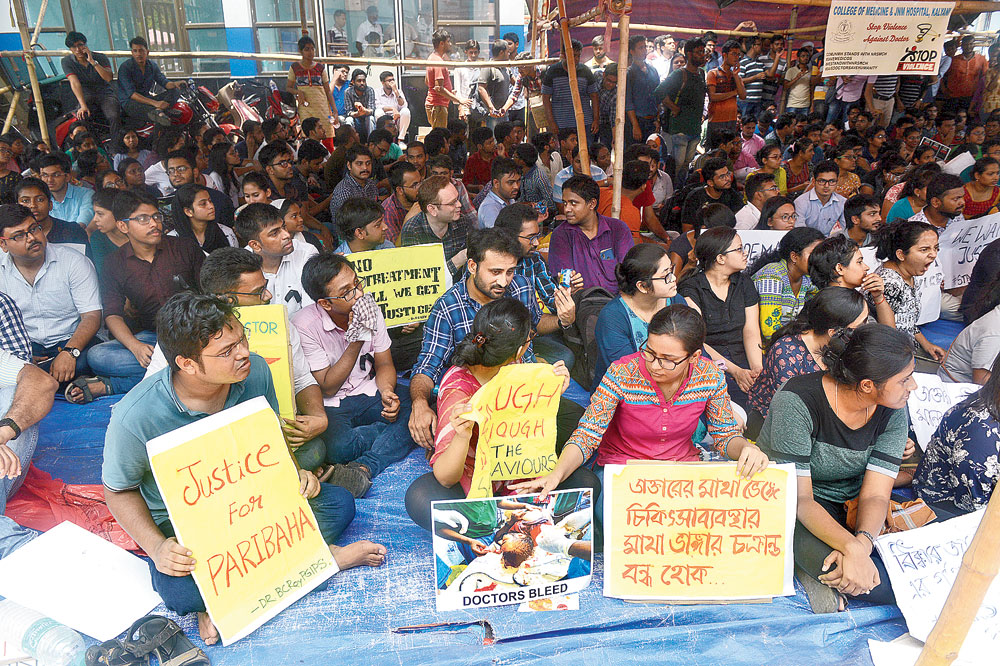 Throughout the day, the junior doctors had shut one of the two gates that opens on APC Road.
The outpatient department (OPD) remained shut since morning. Hundreds of people who had arrived not knowing about the strike waited in vain for a few hours before going back.
Lalit Mohan Paul, 94, has been advised brain surgery to treat his head injury that happened after he fell at home.
A senior doctor, who saw Paul on Tuesday, had advised platelet transfusion on Wednesday. But that couldn't happen as no doctor came to see Paul on Wednesday.
"The doctor had said on Tuesday that my father would undergo platelet transfusion on Wednesday in the run up to the surgery. But since this morning no doctor came to see him," said Lalit's son Samar Kanti Paul.
Samar said that without a doctor's prescription, the blood bank would not give platelets. "My father's surgery is getting delayed because of this. I was also supposed to collect the CT scan plate from the doctor and submit it to the report delivery section. In return they would have given me a written summary of the report. That, too, couldn't be collected as no doctor came," he said.
An official of the hospital said he was told that junior doctors had advised patients' families to shift them elsewhere. The official of the hospital admitted that the junior doctors were no longer listening to them.
"I can understand that shutting down the emergency is not right, but who will show the courage to run the emergency angering so many junior doctors," said the official.
Through the day, the government tried several steps to at least resume services of the emergency section. A section of senior doctors tried to convince the agitating doctors to start emergency operations but they failed. "This is beyond our control now," said one senior doctor.
Health secretary Sinha also met two junior doctors each from all medical colleges in Calcutta at Swasthya Bhavan. "I wanted to know from them what was their input on how security can be beefed up. I told them that I wanted to hear from them and not from anyone else. A meeting with the police officials would be held soon where I will pass on their inputs and suggestions," Sinha told Metro.
Along with NRS, services in other hospitals were also affected. The emergency and OPD at SSKM Hospital, too, didn't function. Family members of some patients blocked the Harish Mukherjee Road-AJC Bose Road crossing in the morning demanding to know how the patients would get treated.
OPD in several private hospitals, too, remained shut.