Apex court ban flouted, Calcutta arrest count mounts
The arrest count shot up to 1,029 after midnight, suggesting a spurt in the bursting of firecrackers as the night wore on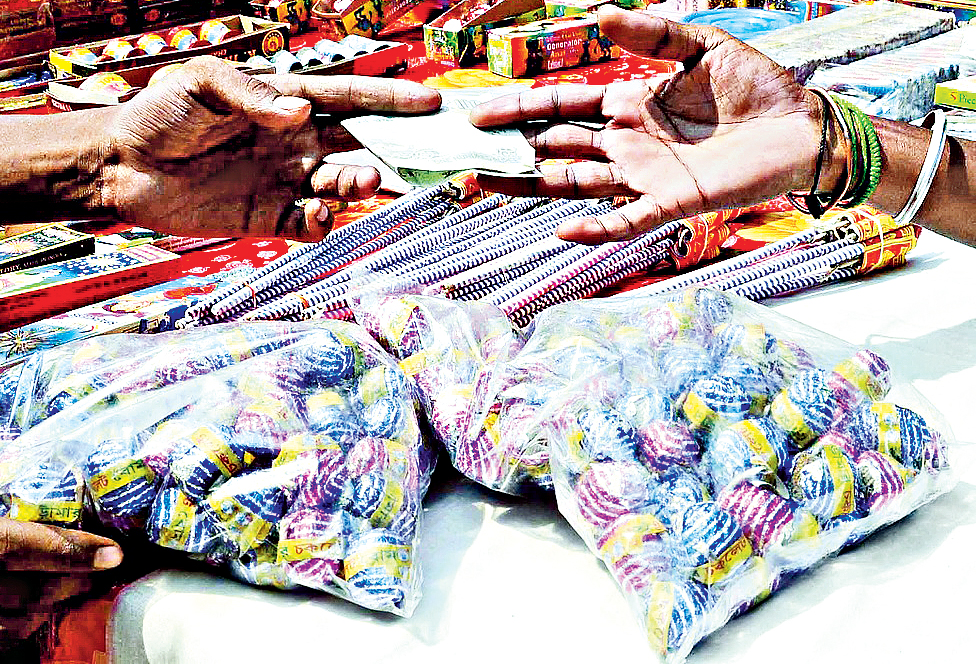 ---
|
Calcutta
|
Published 08.11.18, 08:54 PM
---
The city police arrested 93 people till 11pm on Diwali for allegedly bursting fireworks outside the Supreme Court-mandated window.
The arrest count shot up to 1,029 after midnight, suggesting a spurt in the bursting of firecrackers as the night wore on.
The city on Diwali night was better off than what it was last year but the arrest figures suggest the Supreme Court ban on bursting of firecrackers at any time of the day other than from 8pm to 10pm was hardly enforced.
The fireworks that were to be lit up during the two-hour period had to be green crackers, according to the apex court order.
Banned fireworks, however, were lit up throughout the day, more so in the evening and at night.
The sound of firecrackers was frequently heard in pockets in central Calcutta, such as Jorasanko. Some of the worst-hit pockets were along CR Avenue. Residents of Sinthee, off BT Road in the extreme north, complained that banned firecrackers were lit up in public with impunity.
The situation was as bad — if not worse — in added areas in the south.
"My pets were terrified the whole night. Every time there was a whoosh sound as a rocket went up in the air, they would rush under the bed," said Madhurima Chatterjee, who lives in a highrise in Anandapur, off EM Bypass.
Complaints poured in from Behala, Sarsuna, Kasba, Jadavpur, Southern Avenue, Patuli and Garfa in the south; Burtola and Jorasanko in the north; and Bangur and Kalindi, on the northern fringes.
The sound of high-decibel firecrackers and a thick layer of smog left a large number of people in places along the Bypass, between Ruby and Calcutta Greens, struggling to breathe.
Even hospitals, which are silent zones, were not spared. Residents kept calling up the police control room in Lalbazar complaining about banned firecrackers being burst in areas around Vidyasagar Hospital on Bramho Samaj Road and Balananda Bramhachari Hospital and Research Centre on Diamond Harbour Road in Behala.
Some people had allegedly burst crackers on the premises of Dr BC Roy Memorial Hospital for Children in Phoolbagan. Mala Bhattacharya, principal of the hospital, said people living in staff quarters on the campus were bursting crackers.
A large number of complaints came from people living along Rajdanga Main Road and Bediadanga Lane in Kasba and areas near Garia station.
"We started receiving complaints as early as 4pm on Tuesday and Wednesday. The complaints came from all parts of the city," said Naba Dutta of Sabuj Mancha, a platform for green organisations.
"We passed on the complaints to the respective police stations, the control room at Lalbazar and even the DG's control room at Nabanna. Officers said they could do little beyond a point because of lack of enough manpower."
Sabuj Mancha had last year got 37 complaints on Kali Puja. This year the number shot up to 99. The number of complaints on Diwali rose from 37 last year to 79 this year.
"Awareness about the apex court directive and little faith in police probably led people to call us for help," Dutta said.
Environmentalist Subhas Dutta said a week-long drive to curb the noise demon was not enough.
"To implement a ban on the firecrackers, four factors have to be monitored — manufacturing, marketing, buying and selling, and bursting of crackers. If enforcement slips in any of these, the battle is lost," Dutta said.
Several police officers, who did not wish to be named, said they "did their best" after receiving complaints. "But by the time we reached a spot where banned crackers had allegedly been burst, everything had been removed," said an officer in the south-west division.
CRACKDOWN
(From 4pm on Wednesday to 4pm on Thursday)
757 arrested for bursting firecrackers

252 arrested for disorderly conduct

1119.7kg illegal firecrackers seized