Anit Thapa's party wins GTA Sabha elections, TMC makes gains
The hill leader also requested his supporters to maintain peace following a victory after 'a long wait'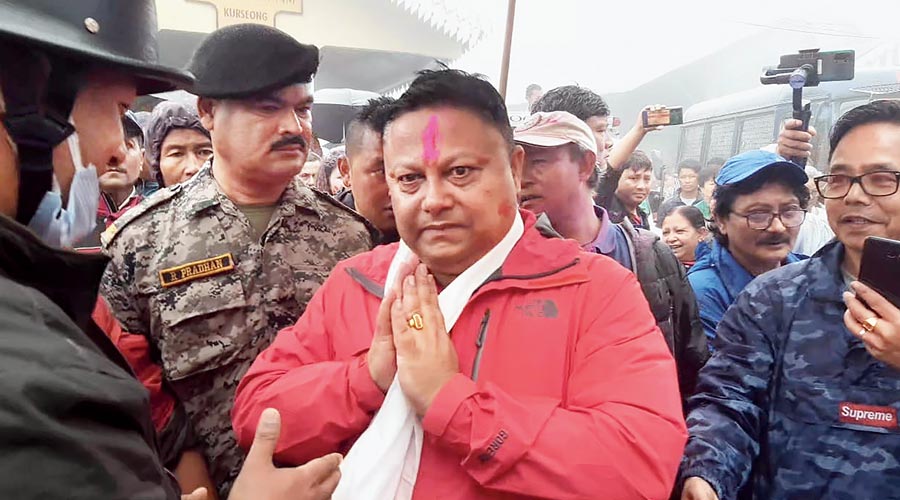 BGPM president Anit Thapa thanks his supporters in Kurseong on Wednesday after his party won the GTA Sabha polls.
Passang Yolmo
---
Darjeeling
|
Published 30.06.22, 02:21 AM
|
---
Anit Thapa's nine-month-old Bharatiya Gorkha Prajatantrik Morcha (BGPM) crossed the majority mark in the Gorkhaland Territorial Administration (GTA) Sabha elections with ease, bagging 27 of the 45 seats. 
Thapa won the Kurseong seat, too. 
A surprise in the election was a strong performance by Trinamul Congress in the GTA Sabha polls. 
Trinamul came up with its best electoral performance, winning five of the 10 seats it had contested.
Bengal's ruling party also won three seats from Mirik and a seat each in Kalimpong and Darjeeling. Trinamul had won Mirik municipality in 2017.
Binay Tamang, who had split from Bimal Gurung's Gorkha Janmukti Morcha in 2017 and with Thapa ran a parallel Morcha faction before recently joining Trinamul, surprised many by winning his seat from Dali.
Tamang, too, had not tasted any electoral victory since 2017.
Results of the GTA elections — which were held after a gap of 10 years on Sunday — were announced on Wednesday. Since 2017, the GTA was being run by nominated administrators.
Thapa was in a faction of the Gorkha Janmukti Morcha with Binay Tamang till last year when the two parted ways. The BGPM was founded by him last year and this is his first major poll success. 
The BGPM won 27 seats while Ajoy Edwards's seven- month-old Hamro Party, which had in March won the Darjeeling municipality elections, won eight seats.
Many believe that the party in power at the GTA has a huge advantage in controlling hill politics.
As the president of the BGPM, Thapa said: "We now have more responsibilities to shoulder. This is a bigger challenge for us and we need to work hard."
The hill leader also requested his supporters to maintain peace following a victory after "a long wait".
The GTA results suggest that the BGPM has a good grip on rural constituencies. In contrast, Edwards who had undertaken an extensive parivartan yatra during the run-up to the hill elections is yet to reach the rural areas.
Among the eight seats won by Hamro Party, six seats were won in areas under the Darjeeling municipality while the party managed to win in only two rural seats, Bijanbari and Takdah-Glenburn constituencies.
The Hamro Party could not win any seats either in Kalimpong or Mirik belt.
Edwards promised to work as a strong opposition. 
"Earlier there never was a strong opposition in hill politics but now we have eight people and independents, too. We will raise our voice for the public and will try to end nepotism and the nexus between contractors and leaders," said Edwards.
Five independents, too, won the GTA Sabha polls.
Among the five, two Independents, who were backed by Bimal Gurung also managed to win the seats.
One of the seats won by the Gurung backed independent candidate was from Tukvar, which is the home constituency of Gurung. 
The Gorkha Janmukti Morcha had decided not to contest the elections but sources said they were backing select candidates in many constituencies.