Anit Thapa vows to open dialogue on Gorkhaland
Political observers in the hills not surprised by his comment on statehood demand, see it as an attempt to exploit sentiments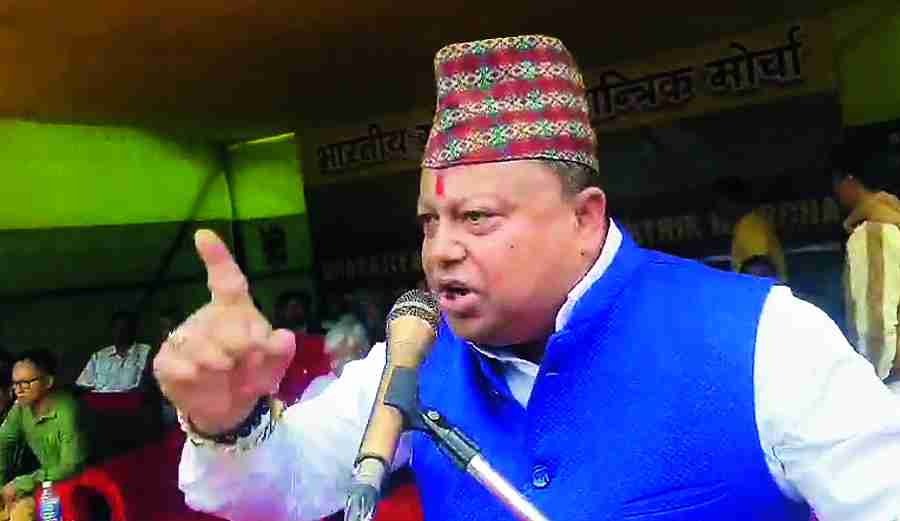 ---
Siliguri
|
Published 05.06.22, 01:00 AM
|
---
Bharatiya Gorkha Prajatantrik Morcha (BGPM) chief Anit Thapa raked up the Gorkhaland issue just ahead of the June 26 Gorkhaland Territorial Administration polls in an effort to strike a chord with hill voters.
Thapa during a meeting with party supporters in Kurseong on Saturday said the hills seek the state of Gorkhaland and not permanent political solution (PPS).
The PPS is a term coined by the BJP and its allies, which many interpret as statehood even though the saffron party has not yet defined what it means by it.
"I was waiting for the opportune moment (to raise the statehood issue). If we cannot raise the Gorkhaland issue at the right moment we will have to face hardship," said Thapa adding that if elected to the GTA, his party would pass a resolution on the issue in the first GTA Sabha meeting.
"I would like to tell all those who are terming us anti-Gorkhaland that we will pass a resolution on the Gorkhaland issue during the first meeting of the GTA Sabha," said Thapa.
The BGPM leader, however, also treaded with caution.
"I will not say I will get Gorkhaland as no political leader can achieve Gorkhaland. However, we will open a dialogue for Gorkhaland. We want a separate state of Gorkhaland and not the PPS," said Thapa.
Thapa, who is also the former chairman of the GTA, has filed his nomination papers in this GTA poll from Kurseong-Giddepahar and Sittong-Latpanchar constituencies.
Political observers in the hills are not surprised by Thapa's comment on the statehood demand and see it as an attempt to exploit the sentiments of the hill people.
"The Gorkhaland demand has been an emotive issue for hill people and Thapa is trying to hit the right chord to win the GTA elections. However, Thapa's close association with Trinamul, the state's ruling party that is opposed to any further division of Bengal, could puncture holes in his stand," said an observer.
The BGPM leader added that the GTA elections were the "final battle" in his mission to make Darjeeling hills better.
"We must win the election so that we can take forward our vision (for the region)," Thapa said, adding that "unity was the need of the hour".