Anit Thapa picks Kalimpong face as deputy
The decision comes after senior leaders of Bharatiya Gorkha Prajatantrik Morcha had voiced concerns on Kalimpong having to 'administratively' depend on Darjeeling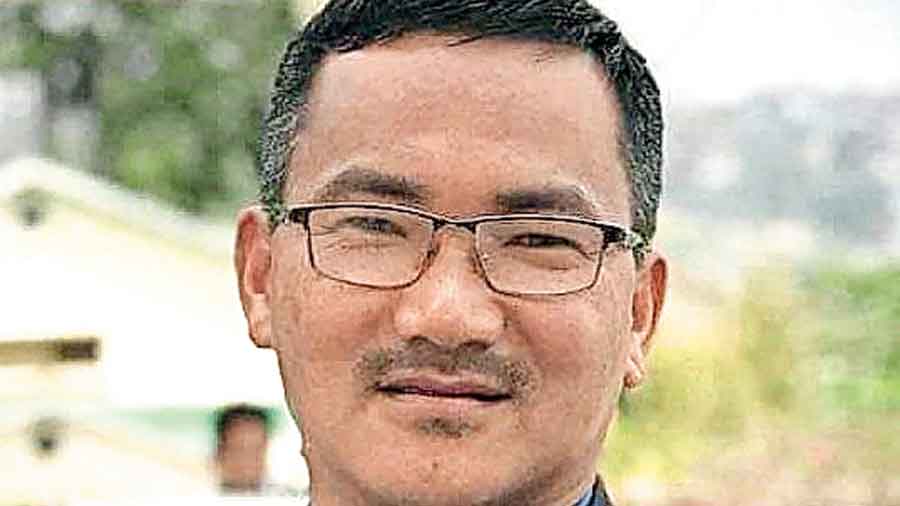 Thapa's new deputy Sanchabir Subba.
---
Darjeeling
|
Published 16.07.22, 01:31 AM
|
---
Anit Thapa, the chief executive of Gorkhaland Territorial Administration (GTA), nominated Sanchabir Subba, an elected member from Kalimpong, as his deputy on Friday.
The decision comes after senior leaders of Thapa's party, the Bharatiya Gorkha Prajatantrik Morcha, had voiced concerns on Kalimpong having to "administratively" depend on Darjeeling.
Thapa, who on Friday entered the Lal Kothi administrative headquarters of the GTA for the first time after winning the hill polls, said: "I have decided to nominate Sanchabir Subba as the deputy chief executive."
Subba's nomination was welcomed by many Kalimpong leaders of the BGPM.
Earlier this year, BGPM MLA from Kalimpong Ruden Lepcha, also the BGPM vice-president, stirred a hornet's nest in hill politics by seeking to confine the GTA only to the hill area of Darjeeling district, leaving Kalimpong district out of this administrative structure. Lepcha instead wanted a three-tier panchayat system for Kalimpong district.
The Kalimpong MLA had also given an impression that his constituency has to politically stand on its own feet, not depend on Darjeeling leadership.
During the GTA campaign Lepcha and his team, however, did not rake up this issue.
"However, the feeling that Kalimpong should be equal partners in governance is always there," admitted a BGPM leader.
In this situation, the decision to nominate Sanchabir Subba as a deputy chief executive is being seen as a wise move, BGPM leaders said. On Friday, Thapa also nominated Kalpana Pradhan from Kurseong and Sinora Lepcha from Kalimpong as executive GTA members.
The GTA executive Sabha consists of 15 members including the chief executive and his deputy. "We have nominated two women members, the rest will be done after talks within the party," said Thapa.
Executive members get charge of various departments. A total of 57 subjects are under the GTA but some have not yet been fully transferred by the state government.