Anit Thapa elected to helm GTA
The person heading the GTA is largely considered to be the most influential political figure in hill politics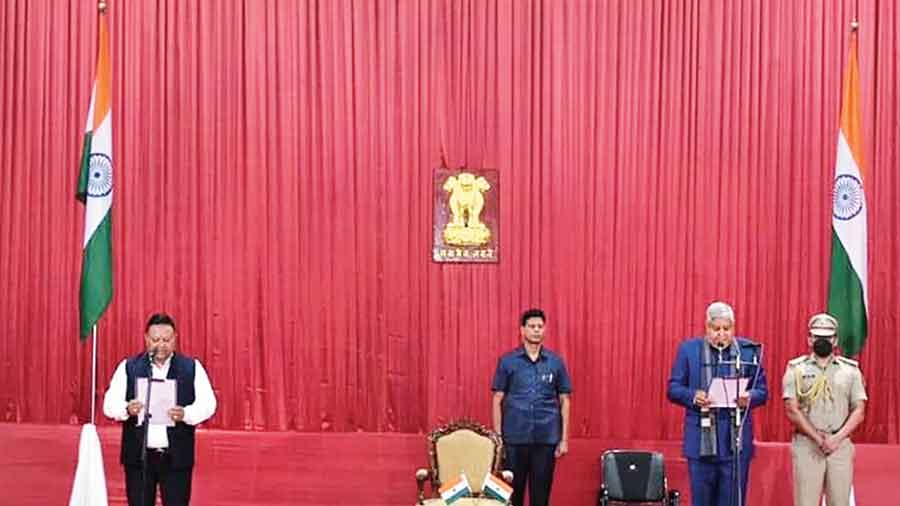 Governor Dhankhar administers the oath of office to Anit Thapa as the chief executive of the GTA in Darjeeling on Thursday.
---
Darjeeling
|
Published 15.07.22, 01:54 AM
|
---
Bharatiya Gorkha Prajatantrik Morcha president Anit Thapa was sworn in as the chief executive of the Gorkhaland Territorial Administration (GTA) following an election in which all 44 elected GTA Sabha members participated on Thursday.
The person heading the GTA is largely considered to be the most influential political figure in hill politics.
The first meeting of the GTA Sabha, held at the Gorkha Rangamanch Bhavan in Darjeeling, was presided by Sanchabir Subba, an elected GTA member from Darjeeling.
The process of elections started from 9am.
"An election was held during which Anjul Chouhan was elected as the chairman of the GTA Sabha while Rajesh Chauhan was elected as the deputy chairman of the Sabha," said S. Ponnambalan, Darjeeling district magistrate.
Anjul is a schoolteacher and Rajesh is a former journalist.
Following the election of chairman and deputy chairman, Anjul conducted an election for the GTA chief executive in which Thapa was elected to the post.
Around 10.30 am, Bengal governor Jagdeep Dhankhar administered the oath of office and secrecy to Thapa at the Gorkha Rangamanch Bhavan.
"The system of governance has collapsed in various sectors and we will work to set up these systems. We will sit for a review meeting with the state government immediately," said Thapa.
Governor Dhankhar delivered a strongly worded speech even though his address was not scheduled in the programme list.
"….Trust your governor all that has happened in the past with respect to violation of financial rules, reported corruption, no accounting of funds of thousands of crores all shall be duly accounted," said Dhankar.
The governor also added that he had been told that GTA had become of "den" of corruption and nepotism in the past.
He also said that the governor's words should not be taken lightly. "Don't test his (the governor's) patience," the governor added.
Dhankhar pointed out that since the chief minister Mamata Banerjee was in town it would have been "graceful" if she had attended such "an important event".
Thapa, when asked about Dhankhar's speech, said that he took it as "advice".
"The governor has the right to guide us. We take his speech as advice. Audit needs to be conducted, we also want an audit and we will welcome it," said Thapa.
Ajoy Edwards, the president of the Hamro Party and also an elected GTA Sabha member, was at times the lone member to clap during the governor's six-minute speech.
Chief minister Mamata Banerjee left for Calcutta on Thursday afternoon.