Bengalis and Bengal had yet another year to remember in 2022, with pathbreaking achievers making their mark across several sectors, industries and disciplines. The best among them were recognised for their excellence at the latest edition of Bochorer Best at ITC Royal Bengal on April 21. The evening marked the third time that Anandabzar online has celebrated the contributions of Bengalis from various walks of life, following the inaugural event at Raj Bhavan in 2021 and a similar gala at ITC Royal last April.
The evening kicked off with a surprise performance by Rupam Islam, who emerged from a pitch dark stage to serenade the audience with a melodious song from the Vedas.
ABP Group's Editor Emeritus, Aveek Sarkar, then proceeded to welcome the audience and enlighten them about how Anandabazar online has been "breaking barriers in our own ways, by emphasising on long-form writing in an era of short-form news. To that end, readers have spent more than 300 crore minutes over the past year reading our work on Anandabazar online."
The first Bochorer Best award went to Timir Mullick, the headmaster of a school in Jhargram who started a telebhaja shop to keep his school running during the Covid-19 pandemic. Mullick was felicitated by Justice Abhijit Ganguly of the Calcutta High Court.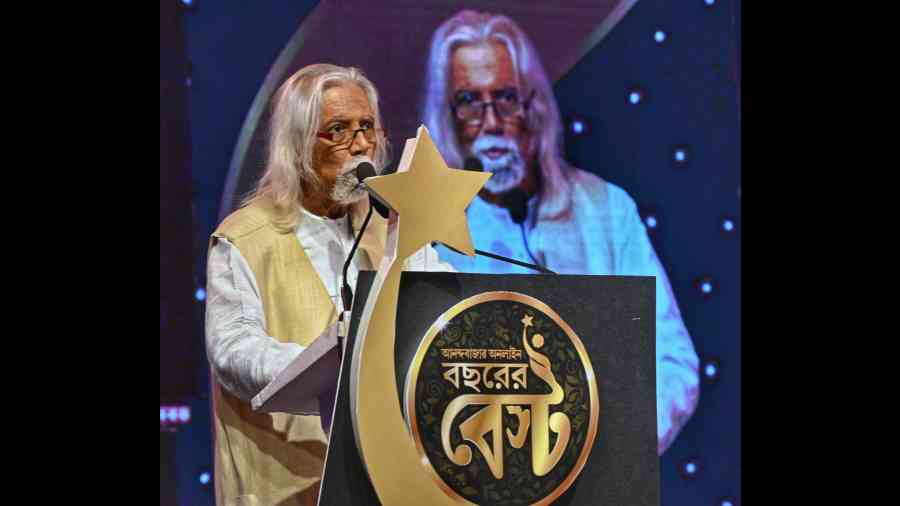 Emeritus of ABP Group Aveek Sarkar delivers a speech at the Bochorer Best 2022 event
Next up, it was Debashree Ghosh, associated with the Indian Association for the Cultivation of Science, who was presented with the Bochorer Best honour by Bratya Basu, minister of education for West Bengal, and scientist Patha Mazumdar. Ghosh was recognised for her remarkable contribution to quantum chemistry.
The third and youngest recipient of Bochorer Best 2022 was Titas Sadhu, player of the match at the final of the ICC U19 Women's T20 World Cup 2023. Sadhu, who also featured in the inaugural Women's Premier League (WPL) earlier this year, was felicitated by Rama Prosad Banerjee, chairman and director of EIILM, and actress Koel Mallick.
The next awardee of the evening was Shaunak Sen, director of All that Breathes, the celebrated documentary that was nominated for this year's Oscars. Travelling from Delhi to collect the award, Sen was presented with his Bochorer Best trophy by film director Anik Dutta and industrialist Harshavardhan Neotia.
This was followed by the presentation of the Bochorer Best award to restaurateur Roni Mazumdar, whose South Indian restaurant Semma, in New York, received a Michelin star in 2022. Mazumdar, who runs six Indian restaurants in New York, was felicitated by actress Raima Sen.
Thereafter, it was time for a musical interlude with Rupam Islam returning to the stage to present his Bengali adaptations of two Oscar-winning songs- Jai Ho and Naatu Naatu.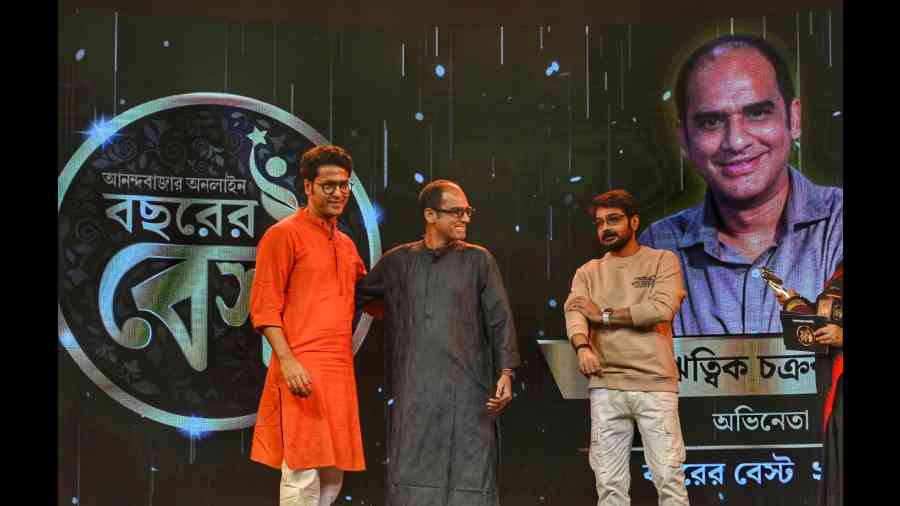 (From left) Tollywood actors Anirban Bhattacharya, Ritwick Chakraborty and Prosenjit Chatterjee
The next achiever to collect the Bochorer Best award was Ravi Modi, founder and managing director of Manyavar. Vedant Modi collected the award on behalf of his father Ravi, who is one of Kolkata's most successful entrepreneurs. Modi was felicitated by Chandra Sekhar Ghosh, managing director of Bandhan Bank, and Swapan Dasgupta, former member of the Rajya Sabha.
Swati Ganguly, professor of English literature at Visva Bharati University, was the next recipient of the Bochorer Best prize. As the author of Tagore's University, Ganguly has written extensively about Visva Bharati and Santiniketan and was presented with the award by literary icon Shirshendu Mukhopadhyay and Rudrangshu Mukherjee, chancellor of Ashoka University.
Somnath Kundu, a prosthetic make-up artist, who has worked in films such as Gumnami Baba and Aparajito, was then honoured with the Bochorer Best award. Kundu, who has recently ventured into Bollywood as well, was felicitated by actor Jeetu Kamal and painter Jogen Chowdhury.
The next Bochorer Best award went to Bangladeshi actress Pori Moni. A household name in Bangladesh and becoming increasingly popular in India, Moni is among the 100 most followed Asian film stars on social media. Moni was recognised by actress Rituparna Sengupta and politician Mohammed Salim.
The final Bochorer Best award for the evening went to actor Ritwick Chakraborty, who has been an integral part of Bengali cinema since 2007. Chakraborty, who has starred in movies like Parineeta, Nagarkirtan and Jyeshthoputro, was felicitated by fellow actors Prosenjit Chatterjee and Anirban Bhattacharya.
Bochorer Best 2022 was supported by presenting partner EIILM Kolkata, a premier management training institute for over two decades. The event was powered by the Indian Institute of Hotel Management and the Merlin Group; co-powered by Baffeto, P.C. Chandra Jewellers, Sri Moni Bhaskar, and Bandhan Mutual Fund. The event's associate partners were Banchharam's, Khukumoni, Great Eastern Retail, AM Medical Centre, Ananda Publishers, Arun Sign, and Skipper Pipes.