An officer and a Gandhian
Lives of others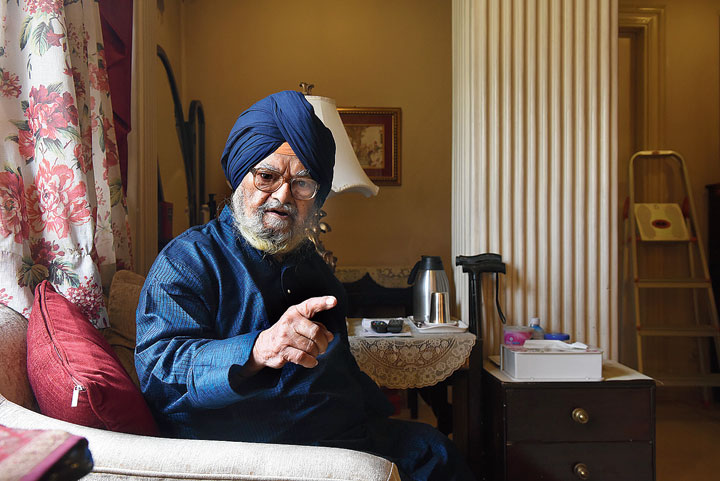 ---
|
Calcutta
|
Published 05.01.20, 11:38 PM
---
In the January of 1948 Sardar Saran Singh, a young resident of New Delhi, was going almost every day to Birla House where Gandhiji would conduct his prayer meetings. Singh had just taken the Indian Administrative Service (IAS) examinations, the first to be conducted for free India. He would be selected for the service in March, 1948, becoming one of the officers of the first IAS batch.
But Singh, now 96, is more interested in talking about Gandhiji, particularly his death. "I attended the meetings every day, except the one at which he was assassinated," he says.
His frail body is almost lost in the deep sofa he is seated in on a December morning in the drawing room of the elegant and comfortable Alipore flat where he lives with his daughter Suksham Singh and her family. He is watching the news on television, wrapped in warm clothes, exuding a warmth and humility that come from an old, almost forgotten world.
A devout Sikh, he still gets up early every morning and reads from the Guru Granth Sahib to receive the message of the day. He follows the news and joins the family at meals. "All his life he has been a student of the Guru Granth Sahib," says Suksham. "I am so honoured you are visiting me, but there is really nothing much to write about me. Civil servants should be anonymous," says her father and returns to Gandhiji.
"I am amazed that Gandhiji was provided with no security, even though he had himself said he did not require it. The administration could have arranged for plainclothesmen around him without letting him know. Especially as there already had been an attempt on Gandhiji's life 10 days ago. He was the greatest man on earth," says Singh. Singh was at Birla House on January 29, too. Gandhiji was killed on January 30 by Hindu right wing activist Nathuram Godse at the prayer meeting.
Singh was present on January 20 as well, when the other assassination attempt had been made. Madanlal Pahwa, an accomplice of Godse, had been arrested.
"Gandhiji was beautiful," says Singh. "When he laughed, it was like flowers from heaven," he adds. "For days together I could not reconcile myself to the fact of his death."
Singh was born in 1923 in Peshawar, the capital of North West Frontier Province in undivided India. His father was a businessman. Singh studied at Khalsa High School in Peshawar.
"As a student I would often join the marches led by Khan Abdul Ghaffar Khan," says Singh. Khan, a pacifist, a devout Muslim and a Gandhian, was dubbed "Frontier Gandhi" by the British. "In Peshawar, a small minority of Hindus and Sikhs had lived together peacefully with Muslims till the idea of Pakistan was introduced in the mid-40s. I knew Pashto well," Singh says.
A brilliant student, Singh would top the matriculation examination from North West Frontier Province, scoring 714 out of 850. But he was bested by a certain Abdus Salam from Lahore, then the capital of Punjab. Salam, who scored 760, would be awarded the Nobel Prize for physics in 1979.
Singh met him much later in life, after Salam's award. Salam's is a memory he cherishes deeply, though he cannot remember everything these days, he says.
He attended Forman Christian College in Lahore, another reputable institution, where he studied geography honours and earned a gold medal at the BA examination. He joined the Royal Indian Navy for a year, but returned to his college in Lahore to study English literature for his MA "That gold medal is yet to be collected," smiles Suksham, an entrepreneur.
Singh was still at his college hostel in Lahore in July, 1947, when he took the IAS examination. One month later, the country was divided.
"I remember cycling to the exam centre in Lahore Bazar every day. The riots had started." After his examination, he came over to New Delhi, with very little.
The interview for the examination was held in New Delhi, in end-1947, he thinks. In March, the results were out. He had been selected for the service and would join the Bihar cadre. He had topped three of the six papers in the written exams, but had not done so well in the interview. "They pulled me down a bit, probably because I was not in a suit and am shortish." A suit was not something he had brought over from Peshawar. And he is short in stature, especially compared to the average Sikh man.
The expanse of his life has been large and has often coincided with the birth and development of projects and institutions that defined the vision of modern India. There were also surprises.
As a newly married man —his wife was Kuldhir Kaur, a Calcuttan, described by him as an "angel" —Singh was posted in Gopalganj in Bihar, where he was the sub-divisional officer. "At the bungalow, the plinth was low and my wife discovered a snake and its babies thriving in the house."
Later, posted in Dhanbad, he would receive world leaders who would come to see the Indian government's showpiece projects in the area: the Damodar Valley Corporation and the Sindhri fertiliser plant. Russian leaders Nikolai Bulganin, Nikita Khrushchev, Chinese premier Zhou Enlai and Marshal Josip Broz Tito of Yugoslavia were among his guests.
He rose to become the chief secretary of Bihar. Then was called to New Delhi.
At the Centre, he worked as secretary to the ministries of steel, social welfare and commerce (textile).
He had the opportunity to see Sardar Vallabhbhai Patel — "man of steel" —from close. Singh admires him greatly. Singh's ex-officio roles made him serve on the boards of TISCO, when he met J.R.D. Tata, and of Unicef.
He organised a reception for Mother Teresa in New Delhi, attended by the President, after she received the Nobel Peace prize in 1979. Singh remembers founder of Reliance Industries Dhirubhai Ambani, who also owned the textile brand Vimal, coming to meet him with his elder son, very young then. "Dhirubhai Ambani was a very courteous man," says Singh.
One of the last offices held by Singh was as adviser to the governor of Assam when the state was under President's rule in the early Eighties. The elections were held in 1983 and Congressman Hiteswar Saikia became the chief minister. "The chief minister must have impressed my grandfather because he named his grandson, me, born that year, after him," says Hiteswar Singh, Suksham's son, in a video tribute to his grandfather.
After retirement, Singh settled in Calcutta. He plays a leading role in the Sikh community. He had been an advisor to the Shiromani Gurdwara Parbandhak Committee (SGPC) and played a role in the signing of the Rajiv-Longowal accord of 1985.
For years, Singh has edited a journal for the community. Now he cannot because of failed eyesight. He had also been a celebrated writer of "letters to the editor" in the city and an avid golfer.
Does the current politics of the country pain him?
"The situation is fissiparous," he says. "Our Prime Minister is an astute man. But the minority of the country needs to be treated with greater consideration so that its members feel reassured." He adds: "The country was going forward compellingly. It cannot afford to turn backward now."
Singh does not speak ill of anyone. But certain things he cannot stop thinking about. "My father keeps saying, "Gandhiji was such a frail man. One bullet was enough for him. Why did they have to fire three?' " Suksham says.