An evening with Wodehouse at Bengal Club
Club members don neck ties and read out excerpts from P.G. Wodehouse's stories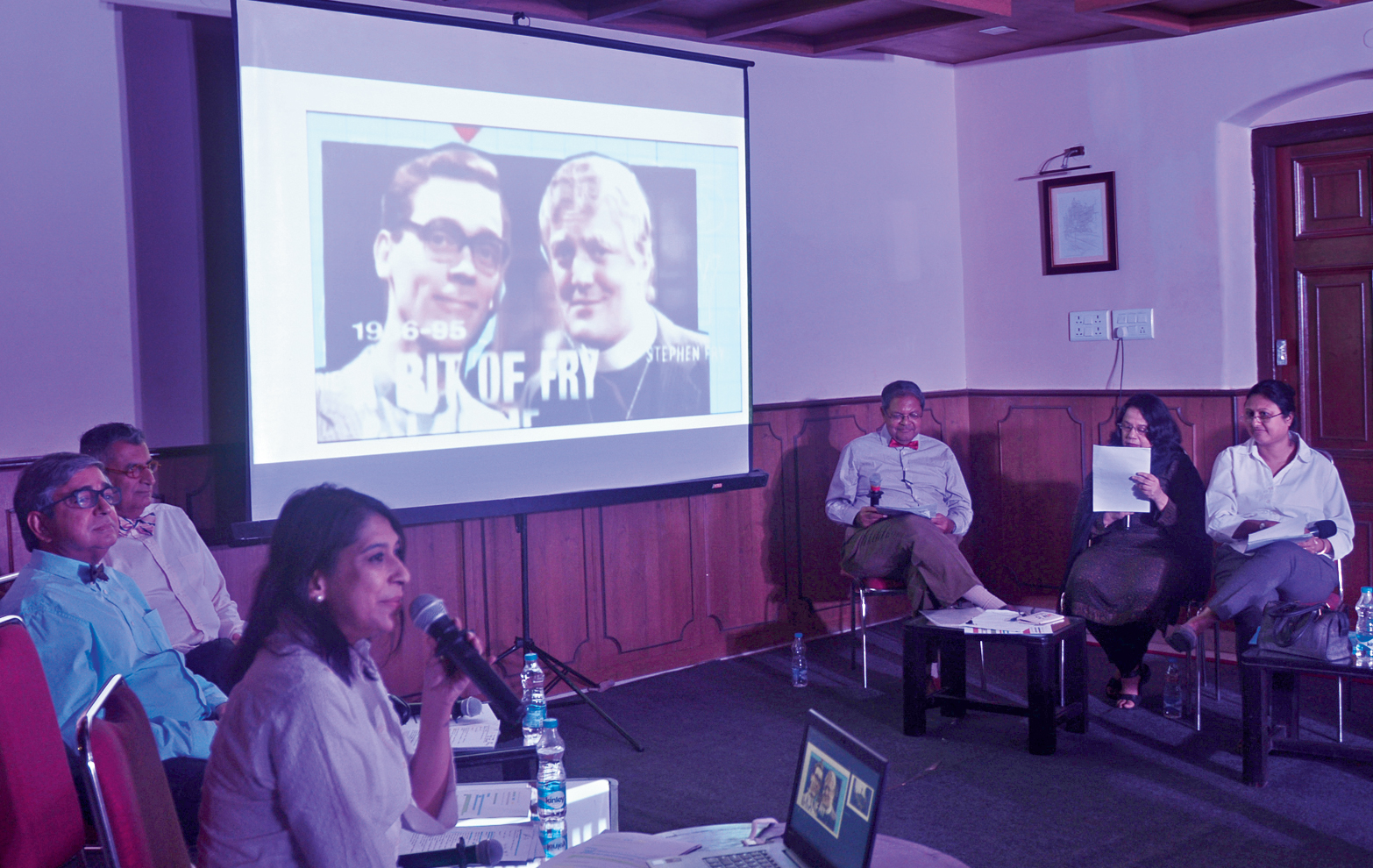 ---
Calcutta
|
Published 09.06.19, 07:54 PM
|
---
The Wodehouseian weekender at Bengal Club on Friday evening was a rummy affair with club members donning neck ties and rounding up on stage to play Mike, Jackson, Jeeves, Bertie, Lord Emsworth and more as they read out excerpts from P.G. Wodehouse's stories.
Interspersed in between were clips from the comedy series of Stephen Fry and Hugh Laurie's Jeeves and Wooster and others and a quiz.
The Wodehouseian Evening, presented by the Bengal Club Library in association with The Telegraph, set off with Mike at Wrykyn. Mike's predicament at having done none too well at his exams with Mr Jackson telling him off was read out.
"Mike's outlook on life was purely as a cricketer," wrote Wodehouse but right when he was to be getting into the school team, he was put away at Sedleigh, "a lesser school than Wrykyn".
A quiz round followed with fairly easy ones like where did Bertie Wooster live and who played Bertie in BBC comedy drama series Bertie and Jeeves. Bertie lived in Mayfair, while Hugh Laurie played Bertie and Stephen Fry his sagacious butler. The first name of Wodehouse, too, was answered correctly as Pelham.
A colour clip from In Court after the Boat Race, an episode from Bertie and Jeeves followed where Bertie visits the "unfriendly" Pringle household and messes up with the "frightful" Honoria, who thinks Bertie is visiting to propose to her and is quite confident of making something of Bertie Wertie.
A BBC One clip on Lord Emsworth followed where he meets his new Portuguese daughter-in-law "who follows not a word of English" and a riotous exchange follows — Freddie wants to introduce his Portuguese wife who he "met at the Pink Pussy Club dancing in a small dress made entirely of bananas", Emsworth warns him "not to introduce Ms Hang Bananas to anyone, particularly not to his aunt".
There were questions on the Drones Club, on why Jeeves left Wooster's employment in Thank You, Jeeves. That was because Bertie kept playing the Banjolele and there were complaints from neighbours "who were driven to distraction by the infernal din", while Bertie defended himself saying "man who had no music for himself" was, to quote Shakespeare, "fit for treason, stratagems and spoil".
Another clip on Bertie and Tuppy visits America was shown where Tuppy drops a dough ball into the soup bowl of the ship's captain to catch Bertie's attention and later asks Bertie "who the fancy-dressed man (the captain) was".
Members read out portions of Right Ho, Jeeves, where Augustus "Gussy" Fink-Nottle have the audience in raptures. "London gives Fink-Nottle the pip," says Bertie while describing Gussy's "thing with newts". He describes his friend as "fish-faced" and asks for confirmation from Jeeves who does think that Gussy's face "has something of the piscine".
A good hearty laugh and some well-earned prizes rounded up the evening.