An eraser every girl wants - Growing number of kitty parties with Botox on the menu
Read more below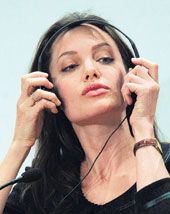 ---
---
Angelina Jolie: Pout perfect
Angelina Jolie is said to owe her pout to it. Kylie Minogue her perfect jawline to it and Aamir Khan's youthful looks are largely attributed to it, according to reports. But a Botox kitty party?
Picture this: a group of women in their late 30s meeting in an upmarket New Alipore apartment for a party.
Their menu: food, drinks and Botox.
Women in Calcutta are pushing in Botox fast to erase the effects of time and the latest rage with these look-enhancement ladies are Botox get-togethers.
"The one high moment in the lives of our girl gang is the wine-and-Botox party we have," admits a 35-year-old professional, who defines herself as "very, very busy and very, very bored".
"We know precisely what we are doing, as one of us is a doctor!" she adds defiantly.
Botox (Botulinum Toxin in cosmetic form) is a non-surgical injection that temporarily eliminates aging symptoms like forehead lines, crow's feet and thick bands around the neck.
"We are doing much more Botox treatment than even six months ago. Suddenly, women from the middle class have woken up to it," says Dr Sachin Verma, dermatologist and skin surgeon, Apollo Gleneagles.
"It is a swift and painless way to get rid of wrinkles. One just has to take a shot and the results are quick," says a Calcutta model, who took her first Botox shot this July.
Botox get-togethers are becoming a rage for quite a few reasons, mostly because of the cost factor.
"A vial of Botox costs around Rs 10,000, plus other charges. But if you have 10-15 women coming together, the cost can be shared. Other women are an assurance that you are not the only one clamouring for a Botox make-over," says the model.
The shots are mostly taken above the eyelids for maximum impact. Some of the Hollywood celebs are believed to take Botox shots even under their armpits so that they do not have sweaty patches.
"Botox is a kind of protein to that relaxes the muscles which tend to lose elasticity with age. The substance relaxes the muscles for a limited period of time," says Dr Verma.
A second injection is necessary in a few months.
Experts warn against taking the injections without the help of a specialist. "A person may not be able to chew or sniff for a long period of time," warns fitness consultant Supratim Akash Paul.