Amphan scrutiny helps govt save Rs 100 crore
Rigorous verification revealed only 48,219 of nearly 1 lakh claimants to the state's Rs 20,000 dole were bona fide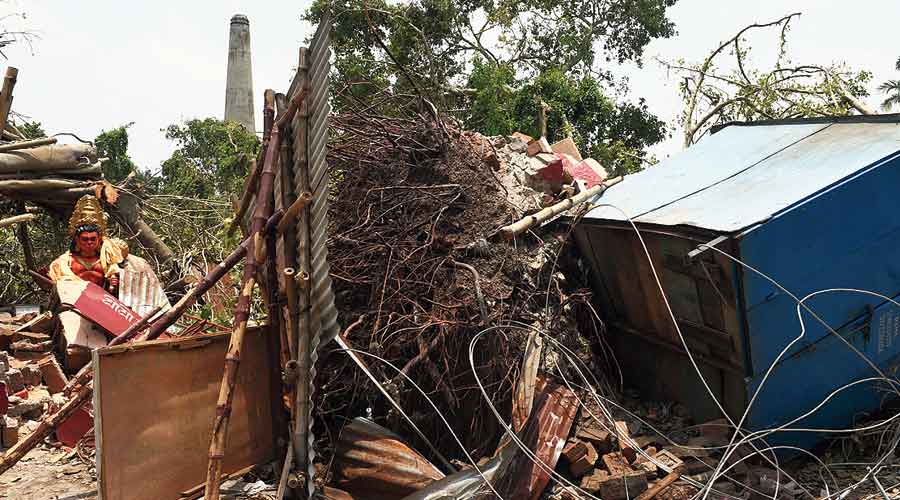 ---
---
Close scrutiny of lists of Amphan compensation beneficiaries in East Midnapore district has helped the government save around Rs 100 crore.
The lists were vetted after protests had broken out over alleged irregularities by Trinamul Congress leaders in the distribution of the compensation. Statistics uploaded on the district's official portal on July 13 after rigorous verification of the beneficiary lists at block and panchayat levels revealed that only 48,219 of nearly 1 lakh claimants to the state's Rs 20,000 dole were bona fide.
In June, government funds of Rs 198 crore were sent to East Midnapore according to initial beneficiary lists that consisted of nearly 1 lakh claimants.
"Among the 1 lakh beneficiaries listed initially, it turned out that nearly 49,000 had homes fully damaged and they were paid Rs 20,000 each. Several others, whose homes were partially damaged, will receive Rs 5,000 each. The verification helped the government save around Rs 100 crore," said a district official.
District disaster management official Mrityunjay Haldar said: "East Midnapore has seen about 49,000 full payments, costing the state Rs 100 crore. We will tap into the state funds for those who need the partial dole as well."
District officials said the funds saved would be used to pay Rs 5,000 each to those whose homes had suffered partial damages.
"About 1.4 lakh persons in the district will be paid Rs 5,000 each. Many among them will be those who had lodged police complaints for being illegally left out of the compensation list," said an official of the district administration.
Opposition leaders in the district claimed that the step was too little too late.
"Even among these new 50,000 recipients, I am sure there are a lot of undetected frauds. The state is still losing money," said CPM district secretary Niranjan Sihi.
"Trinamul is making public gestures now to avoid further scrutiny by the Opposition. But many had already received the funds illegally," said BJP district president Nabarun Nayak.
Sources said the highest number of wrongful disbursements had been made in Khejuri and Haldia's Sutahata. A list of 3,500 beneficiaries has been whittled down to 450 at Sutahata. In Khejuri, the list had the names of 3,000 people and the figure is 300 now.
It emerged that none of the 1,000 claimants in Tamluk and Panskura municipalities had their homes fully damaged in Cyclone Amphan.
"In our block, the initial list of 3,500 has come down to 450. I have given stop-payment instructions to all local banks," said Sutahata panchayat samiti deputy chief Tapas Maity.
Sources said the state had sent full doles for 46,560 beneficiaries on June 30, but the second round of disbursals on July 13 saw a drastic drop to 1,659 persons. "This is because of the scrutiny and verification which are still going," said a district official.
The developments come in the wake of the formation of a block-level task force and a verification committee composed of additional district magistrates. The teams are in the process of verifying the lists of 223 gram panchayats in the district. Trinamul panchayat functionaries said they were cooperating with the state's efforts to verify the lists.