'Once again camps will come up, once again people will be dumped'
Amidst persisting apprehensions over NRC, Bengali Dalit writer Jatin Bala on a refugee childhood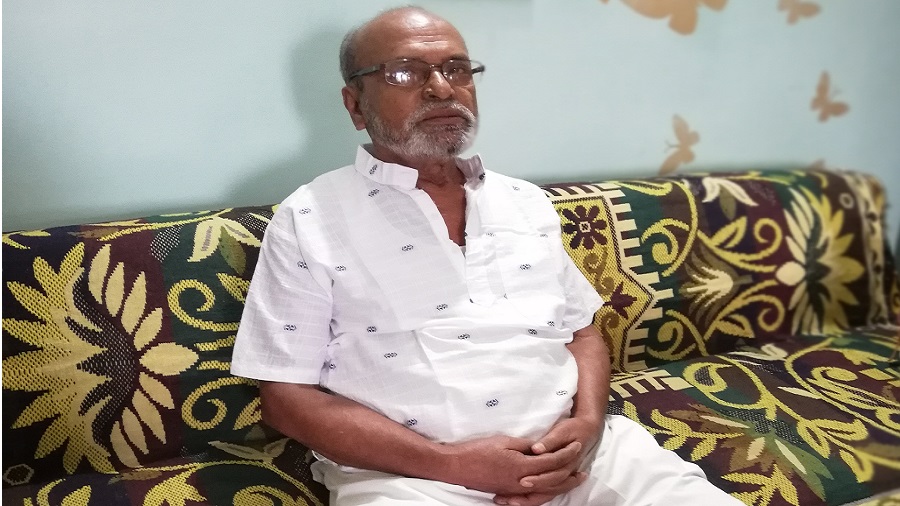 Jatin Bala
Moumita Chaudhuri
---
Published 11.10.20, 01:04 AM
|
---
Bachao, bachao... thus begins Bengali Dalit writer Jatin Bala's autobiography Shikor Chhera Jibon or My Uprooted Life. The first volume of the book is now being translated into English — a Sahitya Akademi initiative. When I meet Bala at his home in the South 24-Parganas, the octogenarian tells me, "I was only five years old when we had to run away from our village in East Pakistan. The bloody scenes are etched in my mind as if carved on a soft rock."
Bala, a retired government officer, lives in a spartan apartment, a loner's den. Except for the bellowing of a passing local train — the housing complex is close to the Sonarpur railway crossing — the place is all peace and quiet. He continues, "I am a refugee. I was a victim of the riots of 1954 [that had to do with the ethnic cleansing of Bengali Hindus from East Pakistan]."
Bala was born in 1949 in Jessore, now in Bangladesh. There was communal tension everywhere. He lost his mother when he was a little over a year old and his father died when he was barely four. He was brought up by his eldest brother, who was older to him by 25 years.
Bala narrates how his father had to leave their family home and shift to another village as he was suspected to be an Indian spy because of his eldest brother's connection with the extremist Rajat Biswas, a close associate of the freedom fighter Bagha Jatin. Bala's father died soon after.
Bala recalls an evening sometime in 1953-54, when their village was attacked and houses were set ablaze. He, his siblings and his paternal aunt, along with many others in the village, fled and hid amongst the thickets beyond. He says, "The next morning we reached a Hindu-majority village called Boro Bondortala."
Days later, they secured the requisite permits and left for the Benapole border. They walked over 37 kilometres before they could reach there. Says Bala, "And as we walked, more people from other villages kept streaming in and joining the steady flow. We were all beggars — women carried small bundles with bare essentials, men and children were barebodied, barefoot. We had left behind everything... When we reached the Benapole border, it took hours to get the border pass."
The siblings finally crossed the border, reached Petrapole on the Indian side, and from there they walked all the way to the Bongaon railway station in West Bengal. From there they were eventually taken to Sealdah.
Sealdah was not the family's ultimate destination,  nor did it spell an end to their suffering. Rather, it was the beginning of another long and arduous journey. Says Bala, "At the Bongaon station, we found thousands and thousands like us — homeless, uprooted. There was dearth of food and water. In fact, there was no place to sit and rest. Volunteers were handing out chire, muri, chhatu. I yearned for a morsel of rice."
The five-year-old Bala had possibly witnessed more than his brain could process. Even as he recounts his memories, he makes loopy gestures with his hands as if to show the images still jangling inside his head. He says, "I saw people die. Many had died en route, before reaching India. We left the dead bodies on the roads and kept walking. People died after reaching Bongaon and Sealdah. Babies died of hunger, women died of hunger. For days we went without taking a bath. Our bodies stank."
The streets adjoining Sealdah station — College Street and Harrison Road (now known as Mahatma Gandhi Road) — seemed like an ongoing exhibition of distress. On both sides of the road people had set up rag-tag brick ovens and were cooking rice in earthen pots. Bala remembers helping his brother cook for the whole family. But before he could partake of the much-awaited morsel, one of his brothers was asked to leave for the Bhandarhati Workside Camp in Hooghly. Three camps had been put up there for the refugees — the Kunti Transit Camp, the Balagarh Camp and the one at Bhandarhati.
The family split at Sealdah station. Says Bala, "Mejda [the second brother] was sent away and the rest of us were loaded onto trucks and sent to Kunti." Someone packed the rice in a gamchha to be eaten later.
At Kunti, there were 500-600 tents. The camp was dirty and unkempt. Says Bala, "Many children died from the strain and the filth. Men who stayed in the camps were sometimes murdered by the locals as they regarded us as apod or extraneous menace who had come to take away their share of land, work, food... The cash dole given by the government was too paltry to survive on and we were not allowed to leave the camp and go out in search for jobs."
Here Bala worked as a child labour and was often physically abused. "One day, when I fell down while carrying a bundle of straw on my head, I resolved I would study and get myself an education," he says.
It was during his time at the Kunti camp that Bala started attending school. In the meantime, his brother kept approaching the authorities to let them shift to the Bhandarhati camp so that they could be united with the other brother. After two-and-a-half years they shifted to Bhandarhati. Says Bala, "One of the inspectors had learnt that my elder brother was a freedom fighter."
The Bhandarhati camp was a work site; a dam was being constructed at the time. It was a low-lying area infested with snakes and mosquitoes. Bala recalls, "It was an extremely unhealthy place to live in — children died of malaria and tuberculosis." The authorities put the refugees to work at the construction site. But when the work was over, the Government of India decided to demolish the camp. "We protested and even went on hunger strike," says Bala. But this protest did more harm than good. "Police bulldozed the camps; lathicharged indiscriminately, dumped us into trucks like animals and we were again transferred to another camp — the one at Balagarh," he says.
Bala's education was interrupted.
The family's fortunes now split. The eldest brother managed to secure a loan and a plot of land, where he built a house. But Bala's Mejda stayed on in the Balagarh camp and Bala with him. He says, "One day the government decided to stop giving us cash dole. I even stopped receiving the book grant I had received so far. There was no money, no food; for two days I survived on taal gola (the pulp of the palm fruit mixed in water)."
Bala came out of the camp and into a regular life when he was in his teens. The period between then and now he narrates with a single word — "Ei" — and a sweep of his hands. He stares out of the window and says, "Now, when the BJP government is repeatedly talking about NRC (National Register for Citizens), about identifying the Muslims who came to India after Partition, of sending them away, I fear for their plight, for their life. Once again refugee camps will come up, once again people will be dumped into those inhuman confinements. Once again people will be rendered powerless, abandoned — sans homes, sans land, sans a country to call their own."
Têtevitae
1949: Bala is born in Jessore district, now in Bangladesh. His father is a schoolteacher
1954: The family shifts to West Bengal, stays in the Kunti Camp in Hooghly district. This is around when he starts going to school
1962: Moves out of the camp and in with his eldest brother in Bongaon
1966: Completes school final and joins Bongaon Mahavidyalaya
1970: Graduates in Bengali (Hons) and thereafter gets his master's degree in 1972
Starts career as a teacher in a school in Kabardanga, in southern Calcutta, at a salary of Rs 300. Completes BEd eventually
A few years later, joins the state youth welfare department and retires from there in 2007