Alumnus with Mount Hermon flag on Mount Everest
Shrestha, who belonged to the '89 batch of Class X at the school in Darjeeling, reached the highest peak, around 5am on May 15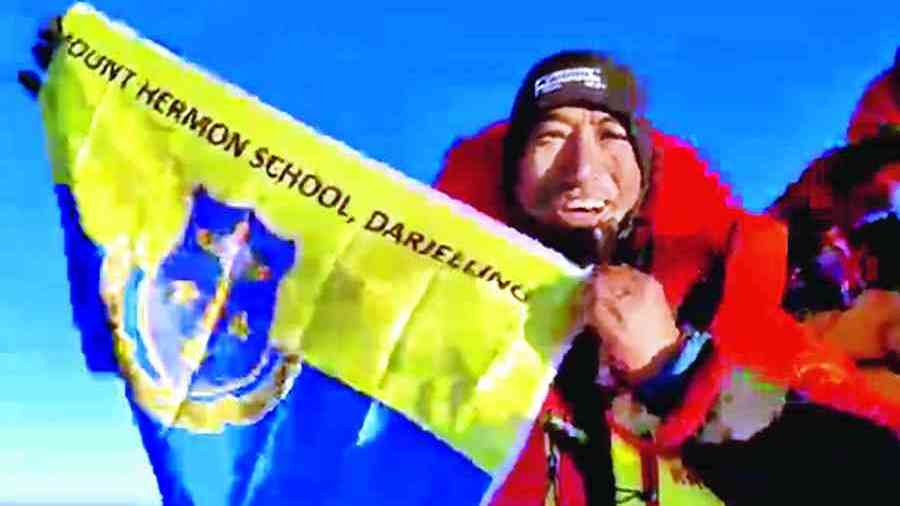 Pramod Shrestha 'Goofy' with the flag of Mount Hermon School atop Mount Everest.
---
Darjeeling
|
Published 23.05.22, 01:35 AM
|
---
Pramod Shrestha "Goofy" did not goof up when he took the flag of Mount Hermon School atop Mount Everest in a bid to turn the spotlight on famous academic institutions in the Darjeeling hills, many of which are not in the pink.
Shrestha, who belonged to the '89 batch of Class X at Mount Hermon in Darjeeling, reached Mt Everest, around 5am on May 15. He had carried the school flag to the highest point on the earth situated at an altitude of 29,031 feet.
"The school had taught me a lot and I owe to my alma mater whatever I am. The school has always been a family and it was a proud moment for me to host the school flag at Mt Everest," Shrestha, 52, told The Telegraph over the phone from Kathmandu.
To his schoolmates, Shrestha is known as Goofy.
"When I was a boarder and was standing in a queue to get a hair-cut, I got the name Goofy. I must have goofed up then," he said.
Goofy's act was planned in January this year. "It was a difficult as well as an expensive expedition," said Goofy, who spent around Rs 32 lakh (Nepalese currency) for the 40-day expedition.
"I always like to do something out of the ordinary. I like adventure and that is why I decided to climb Everest and also take the school flag," said Goofy.
The climber runs travel agency Himalayan Enfielders that organises bike rides in Tibet, Nepal and north-eastern states of India.
Even for the adventure-scarred person, conquering the Everest was fraught with "quite a few scary moments, including walking past the body of a climber".
Goofy, however, says that the climb will be more satisfying if it can bring the focus back on hill schools.
"These days, many new-age schools have sprung up in every major urban area. Perhaps, our hill schools needed to be upgraded. If my climb can highlight the place and the school, it would be a great contribution on my part," said Goofy, who studied at Sunrise School in Kurseong from Class I to Class III before joining Mount Hermon to study till Class X.
Many academics admit in private that Goofy's act has brought the much-needed focus on famous hill schools, many of which are in dire need of attention and planning to regain their old glory. At least 15 schools in the hills are internationally known.
Goofy, a resident of Kathmandu, also ensured that his daughter Tanisha, too, had gone to his alma mater in Darjeeling. "I wanted her to get the same experience that I had," he said.
In earlier times, students from across the world would enrol at the schools in the Darjeeling hills. Royal family members from Nepal and Bhutan studied at hill schools.
According to the academics, there has been "general reduction" in the number of outstation students enrolling at Darjeeling schools.
"The impact has been over a series of events, a cumulative impact from many things," said Neil Monterio, principal of Dr Graham's Homes in Kalimpong.
Many said the political unrest starting from the violent Gorkhaland agitation of 1986 to frequent strikes, one of which went on for 104 days in 2017, and the Covid-19 pandemic had all added to the woes of the hill schools.
Asked if the hill schools had failed to upgrade to face new challenges, Monterio said: "Given the size and the area of schools in the hills, infrastructure upgrade needs a major investment."