80 years of Alliance Francaise du Bengale
The institution added a floor to its Park Mansions address, doubling its area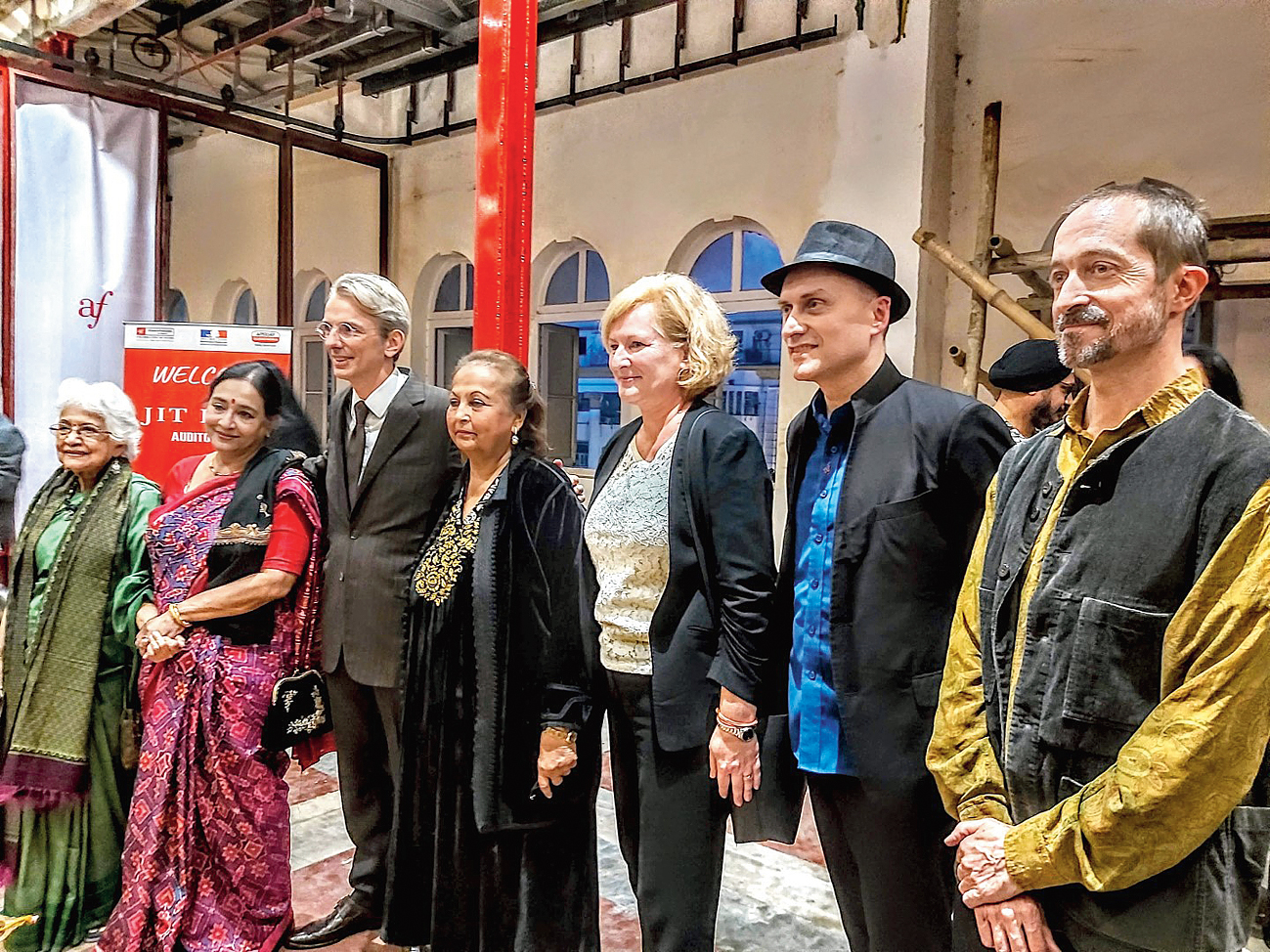 The ambassador and Shirin Paul with French consul general Virginie Corteval and others.
Picture courtesy AFB
---
Kolkata
|
Published 24.02.20, 03:10 PM
|
--- Paul spoke of the history of Park Mansions. "This building was built in 1910, the same year as Apeejay was born. In 1976, Jit Paul acquired Park Mansions, spread across 1.77 acres.... Reconstruction work started in 2008 under his direct supervision and in 2009, the project was taken over by my children, Karan and Priti Paul. The restoration was completed in 2011 during the Apeejay Centennial and this building was awarded a heritage award for exemplary restoration in 2013 by the Calcutta Municipal Corporation and INTACH," she said, standing under a star-lit sky on the terrace, with the iconic milk-white dome behind her.
"AFB has a new life, like a phoenix, and it continues, with its indomitable spirit, its journey towards the future," said Kanchana Mukhopadhyay, president of the AFB committee, comparing the mythical bird that is reborn from its own ashes to the grand return of AFB to its original premises after being dislodged in a fire in 1999.
The ambassador also decorated teacher Kaushik Chatterjee with a medal for more than 35 years of service at AFB. "You have been a torchbearer of ties between two countries," he told Chatterjee, who had created a record when he passed diplome with 98.5 per cent marks as a student.
The event ended with a cultural programme supported by the Institut Français in India and Institut Français in Paris.
The city's hub of French culture and language rung in its 80th year of existence with expansion of its premises.
Alliance Francaise du Bengale added a floor to its Park Mansions address, doubling its area. Most of the acquired space will be taken up by the Jit Paul Auditorium, which was inaugurated recently by Emmanuel Lenain, the ambassador of France in India, and Shirin Paul, chairperson emeritus, Apeejay Surrendra Group, which owns the property.
The inauguration will be followed by commemorative events through the year and new educational courses, it was announced.
"The relation between France and Bengal has always been special. We share a lot, like this love of witty conversation — you call it adda, I guess. We also love to spend time arguing — sometimes it is on politics, sometimes philosophy. So I am not surprised that Alliance Française is thriving here," said Lenain. AFB, he pointed out, has extended its premises "in response to their growing number of students and audience over the past three years". "India is our number one network in the world with 14 Alliance Française centres. And this is the birthplace in India," he added, describing Fabrice Plançon, the AFB director, as "exceptional".
The architect Laurent Fournier took the guests around the auditorium after the ceremonial opening. "This is an impressive building. This auditorium is a wonderful piece of architecture, using materials that are good from the aesthetic point of view and are sustainable," Lenain commented later.