After leaving Bengal flooded, cyclone heads for Bangladesh
Officials apprehend rise in prices of crops after heavy rain that began from Sunday morning damaged vegetables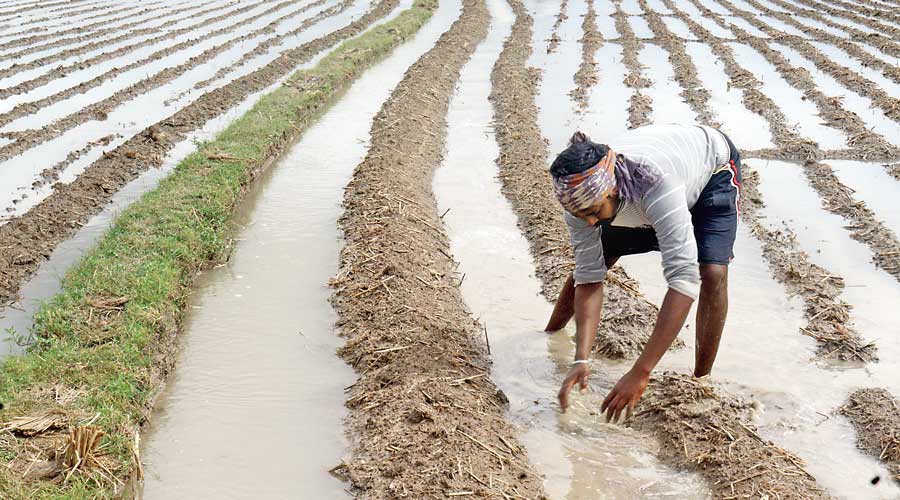 ---
Calcutta/Tamluk
|
Published 07.12.21, 01:05 AM
|
---
 The Bengal government heaved a sigh of relief as the well-marked depression caused by cyclonic storm Jawad weakened further and moved towards Bangladesh by Monday evening.
The day was marked by heavy to moderate rain in several parts of the state. The Alipore weather office predicted that normal weather was likely from Tuesday.
Heavy rain that began from Sunday morning, has, however, left its mark on the state, with inundation, breaches of earthen dykes and damage to agriculture in coastal districts and some Gangetic stretches of south Bengal.
Heavy rain that began from Sunday morning after cyclonic storm Jawad weakened and turned into a deep depression continued till Monday afternoon mostly in Hooghly, Nadia, North 24-Parganas, South 24-Parganas, Calcutta and East Burdwan .
In south Bengal, Tarakeswar recorded the maximum rainfall, 17cm on Monday, followed by Bagati and Burdwan (13cm), Kalyani (12cm), Barrackpore, Mohanpur, Kharagpur (11cm) and Calcutta airport (10cm). Kakdwip, Krishnagar, Mongalkote, Bankura recorded only 2cm rainfall, the lowest in the state.
Incessant rainfall raised the water level in several rivers in the Sunderbans delta spanning North and South 24-Parganas districts. Sources said rivers Goureswar, Kalindi, Dasha, Roymangal in North Dinajpur were flowing at danger level. On Monday morning, the water at Goureshwar river began flowing over the earthen dam and inundated Haulipara village of Rupmari gram panchayat under Hingalganj block.
Large stretches of farmland and fishing bheris were flooded. 
A team of NDRF reached the village and rescued the residents taking them to a flood relief centre. An official of the Basirhat subdivision said  irrigation authorities had been asked to repair the washed-away stretch of the earthen dam.
Mousuni island's Baliara village was inundated after floodwater damaged an earthen dyke along the Chinai river during high tide on Sunday. Irrigation authorities began repairs, which, however, are not complete. Residents alleged that the dyke was damaged last month during a high tide, but no repair was done then.
Similar breaches in earthen dams were reported from Mahishamari, Poilagherai-Ramkarchak, Chakphuldubri, Bankimnagar, Shridham in Sagar, as well as in Nadabhanga area of Namkhana where a stretch of Hatania-Doania River was damaged causing inundation in adjacent areas. In Namkhana block's Narayanganj-Debnagar, a dam became vulnerable following a crack developed whereas a dam was washed away in Shibrampur area.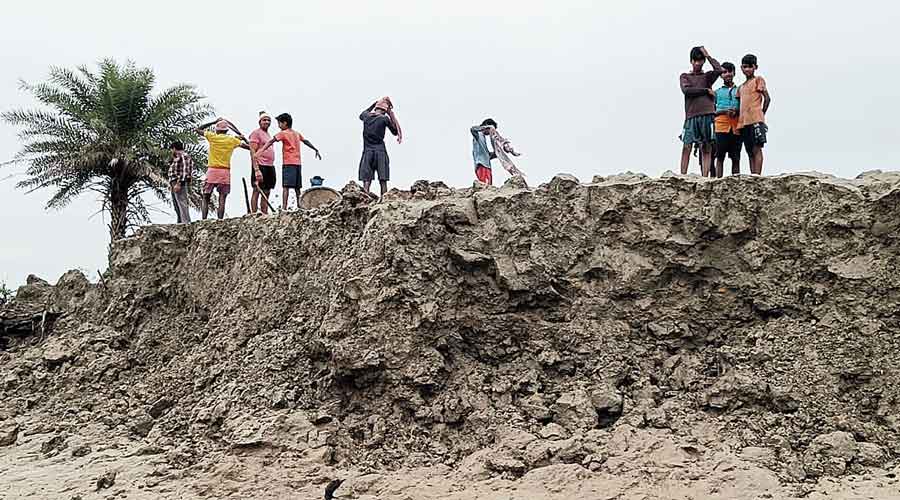 In East Midnapore, rainfall stopped late on Monday morning, but the sky was cloudy. The administration relaxed curbs for tourists and allowed them to access areas close to the beaches. But the ban on venturing into the sea remains. Hoteliers said the number of tourists coming to sea resorts in the district went up.
BDO Ramnagar-I in East Midnapore Bishnupada Roy said: "Weather has improved a lot and it is a big relief. However, as a precautionary measure owing to the vagaries of nature, we continued to put certain restrictions on tourists and have asked fishermen not to venture into the sea."
Sources in the East Midnapore district administration claimed earthen dams were safe till Monday evening. However, some low-lying areas were inundated causing heavy damage to farms, an officer of district agriculture department said.