Actors protest film pull-out
Many saw in the decision to stop screening the film an attempt at infringing on the fundamental right of the viewer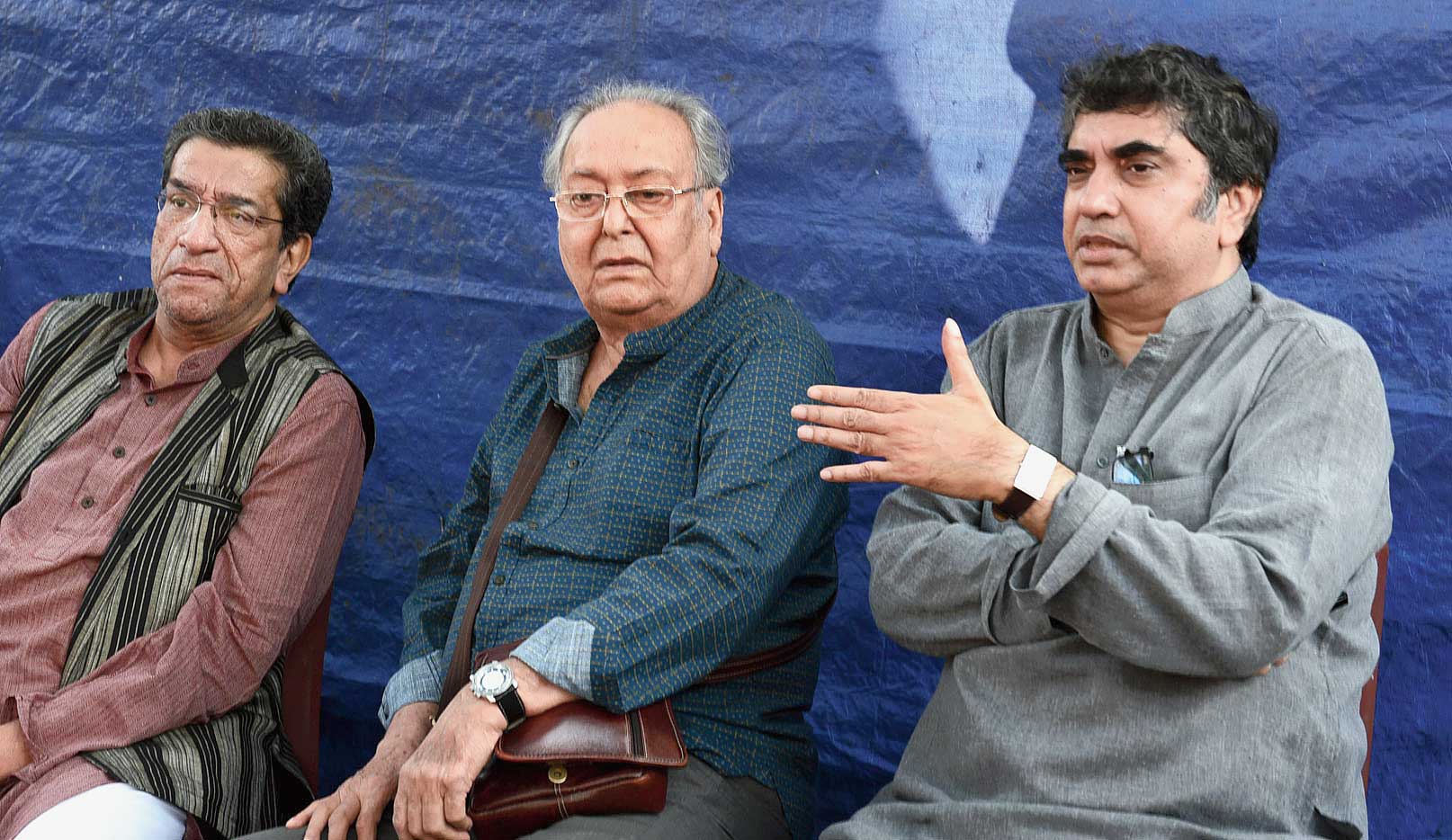 ---
|
Calcutta
|
Published 20.02.19, 08:41 AM
---
Tollywood actors, including veterans such as Soumitra Chatterjee, gathered on Tuesday to protest the pulling out of Anik Dutta's film Bhobishyoter Bhoot from theatres across the city on Saturday.
The film, being called a "political satire", was released on Friday and screened in multiplexes and standalone cinemas.
The cinemas in the city stopped screening the film on Saturday amid allegations that police had ordered the step by citing "popular sentiment" and potential "law-and-order trouble". A senior officer at Lalbazar refused to comment on the matter.
The film is still off the screen in Calcutta but running successfully in three halls in the suburbs.
The actors who demonstrated on the pavement along the Academy of Fine Arts on Tuesday termed the decision to stop screening Bhobishyoter Bhoot an "infringement on a fundamental right" and vowed to take the legal route to bring the film back to the screen.
"I was astounded to note that the film was taken off the screen just a day after it was released. There is reason to think that this is a vengeful act, triggered by some comments made by the filmmaker in the past. I have no words to condemn this," Chatterjee told an audience of about 200, most of whom had learnt about the protest on social media.
Others present included Barun Chanda, Saheb Bhattacherjee, Sabyasachi Chakraborty, Koushik Sen, Sohag Sen, Chandan Sen, Deboleena Dutta, Chandreyee Ghosh and others.
Bhattacherjee said: "The way in which the administration had reacted to a political satire, which should have been taken lightly, indicates that it is scared."
Many saw in the decision to stop screening the film an attempt at infringing on the fundamental right of the viewer.
"Forget about the filmmaker, the producers and the crew, whose livelihood depends of the film. Think about yourself... you are being denied your fundamental right to watch a film. If we don't do something about it now, we will be setting a scary precedent," said Koushik Sen.
The actor said that since the Central Board of Film Certification had cleared the film, a "proper reason" should be cited for stalling its screening.
Director Dutta, who was present at the protest, said the producers of the film, among whom is Supreme Court advocate Indira Unninayar, were preparing to move court.
In many of the halls that screened Bhobishyoter Bhoot on Friday, the film has been replaced by Uri and Ek Ladki Ko Dekha Toh Aisa Laga.
The three halls where the film is still being screened are Rathindra in Sodepur, Jayanti in Barrackpore and Lali in Barasat.
A quick check on Bookmyshow.com revealed that most of the shows in these single screen theatres are almost packed on Wednesday and Thursday.