Academy to promote Dalit literature in state
Mamata Banerjee announces formation on new academy with Manoranjan Byapari as chairman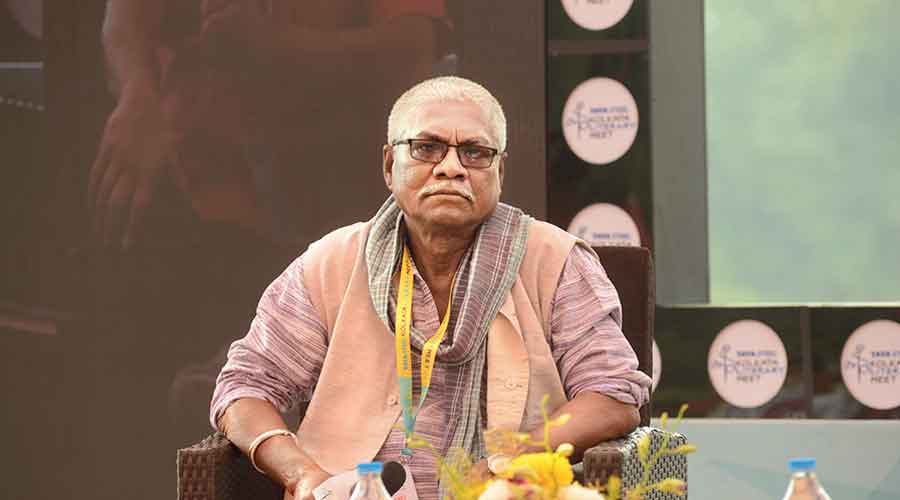 Manoranjan Byapari
Telegraph picture
---
Calcutta
|
Published 15.09.20, 02:23 AM
|
---
Mamata Banerjee on Monday announced a Dalit Sahitya Academy to publish collected works of Scheduled Caste writers and set up libraries for Dalit literature in Bengal.
"We are setting up a Dalit Sahitya Academy with Manoranjan Byapari as the chairman. The academy will focus on the works of Scheduled Castes and other backward classes," the chief minister said at Nabanna on Monday.
The move is the first institutionalised effort to promote Dalit literature, which has a rich history in the context of Bengal but remained unnoticed for years. Though several other states have made efforts to promote Dalit literature, similar initiatives weren't noticed in the state, said a senior official.
"For example, works of Manohar Mouli Biswas, who has been inducted into the academy as a member, are a part of literature textbooks at universities across the country after his short stories and novels were translated into various languages. But his works haven't got enough recognition in the state so far," said a senior government official.
Similarly, Manoranjan Byapari, the author of Itibritte Chandal Jibon, is also a known writer across the country, but he is known by few in the state, the official added.
"The chief minister wants it to be changed … She wants to make the works by Dalit writers popular by making them visible," said a source.
In Bengal, the Dalits have a rich history, both in social and political spheres. Several Dalit leaders in Bengal have often rued that personalities like Jogendranath Mondal, who was one of the central and founding fathers of Pakistan and served as the first minister of law and labour in Pakistan, are not known to people in the state.
"There is such fascinating history about Mondal, who had made common cause with the Muslim League in its demand for Pakistan expecting that the Scheduled Castes would be benefited from it. But he migrated to India after a few years of partition citing anti-Hindu bias of Pakistani administration. He died at Bongaon in 1968. Very few people know about him," said a Dalit leader.
The academy, sources in the government said, would try to promote the history of the Dalits and their influence in social and political spheres.
Keeping with her administration's inclusive approach to restore and promote history, Mamata also announced on Monday that the state government would digitise the Sanskrit manuscripts preserved at a museum in Bishnupur in Bankura and upload the same in the digital library of the state government.
The move is also considered to be significant as Bishnupur had emerged as the paramount centre for learning Sanskrit and Vaishnab literature in the 16th, 17th and 18th centuries.
"There is curiosity on the manuscripts kept in Bishupur worldwide. The state wants to digitise all such manuscripts and upload those on digital library so that whoever has interest can access them," said a source.