Abhijit Banerjee's wish list for next trip
Three things that the Nobel laureate wants to do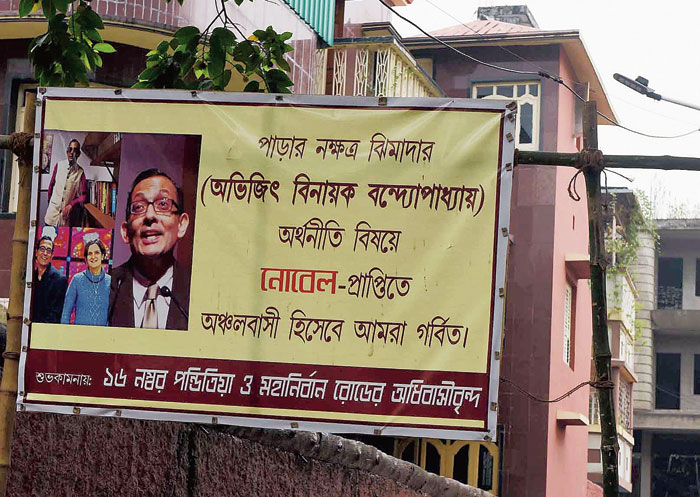 ---
|
Calcutta
|
Published 24.10.19, 12:24 AM
---
Visiting villages in South 24-Parganas for his new research project, going to College Street boi para and the neighbourhood of their old house on Mahanirban Road are some of the things Abhijit Vinayak Banerjee wants to do when he comes to the city this December or next January, his friends said on Wednesday.
The economics Nobel Prize winner, who was in Calcutta for barely a day, did not find time to do all this.
Visiting villages
Banerjee wishes to speak to villagers in South 24-Parganas for a new research work that he is undertaking with Liver Foundation, a NGO. The project is on empowering informal healthcare workers in rural Bengal.
"Abhijit has told me that he wishes to travel to South 24-Parganas and do a survey among villagers for the project. This time he could not go because of his short stay. It would take time for the work," said Abhijit Chowdhury, Calcutta-based gastroenterologist and head of Liver Foundation. "I spoke to him over phone this afternoon and discussed about the project. He is very enthusiastic about it," said Chowdhury.
Boi para and Presidency
Banerjee plans to visit College Street next time he is in the city, said his friends.
"College Street is very close to his heart even before his Presidency days. He wishes to visit his college too once again," said gastroenterlogist Chowdhury, who had accompanied Banerjee from Delhi to Calcutta on the IndiGo flight on Tuesday evening.
Banerjee was part of Presidency university's mentor group . The group was formed in June 2011, after Mamata Banerjee came to power, to convert Presidency into a world class university. The group was dissolved in January 2018.
Old para
Banerjee also has a wish to visit his old neighbourhood on Mahanirban Road where he spent part of his childhood, said a friend.
"Usually Abhijit prefers calling his group of friends to his Saptaparni apartment for a chat. But he also wants to visit the old para," said a friend.
The residents of area have set up a board congratulating "Jhimada" (Jhima is Banerjee's nickname).
It states the residents of Panditiya and Mahanirban Road are proud of "para star Jhimada" getting Nobel in economics.
Asked whether he wanted to visit any food joint in Calcutta, one friend said although Banerjee loves food and cooking, he never expressed any special interest in dining out in Calcutta unless there is an invitation.