Abhijit Banerjee: Student who could correct his teacher
Rakshit said they were lucky that Presidency then at the undergraduate level had students of such calibre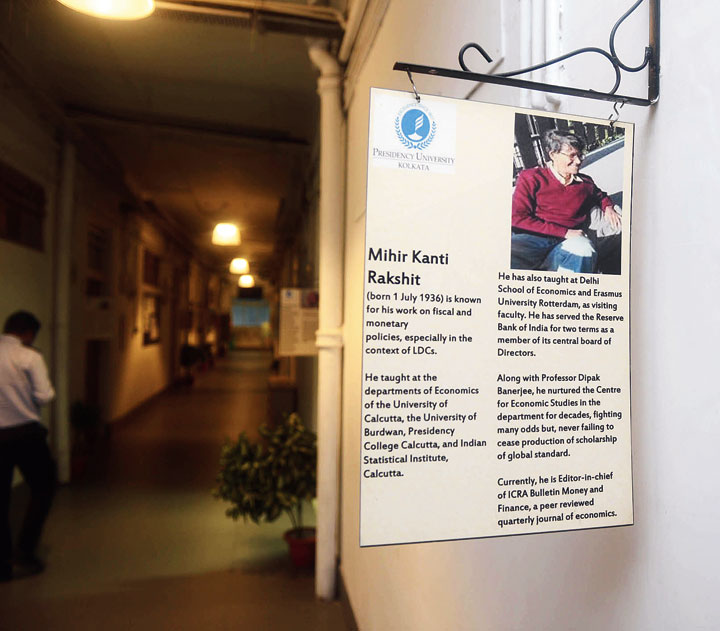 A board dedicated to Mihir Kanti Rakshit at Presidency University
Telegraph picture
---
Calcutta
|
Published 14.10.19, 11:12 PM
|
---
Abhijit Vinayak Banerjee was a second-year undergraduate student at Presidency College when he pointed out a mistake in a soon-to-be-published book by one of his teachers.
Mihir Kanti Rakshit, who taught Banerjee economics at Presidency (now a university) from 1978 to 1981, had the results of "theoretical argument" in one of the chapters of his book The Labour Surplus Economy corrected by Banerjee before it went to press.
"I was about to publish my book The Labour Surplus Economy. There was a chapter on 'share tenancy'. I kept a copy of the draft in the Presidency College library so that students could go through it and offer their observations if they so desired. Abhijit, then an undergraduate student, pointed out the mistake in the results of the 'theoretical argument'," Rakshit, who taught at Presidency College between 1965 and 1992, recounted to Metro on Monday.
"When I finally handed the draft to the publisher, I recognised his contribution. I noted that in the results on the topic concerned in the original version, (the draft) had contained a mistake and my undergraduate student Abhijit Vinayak Banerjee corrected it," said Rakshit, who the Nobel winner addresses as "kakababu".
Banerjee's father Dipak Banerjee, who was then head of the economics department, was a close friend of Rakshit, who is known for his work on fiscal and monetary policies.
Rakshit, 85, said they were lucky that Presidency then at the undergraduate level had students of such calibre who could point out a mistake in a book by one of the teachers.
"As a teacher I consider myself lucky that I could teach a student of such calibre. Presidency then used to boast of such an outstanding pool of students," said Rakshit.
What is it about Banerjee that struck him the most?
"The depth in his arguments. He was rather shy in the classroom. He would hardly engage with the teachers in the class, unlike Debraj Ray who was senior to him. But after the class hours whenever he used to discuss any problem with me, I could sense the depth in his argument. As teachers we had to do a lot of studies so that we could answer his queries," recounted Rakshit, who has also taught at Jawaharlal Nehru University.
Ray, who graduated from Presidency in 1977, is the Julius Silver Professor, Faculty of Arts and Science, and Professor of Economics, New York University.
"In my teaching career at Presidency spanning over 27 years, I remember the two bright students — Abhijit Vinayak Banerjee and Debraj Ray — the most. There are several bright students, but very few can realise their potential. Abhijit, whose nickname is Jhima, could live up to the expectation as he focused on research.... I am so proud of his achievement," said Rakshit, who has also served the Reserve Bank of India for two terms as a member of its central board of directors.