Abhijit Banerjee's visit to Nabanita Dev Sen: Book, Bijoya treat & boyhood tales
Banerjee dropped in at Bhalo-Basha, Dev Sen's Hindusthan Park home, to meet his "mashi"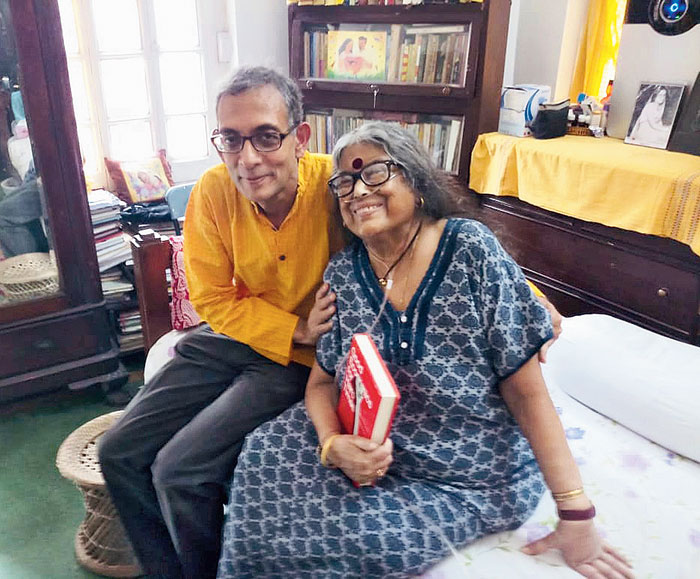 Abhijit Vinayak Banerjee with Nabaneeta Dev Sen at her Hindustan Park home on Wednesday
Telegraph picture
---
Calcutta
|
Published 24.10.19, 12:27 AM
|
---
"Ki jeno ekta prize peli re tui (what's that prize you got)?", reads the inscription on a book that Nobel laureate Abhijit Vinayak Banerjee received as a gift during his visit to Nabaneeta Dev Sen's house on Wednesday.
Banerjee dropped in at Bhalo-Basha, Dev Sen's Hindusthan Park home, to meet his "mashi".
"Jhimada brought Ma a copy of his latest book Good Economics for Hard Times. When he handed it to her, he said: 'I want a book of yours too'. Ma had kept one ready, Bhalobashar Baranda, with the inscription. 'Only you can say that,' Jhimada quipped on reading it," laughed Nandana Sen, Dev Sen's younger daughter, who was present along with elder sister Antara.
Banerjee reached around 11.45am and walked in with the words "Shubho Bijoya. Kemon achho, mashi (How are you, auntie)?" A Bijoya treat followed — tea, nolen gurer sandesh, aam sandesh and homemade nimki.
The conversation veered around childhood memories — Dev Sen recalled a four-year-old Banerjee playing with a toy car — stories of his parents and his two children.
"A couple of years ago, when I did an interactive reading of my book Kangaroo Kisses at Barnes & Noble, Boston, I had invited his daughter Noemi to read it with me. She had just learnt to read and did a brilliant job. Ma loved watching the video," Nandana said.
As a child, Banerjee loved solving puzzles. "He does so even now. When he came to meet us last November in Boston, he brought my granddaughter a book of puzzles. I wish I had got him a puzzle even today as gift," Dev Sen told Metro.
The family knew about Banerjee's visit days in advance. "I was back in New York briefly when Jhimada got the prize and was returning in a couple of days. When I congratulated him, he said he, too, was about to visit Calcutta and even though it would be a short trip he would love to come and see Ma," Nandana said.
Banerjee and Dev Sen are "very close". "When Ma was in Boston last November, Jhimada came to see her, as he often does in Calcutta. Minimashi, Jhimada's mother (Nirmala), is one of my mother's closest friends. Dipakmama (the legendary economics teacher and Banerjee's father) and Baba (Amartya Sen) were always really close. Dipakmama used to teach at Presidency College and when I joined as a student, he used to very sweetly give me a lift to college and back," Nandana recalled. She also remembered how Jhimada and Tulidi (Banerjee's first wife) "took really good care" of her when she was at Harvard as an undergraduate student and he was a young professor. "They cooked me many splendid meals."
When news reached that Banerjee had been named joint winner of the economics Nobel, it was an emotional moment of celebration for both Dev Sen and Nirmala Banerjee.
"I called his mother and said that I had tears in my eyes. She said so did she. It was a moment that could only happen between two mothers. The little boy I have seen grow up has made us all so proud," Dev Sen said.
The best thing about Banerjee, in her eyes, is how modest and humane he is. "The kindness and humanity in his personality reflect in the work he does," said Dev Sen.
The two sisters came downstairs to see "Jhimada" off but beat a retreat on opening the door and noticing the size of the media contingent in wait.
"That's understandable. Having been through all of this with our Baba it was not a surprise," Nandana smiled.
There had been a lot of celebration during Sen's post-Nobel homecoming too. "There were such demands on his time as well. Even the police escorts who accompanied Jhimada today were the same people who had escorted Baba then and do so every time he comes here — so we know them well," she said.
Banerjee stepped out of Dev Sen's house at 12.25pm.
Wait for a glimpse
The road outside Bhalo-Basa was teeming with people during Banerjee's visit.
Residents of the adjoining buildings were seen clicking pictures of the Nobel laureate from their balconies.
Ram Avatar, a resident of one of the buildings, stood on the footpath outside the house. "When Amartya Sen had come to this house after winning the Nobel in 1998, the area came alive in a similar fashion. Today another Nobel winner has dropped in at this iconic building. So we are eager to see him," he said.
The footpath across the road had curious onlookers waiting for a glimpse of the Nobel winner. "I have come to buy flowers. When I heard who is here, I waited. After all you don't get a chance to see a Nobel winner every day. It was worth waiting," said a woman.
Several staff of the handloom store on the ground floor of Dev Sen's home clicked photos on their mobile cameras.
"We were stunned to see such an assembly outside our store. Later we realised who it was meant for," said a staff of the store.
Banerjee had left his home at Saptaparni around 11.30am to visit Dev Sen.
But before that he received a letter signed by Dev Sen, the president of the Presidency alumni association, saying he had been chosen for the distinguished alumnus award this year. The visit to Dev Sen's house was not linked to this.
A convoy of police vehicles tailed Banerjee to the house on 72 Hindusthan Park.