A statue on every island
The civic board has installed several statues along the Broadway, First Avenue and the first and second crossroads. The cost of installation and beautification is approximately Rs 8 lakh per island.The Telegraph Salt Lake checks out the new additions to the township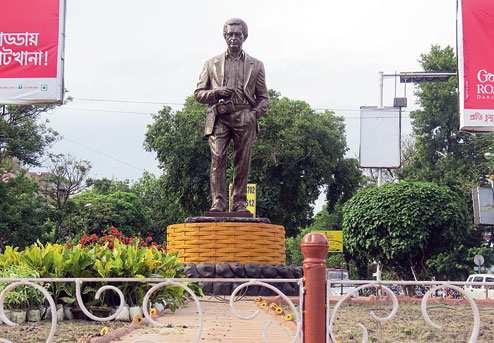 ---
---
Satyajit Ray:
Location: EZCC Island
The look: The legendary filmmaker has a camera hanging from his neck.
Surroundings: On the left of the statue is EZCC, which hosts the Salt Lake leg of the Kolkata International Film Festival and on its right is Aikatan, another venue for cultural programmes. The multiplex Carnival Cinemas is a stone's throw away in the Broadway mall.
People's voice: "It is nice to see this statue here. Satyajit Ray is a legend who is popular not only with Bengalis but with film-lovers all over the world," said Subholina Sen, a college student of IB Block, who was waiting for an auto there.
The reason why: "I am sure people who come to attend cultural programmes in EZCC will be happy that we have installed Satyajit Ray's statue here," said Debashsis Jana, former councillor of the local Ward 16.
Mother Teresa:
Location: HB Island
The look: This is the only statue that has been coloured white. It has Mother Teresa carrying a child.
Surroundings: This Island is rather crowded and so the statue has to share space with several traffic signal posts, hoardings and banners.
People's voice: "This is the most easily identifiable statue along Broadway. The baby in her arms looks weird though," said Ratan Paul, an auto-rickshaw driver.
The reason why: "The island has several hospitals nearby and since Mother Teresa worked to improve healthcare of the poor, I thought this spot would be apt for the statue," said Jana.
Sister Nivedita:
Location: GD Island
The look: The bronze statue of the disciple of Swami Vivekananda is shown wearing a gown and with prayer beads on the neck.
Surroundings: There are hoardings all around this statue too.
People's voice: "I wonder why they have put her statue here," said Sushmita Gurung, a student who stays as a paying guest in GD Block.
The reason why: "People of the area had requested for a statue of Sister Nivedita and once the work was completed I received several congratulatory and thank you messages from the residents," said Jana.
Matangini Hazra:
Location: Netaji Island
The look: The bronze-coloured statue of the freedom-fighter is actually difficult to spot as it is partly covered by a huge tree on the island.
Surroundings: Statues of two iconic freedom-fighters now vie for attention in front of Central Park. The Island between FD and FE blocks has long been known as Netaji Island, as it had a statue of Netaji Subhash Chandra Bose on the Central Park side of the road. In fact, the park behind the statue is known as Netaji Park. The much smaller Matangini Hazra statue has been placed in the island in front, and faces the Karunamoyee side of the road. A Tagore statue also stands in the FE Block corner plot opposite the statue.
Passer-by speak: "I don't know why they are installing so many statues here. This place has always been identified by Netaji's statue and that was enough," said Papai Marjit, who runs a tea stall right outside the proposed site of Rabindra Bhavan, where the Tagore statue stands.
The reason why: "Since both Matangini Hazra and Netaji Subhas Chandra Bose contributed to the freedom movement, we decided to install her statue near his. But since her statue isn't facing the Broadway, people are not being able to recognise her. I have proposed that we put two more statues of freedom fighters in this island and make them face the Broadway," said Banibrata Banerjee, the former councillor of Ward 13.
A bare tree trunk:
Location: Labony Island
The look: This island has been decorated by placing a half-chopped trunk of what looks like a Banyan tree. Some locals allege that a tree was hacked to make way for the island's beautification and that the installation is of the same dead tree.
People's voice: "If they wanted to revamp the island they could have done it with living trees instead of a dead one. It looks awful," said Pradeep Sanyal, who was waiting for an auto near the island.
The reason why: "During last year's Durga Puja, this tree trunk was a top draw in the Labony pandal. So I decided to put up this work of art permanently here. The tree trunk conveys the message of conserving greenery," said Ashes Mukherjee, former councillor of Ward 12.
Four lions:
Location: PNB Island
The look: Four marble lions stand in the middle of the Island facing four sides. While two of them hold a ball under their paws, the other two hold up what looks like a scroll. The lions have been placed on a plinth and have a circular roof overhead for protection from the elements. Multi-coloured lights have been affixed to the roof.
People's voice: "I think there is still some work left on these statues and I'm hoping they will look good once work is completed. But I can't make out why the lions would have balls under their paws," said Anirban Choudhury, a techie.
The reason why: "The lions were purchased from a marble crafts stall last winter in Bidhannagar Mela. We liked them and bought them off the shelf to be put up here," said Jana, the former chairman-in-council (CIC) member in charge of beautification.
Mahatma Gandhi:
Location: Tank 3 Island (AD Island)
The look: Easily the most recognisable statue, Gandhi is shown walking with his stick. This is one of the only statues that has a board spelling out his name and a few words spoken by him.
The reason why: "I had wanted to install a statue of Gandhi for a long time now. Moreover, it was a long-standing demand from the residents," said Anupam Dutta, the former councillor of Ward 7.
Vidyasagar:
Location: Tank 4 Island
The look: The statue of the educationist and social reformer has to share space with huge billboards that threaten to overshadow it.
People's voice: "I like the fact that we have this statue here. Earlier whenever we would think of him, Vidyasagar Setu would come to mind but now I can proudly say that we have a statue of him in Salt Lake as well," said Ayan Mitra, a resident of AC Block.
The reason why: "Vidyasagar is a great scholar with memorable contribution to the Bengali language. So I feel proud to have his statue near my house," said former councillor Anupam Dutta.
fairy:
Location: Kathgola Island
The look: The white figurine with golden wings appears to be sitting on a green globe atop a blue plinth that looks like waves. The fairy holds a harp in one hand and a pigeon on the other.
People's voice: "The fairy looks okay from a distance. But a closer look at the face tells a different story. I mean fairies are meant to look pretty, right?" wondered Preety Agarwal.
atlas:
Location: Tank 8 island
The look: The famous Titan from Greek mythology now calls Salt Lake his home. He holds up a green sphere, that signifies the heavens. But the shrubs and trees in the island have already started growing wild and threaten to overrun the statue's base.
lion:
Location: Tank 9 Island
The look: The elongated lion with a leg stretched out has a greenish tinge. Initially the plan was to install a sound system that would let out a roar every hour but the plan was scrapped. "If the lion roared out of the blue motorists could get shocked and cause accidents. Hence this plan was scrapped," said a municipal source.
People's voice: "It looks as if a lion has been pulled from the sides. And I wonder why it is green," said a BJ Block resident who did not wish to be named.
The reason why: "The beautification carried on at different islands has given Salt Lake its landmarks. People will be able to navigate through the township easily now, not to mention that the statues look really great. Residents are happy with them," said Krishna Chakraborty, the former councillor of Ward 3 and the ex-chairperson of Bidhannagar Municipality. The lion, Atlas and fairy are all in her former ward and are her brainchildren.
Rabindranath Tagore:
Location: Bhartiya Vidya Bhavan Island
The look: The golden statue of the Bard has an umbrella on top to protect him from bird droppings.
People's voice: "The township has several Tagore statues now but it has to be seen if they are properly maintained or not," said Saikat Banerjee, a resident of Falguni Abasan.
The reason why: "The nearby Purbachal Housing Complex has been hosting Rabindra Jayanti with great fanfare for several years now. Its residents had requested me to install a statue here. I also want to install statues of Rammohun Roy and Ramakrishna here," said ex-councillor of Ward 22, Minu Chakraborty.
The Telegraph Salt Lake speaks to some eminent artistes residing in the township to seek their views on the statues
Shuvaprasanna
BH Block
I am disturbed at seeing such tasteless statues installed here. Had I my way, these would be razed to the ground. The intention might not have been bad but the execution is an insult to icons like Satyajit Ray and Mother Teresa. They are an eyesore. A city is judged by its monuments.
On that scale, Salt Lake has been rendered laughable. Are those stupid fairies or Chinese dolls worth anything more than a laugh? What artistic merit do those fibre glass pieces have? The aesthetic sense of the average Bengali has always been weak. So urban planning needs expert guidance and should not be left to whims of politicians and administrators. Initially (when the civic board was formed), there was an attempt to seek advice from us but eventually we became showpieces.
Ganesh Haloi
AE Block
What are those odious pieces picked up from Kumartuli? They befuddle our sense of the pretty and the ugly. Our aesthetic sensibility has taken such a plunge that it is beyond redemption. If such was the urge for beautification then could they not have put up a simple fountain? These statues seem to be the result of one-upmanship among councillors. There are enough skilled sculptors doing creative work here. Could they not have been entrusted with the work? There should be a committee for beautification. Such decisions should be taken by experts. Now that the damage is done, can they be uninstalled?
Gautam Pal
CL Block
They are not looking good. The worst is of Mother Teresa — neither portrait, nor figure. The one of Satyajit Ray is just as bad. There was no need to install another statue in the island in front of Netaji. When I had sculpted it, there was talk of placing it in the Island but there are sewer lines underneath. That is why the heavy bronze statue was placed in the park. Because the new ones are of fibre, they (the councillors) must have thought they are light enough to be placed anywhere.
Niranjan Pradhan
AE Block
There is a distinction between sculptures and dolls. These are all dolls. Public art is meant to educate the eye. We have to be more responsible in our choices. These are all mounds of clay that catch the eye because they have been coloured. When I travel by these statues, I try to avoid looking at them. There should have been a committee with people who understand sculpture to decide what to install and by whom. If money was a constraint, they should have installed just one piece and not a dozen. It is not for us to go out on a limb and offer advice. In the Left regime, Nitish Ray and I had proposed installing in Central Park the Raj era sculptures languishing in Latbagan, Barrackpore. The 15 or so bronze pieces are works of such unparalleled skill and vitality that they would have taught people what heights of excellence sculpture could reach up to.