A star is reborn
Read more below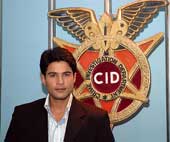 ---
Published 31.10.05, 12:00 AM
|
---
Rajeev Khandelwal now appears as a top cop in CID on Sony
A star was born on STAR. Then unceremoniously stripped of his crown because he allegedly grew bigger than the serial. But by then he had already become the heartthrob of the TV-viewing nation and he soon got to hold the Time Bomb on Zee. And now with the bomb set to explode, the man?s on to a new role on Sony.
Here?s re-introducing Rajeev Khandelwal aka Sujal of Kahiin To Hoga. In a casting coup of sorts, Sony has picked Rajeev to replace Shivaji Satam as the new boss of the popular crime drama CID. But with a twist in the sleuth tale, of course. Rajeev will be playing a different character altogether, that of a young and dashing ACP (Aamir Khan of Sarfarosh, anyone?).
?That?s what attracted me to do the show in the first place,? Rajeev tells Metro. ?I get to give a new look to a serial which is already popular among the viewers. CID is an intelligent show which has lots of logic and once I appear the whole set-up will become even more different. That?s all I can divulge now.?
Insiders at Sony reveal that Rajeev?s character in the serial has to face a lot of resentment from his colleagues before he is accepted by the team. Then they all get cracking with the cases again.
The promos of the new CID with Rajeev as the top cop will be shown on Sony from this Monday in an effort to boost the TRPs as soon as he appears on the show from November 4.
A new role was always in the offing for Rajeev, what with Time Bomb ticking to an end by November.
?I was planning to take up a new assignment on TV,? he says. ?CID is something which is more me, although I am not a very action-action person as such. But with the new storyline, I can see myself connecting with the audiences again.?
No matter what he does, isn?t Rajeev Khandelwal still very much Kahiin To Hoga?s Sujal? ?Come on, give me a break,? protests Rajeev. ?I don?t miss the serial. At most, I am proud of it. I don?t even watch any of these stupid saas-bahu serials on TV. I realised they are not for me anyway. Why should I miss something I walked out on??
As with all high-profile telly stars, Rajeev is looking for a screen switch. ?Although I haven?t signed any film yet, I can sense it?s coming soon,? he says about his filmi foray.