A breakfast outlet run by a bunch of differently abled young people is set to open doors on Lake Road after Diwali.
The group will host a dry run at Motherland Craft store near Charu Chandra College on Sunday.
The people behind the project, aged between 20 and 30, suffer from autism, Down syndrome or some other cognitive handicap. That does not prevent them from rustling up tasty cookies and cup cakes.
Take Arghya Dutta, for example. The 24-year-old is a slow learner but has mastered the art of making delectable butter cookies from dough.
The eatery is an extension of Sip N Bite, a year-old catering and bakery unit managed by the group. The unit functions from a small office at Swiss Park and caters to corporate events, takes private orders and supplies to restaurants.
Sip N Bite was set up by a group of parents whose children suffer from cognitive disabilities and an NGO that works for their empowerment.
It has served refreshments at the office of PricewaterhouseCoopers and the National University of Juridical Sciences. The cookies served with tea at Ekdalia Road, a restaurant in Ballygunge, are sourced from them.
"We are starting with a modest menu and hope to expand it, depending on the response," said Amrita Roy Chowdhury, founder of Transcendent Knowledge Society and the driving force behind the project.
Her NGO works for economic and social rehabilitation of differently abled people. From what to wear to how to communicate, Roy Chowdhury has been mentoring the group for over a year.
A handful of eateries in Calcutta, including the New Market outlet of a fast food chain, has employed people with hearing and speech impairments. Sip N Bite stands out because from kitchen to log books, everything is handled by people with cognitive disabilities.
"There are people whose parents can afford shelter homes. The rest spend their lives on the streets after their parents die, treated like the parar pagol (mad man in the neighbourhood). We want to make them employable, which holds the key to a respectable life," said Roy Chowdhury.
A designer friend of Roy Chowdhury has agreed to let out a section of his store for the project.
On Sunday, the bunch will handle everything from taking orders, preparing the food and billing.
But it is not something new for them. At the Swiss Park office, the team has their responsibilities divided. Some take orders, some work in the kitchen and some deliver the goodies.
Shrutarshi Banerjee, who suffers from autism, makes bills and keeps track of the inventory. The 25-year-old has cleared a secondary-level data entry operator's course under the National Institute of Open Schooling and is familiar with Microsoft Excel.
"He is super-excited about Sunday's trial run," said Sambhunath Banerjee, his father and a member of South Kolkata Parashmani, the parents' group.
Shreya Gami, 23, suffers from Down syndrome. "She is always smiling and is quite a pro in customer interaction," said Roy Chowdhury. Shreya always makes it a point to take feedback from a customer about the food.
Apart from the signature cookies, Sunday's menu will have cheese and hazlenut spread toasts, omelettes and sprouts with vegetables. The beverage options include filter coffee and tea with lemon and honey.
"The pricing is on a par with confectioneries across Calcutta. A chocolate chips cupcake would cost Rs 20. The idea is to be financially viable," said Roy Chowdhury.
Disability rights activist Mohammed Asif Iqbal, who beat blindness to become an associate director of PricewaterhouseCoopers (PwC) in Calcutta, was upbeat when Metro told him about the project.
"Having an income is the key to self-reliance. The café could set an example and inspire thousands, especially when the unemployment rate among disabled is over 80 per cent," said Asif, who has assisted the Centre in making the Aadhaar project inclusive and the process of filing online income tax returns more disabled-friendly.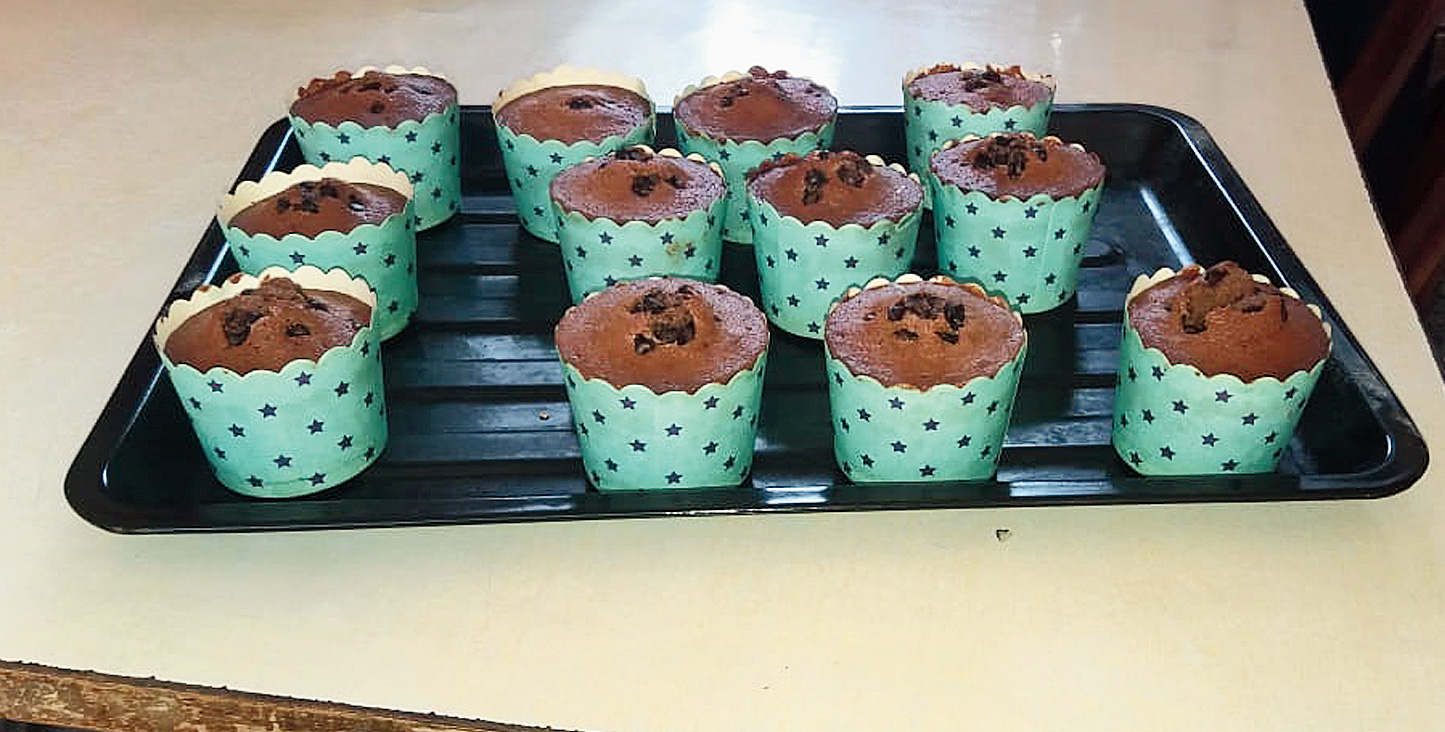 Chocolate chip cupcakes made by the team Agencies