A school to make you 'note'worthy
Read more below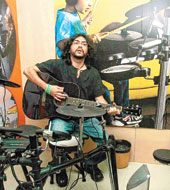 ---
---
Fossils vocalist Rupam Islam at the inauguration of Roland School of Music. Picture by Saradindu Chaudhury
Roland School of Music (RSM), Japan, an institute that "has over 25 years of track record in music education", opened its first school in India at the studio of Happy Hours in AMP Baisakhi mall, Salt Lake, last week.
Rupam Islam, lead vocalist of Fossils, and Shigeru Kimoto, marketing manager of Roland Corporation, inaugurated the school that promises to make learning the piano, keyboard, guitar and drums as much fun as playing Fruit Ninja on a cellphone.
"Music is enough for a lifetime, but life is not enough for music. If man is god's best creation, then music is the best creation of man. But survival in today's music industry depends on a wide range of skills," Rupam said.
This is where the Japanese school excels: giving talent the skills to rock the world. "RSM will give students a practical understanding of industry-standard technology and equip them with skills needed to create and sustain their own business activities. It provides the perfect platform to encourage kids as well as adults," Kimoto said.
Anybody from any age group can walk into RSM to learn music and come out on a high note, just as its slogan says: "Better life with music".
The school offers a one-year certificate course divided into three semesters — each having 32 classes. Innovative methods ensure that even a three-year-old kid is comfortable with the notes.
RSM focuses on striking a balance between education and entertainment. "Fun is the catchword because it attracts kids to music and nurtures a lifelong interest. We will have a recap session after three classes and regular feedback will be sent to parents of 14-year-olds and below," said Jyoti Bansal, CEO of RSM (eastern region).
Classes will start from April 2 with two teachers for each instrument: drums, guitar, piano and keyboard. People can go for Western vocals too. Spread over 2,000sq ft, the school has a studio and two practice rooms.
RSM will hold a talent hunt — guitars, keyboards and vocals — on March 31 at CD Park, Salt Lake. The winners in each category will be awarded full scholarship for the first semester. Moreover, all RSM students will get free practice sessions during the first semester.
"They don't have to worry about buying musical instruments for the first four months. They can use Roland instruments for free. From the second semester, they can either bring their own instrument or pay a fee to use school equipment," RSM coordinator Raunak Agarwal said.
The school plans to hold a concert by its students at the end of the term.