A grand 70, machine that keyed in history
Read more below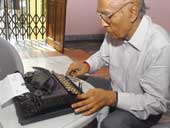 ---
Published 08.11.03, 12:00 AM
|
---
Tapan Kumar Bose with his father's historic Remington Rand portable. Picture by Aranya Sen
Dhaka, August 25, 1936. Additional Districts and Sessions Judge Pannalal Bose delivers his judgment in the historic Bhawal Sannyasi case. He rushes home and, fearing for the safety of his family, arranges safe passage to Calcutta for his 11 children, his wife and himself. Most of their possessions will follow, but with him, at all times, is a small black case…
Calcutta, November 7, 2003: Tapan Kumar Bose opens a greying wooden case covered in black leather with a loving touch. He uncovers a Remington Rand, portable, rolls in a piece of crisp paper, and starts typing…
The words that gave Ramendra Narayan Roy — one of Bengal's most wealthy zamindars, dead to the world for 12 years — back his identity, also forced the hand of judgment to flee. The second son of the Raja of Bhawal had 'died' in Darjeeling in 1909, mysteriously reappearing as a sadhu who most were convinced was "Mejo Kumar", only living male heir to the estate. His wife, however, would not acknowledge him, leading to the sensational case appearing before Bose's court in 1930.
Bose's typewriter — his only companion as he locked himself away, typing the monumental, 531-page, back-from-the-dead verdict in complete secrecy — was never far from him. It was by his side as a Calcutta Corporation official, as MLA from Sealdah, and as education minister in Bidhan Chandra Ray's cabinet.
Now, 70 years old, the Remington is still typing on, cared for and used by one of his 10 sons, Tapan, over 80 years old himself. Regular oiling is all the antique needs, while the roller is changed occasionally. "I have told my daughter and my grandson to look after this piece of our heritage," says Bose, at his Salt Lake home. Numerous requests from buyers have been turned down. "What is Rs 5,000 compared to a lifetime of memories?"
Though the ribbon now is running a little dry, it is this classic machine — no longer manufactured — that is the focus of the octogenarian's life. Daughter Sagarika pulls out the photocopy of a letter. It is from Rabindranath Tagore, one Tuesday, the year uncertain, commending Pannalal Bose for his translation of Khudito Pashan in English. He would be happy, wrote Tagore, if Bose were to translate more of his works. The Hungry Stones was published in a collection by Macmillan in 1950. The bookworm-eaten volume, bound in light blue, is all that remains of the judge's passion. That and the typewriter he wrote it on.
More mundane matters, like job applications, letters soliciting marriage and official documents, now keep those worn keys busy after the elder Bose's death in December 1956. But its legacy lives on.