A fest of flora and fauna
Read more below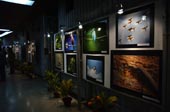 ---
---
The photography exhibition at Nandan as part of the film festival. Picture by Pabitra Das
It's a window to nature's wonders in a concrete jungle. A glimpse of tigers and elephants and even rare birds on the big screen for people who might never see them in real life.
The 4th Aranyak Wildlife Film Festival, on till January 15 at Nandan, attempts to do more than simply entertain. It strives to create awareness on the sorry state of wildlife preservation through films, photographs, slideshows and seminars.
"We are trying to reach out to people, especially students. The audio-visual medium goes a long way in creating an impact," said Suchetana Bhattacharjee, member of Aranyak and daughter of chief minister Budhhadeb Bhattacharjee.
The festival was inaugurated on Friday by Buddhadeb Bhattacharjee. Chief secretary Amit Kiran Deb, minister Bilashibala Sarish, Nandan CEO Nilanjan Chattopadhyay, festival director Ashok Dasgupta, industrialist Sanjay Budhia and writer Buddhadeb Guha were present.
"Human beings have seriously harmed nature. Unless we rectify the situation, nature will take its revenge... We are trying to work out a strategy for development without disturbing nature in Bengal," said the chief minister, adding that the state's 13 per cent forest cover needed to be increased.
The inaugural session also saw the felicitation of wildlife enthusiasts Steven R. Galster, a US citizen who is now director of WildAid's south-east Asia regional office in Bangkok, Debalay Bhattacharya, Animesh Bose and Shibani Choudhury.
"Films cannot change the situation, but they can inspire," said festival director Dasgupta. "Our aim is to make people aware of the crisis facing the animals. So many of the freshwater fishes of Bengal are so difficult to trace today. People don't realise that even not caging a bird can make a difference," explained Suchetana.
The inauguration saw the screening of Tiger Zero, a documentary on the disappearance of the striped predator in Sariska, Panna and Ranthambore. The film featured tiger expert Valmik Thapar investigating reports of poaching.
Other films at the four-day festival include Meerkat Manor, where the main protagonists are 12 inches tall, live underground and survive on worms, insects and lizards, and Happy Feet. For the first time in India, six films from the Wildscreen Festival in the UK are also being screened. The photography show has shots of tigers, rare birds, frogs, crocodiles and insects.
The past two days also featured Galster speaking on wildlife crime in India and Sunita Pradhan training the spotlight on red pandas.