A Durga Puja that brings together Indians in United Kingdom
Sankalpo's celebration breaks geographical, cultural and religious boundaries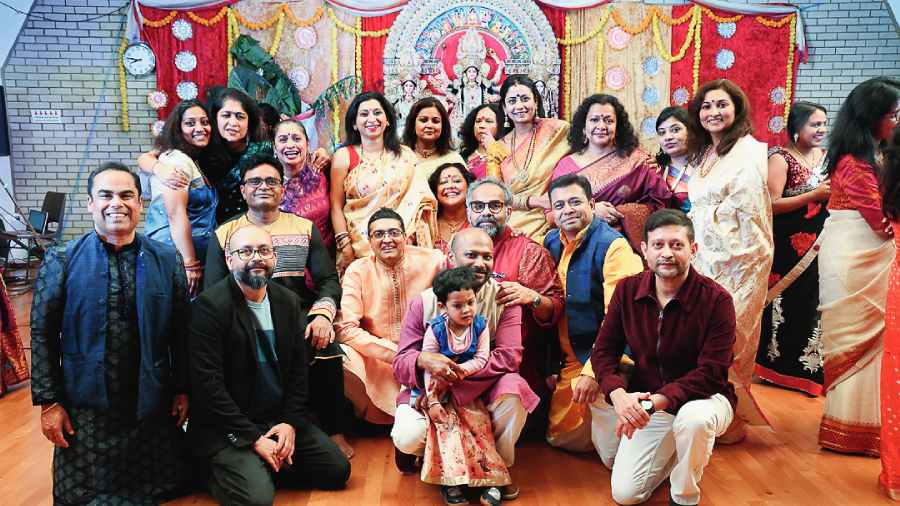 Members and volunteers of Sankalpo during Durga Puja in 2021
---
Calcutta
|
Published 06.10.22, 01:14 AM
|
---
The blooming of kaash phool in Bengal marks the arrival of autumn. In some other parts of the world, leaves begin to change colour this season. What binds these two worlds during this time of the year is Durga Puja.
Transcending borders and breaking cultural barriers, it is Durga Puja that fosters a sense of belonging and a feeling of gratitude, joy and love to Indians in Chelmsford city, around 64km from London, in Essex.
Sankalpo, a community group formed in 2020 in Chelmsford, will host their third Durga Puja between October 7 and 9.
After two years of the pandemic, Sankalpo's theme for this Puja is community integration, addressing social isolation and spreading awareness about physical and mental health and well-being.
The group unites people from across India to celebrate Durga Puja.
"For us, Durga Puja is not just about celebration but also about integrating the community that we live in," said Debalina Sengupta, a Sankalpo volunteer.
"Sankalpo's Durga Puja is all about community participation and multiculturalism. We always endeavour to showcase the diversity representing various parts of India. Our team of volunteers consists of people from all regions of India. It is this combination of various splendid cultures, this unity in diversity, that makes Sankalpo unique and beautiful," she said.
Several Durga Pujas are held in the UK but Sankalpo pledges not to celebrate only with Bengalis. The festivities bring together Indians in and around Chelmsford and Essex.
"Sankalpo's Durga Puja breaks geographical, cultural and religious boundaries. We celebrate the homecoming of Maa Durga with one and all. Everyone in the community joins hands to arrange for and organise different aspects of the puja, from preparing the bhog to sindur-khela. No matter where your roots are, you are always welcome to come and celebrate with us," said Dr Shubhobrata Mitra, another member of Sankalpo and associate professor and consultant neonatologist at University College London.
"This year Maa's bhog is being cooked by all members of the (Indian) community — not just Bengalis. A menu has been prepared by the committee and volunteers from all regions of India have come forward to cook food for Maa. The cooking will be influenced by flavours from all over India," Sengupta said.
This diversity will be celebrated not only through cooking bhog together but also through cultural programmes and a fashion show that the group will host.
"In this year's fashion show, we will be showcasing regional performances from different parts of India," she said.
Sankalpo's mission is to unite people through the celebrations.
"Sankalpo this year, as always, is obsessed with the idea of inclusiveness and caring for everyone. As Sankalpians, all our efforts are directed towards touching and enriching the lives of our community. We are consciously making efforts to push new boundaries and to strive for a progressive tomorrow through community engagement and helping everyone," said Meghdut "Bobby" Biswas, an entrepreneur and another core member of the group.
Sankalpo also pledges to improve the health of residents through various activities during Durga Puja. The Essex Wellbeing Service, under the NHS, will offer free health checks-ups for all those who will attend the event.
A respiratory van will be stationed on the site to carry out Covid-19 checks for those attending the Puja. Local police and the fire and rescue services will be present on duty and also participate in the celebrations.
Local food stalls run by Indians will provide free food to everyone coming to the Puja.
Local scout group comprising children between seven and 10 years will be told the story of Goddess Durga.
"Sankalpo is both a vision and a journey. The vision is to retain the Bengali ethos but also involve the wider community in the UK.… It's not just a puja — it is part of our life as well as for many others," said Dr Arindam Das, a consultant paediatrician.
"At Sankalpo we believe in including the community regardless of their origin, region and religion as we would want to tread in the path of Sanathan Dharma — ekam evadvitiyam brahma — there is oneness because everything emanates from the Supreme Mother Durga," said Sucharitha Revanuru, a product manager in a UK firm hailing from south India.
She added: "If we understand that all living entities are mere representations of the Supreme Mother and if we understand that everything is born from a radiating energy, from which different energies are emanated, don't you think inclusion makes it more tremendous and powerful?"