75-year-old recounts escape after Chowringhee fire
Dreadful descent through fumes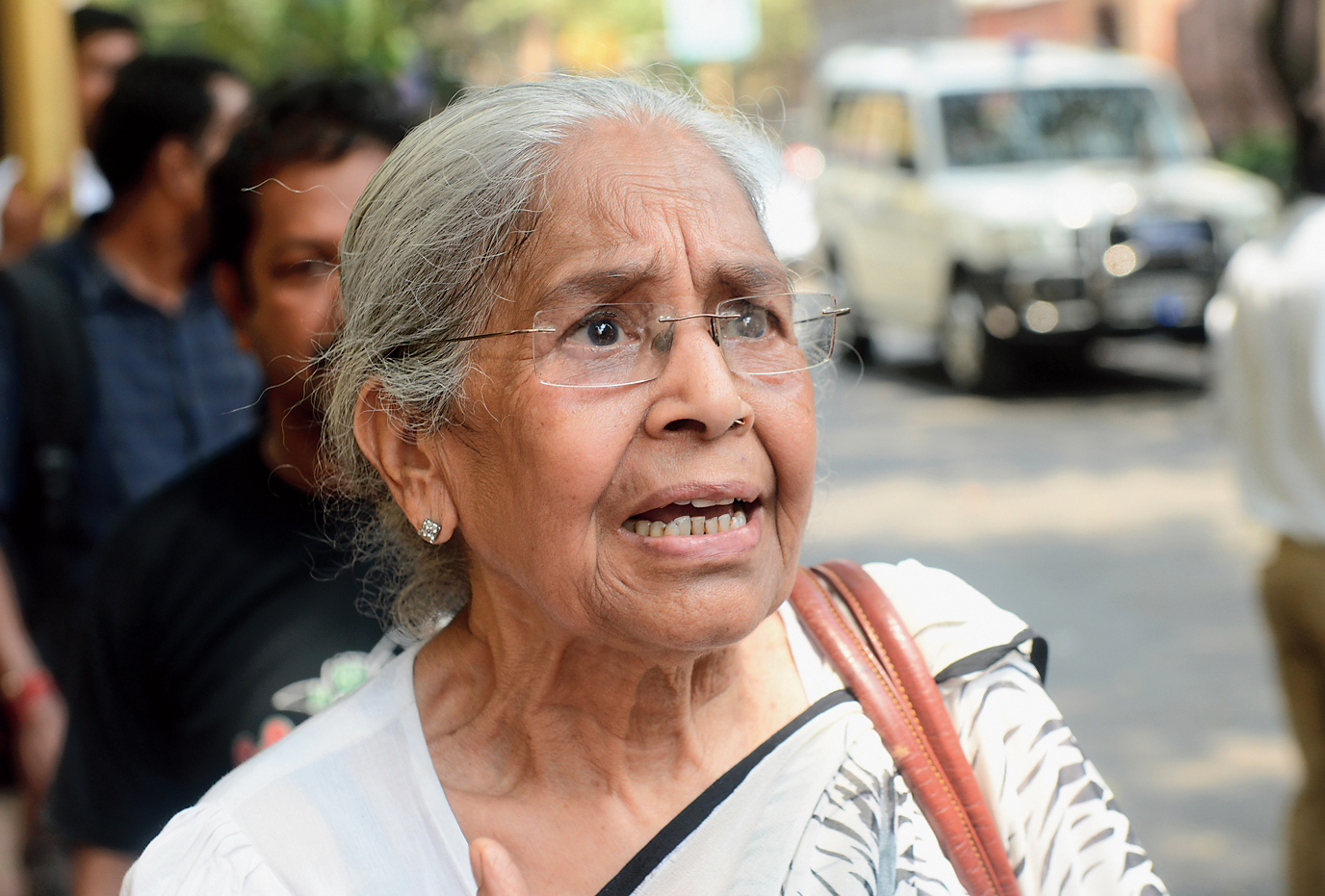 ---
|
Calcutta
|
Published 26.04.19, 10:25 PM
---
Sarla Khanna, a 75-year-old retired Hindi teacher of Gokhale Memorial Girls' School, was serving lunch to her nephew in their fourth-floor apartment on Friday morning when the building's fire alarm went off. The woman could hardly see while descending because of smoke. Khanna recounts her experience to Metro.
I was gripping the railing of the wooden staircase tightly while coming down. As nothing could be seen because of thick smoke, that was the only way to figure out where to put my next step.
I pressed a handkerchief over my nose and mouth so I did not inhale the fumes. When I came down I saw my glasses had been covered with soot. I have washed my face but my palm is still blackish.
My nephew Feroze Tandon was holding me all the while. It would have been impossible for me to evacuate had he not been there.
By the time we reached the third floor, I was exhausted and felt I could not press ahead further. But I kept moving and the smoke gradually cleared as we descended.
The fire alarm sounded around 9am, when I was serving lunch to my nephew. He leaves for work early and eats his lunch around the time I have my breakfast.
Immediately after the fire alarm sounded, we opened the main door of our apartment and saw smoke was emanating out of the fashion designing institute on the fourth floor.
We rushed back in and asked our help Reena to run downstairs. My nephew switched off the main power switch of our apartment, while I gathered the flat keys and mobile phones, which thankfully were in the same room.
Within a minute, we exited the apartment and headed down.
My nephew suggested, considering my age, that we take the elevator but I insisted that we walk down the stairs. Taking the elevator during a fire would have been risky.
I had no clue how strenuous it would be to climb down the stairs amidst smoke.
Once we reached the ground floor, a neighbour asked me to visit his house and freshen up. We will spend the night at a relative's house.
A resident of Bishop Lefroy Road for 50 years, I have seen Satyajit Ray walk by numerous times. His house is down the road. Generally, I have happy memories of this place. But today's experience will always haunt me.