73-year-old relives Partition pangs
I know what my family had undergone during Partition, I can't see it happen again: Amarendranath Chakrabarty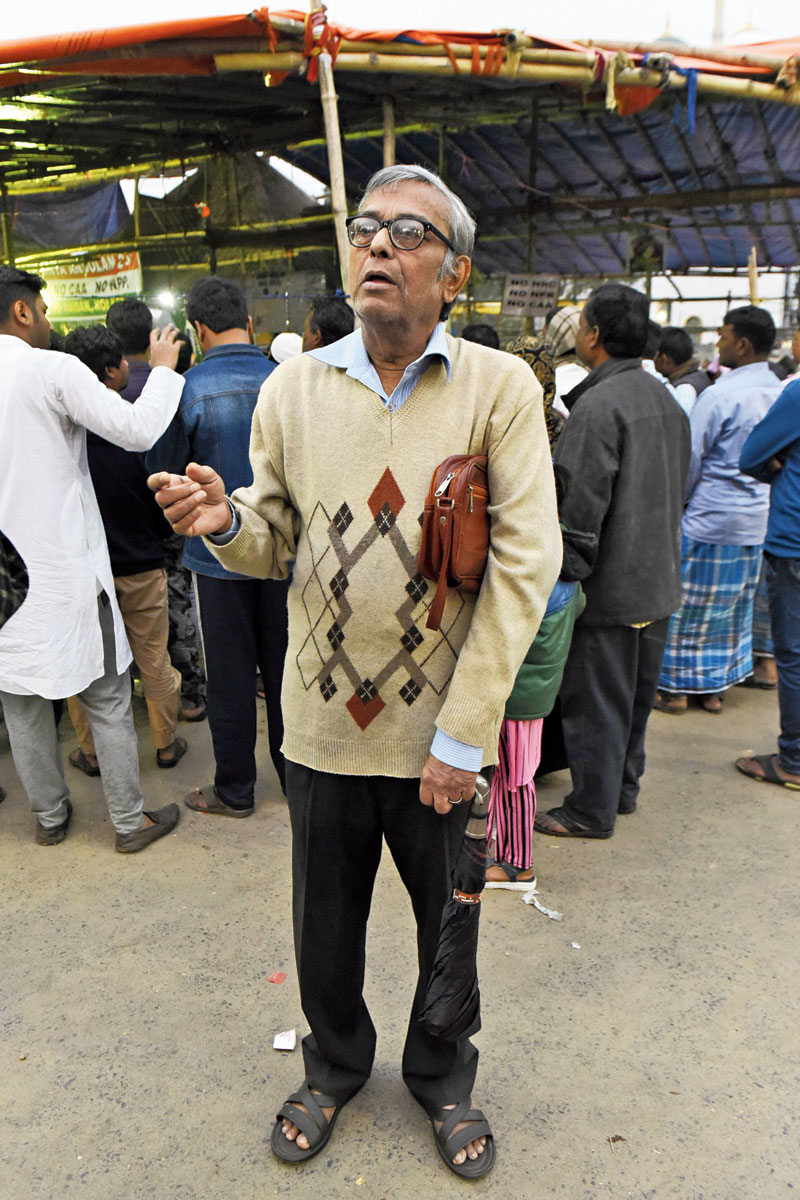 Amarendranath Chakrabarty, 73, at Park Circus Maidan on Friday evening
Pictures by Sanat Kr Sinha
---
Calcutta
|
Published 07.02.20, 08:00 PM
|
---
Amarendranath Chakrabarty was 23 days old when he crossed over to Calcutta from Dhaka in his mother's arms. The 73-year-old has been visiting Park Circus Maidan for the past few days because he can't bear to see fellow citizens go through the pangs of Partition again.
Chakrabarty grew up listening to stories about how his mother had offered him water from a roadside pond to drink while walking down from Dhaka to Calcutta.
"Our family has always been a liberal one. We grew up without discriminating against any religion, be it in Dhaka or Calcutta," said Chakrabarty, a publisher of college textbooks.
"Watching these protesters, I feel they are as much a part of India as I am as a Hindu Brahmin. I know what my family had gone through during Partition. I can't see it happen again. Enara kothay jaaben (Where will they go)?"
A group of women, many of them homemakers, have been on round-the-clock vigil at Park Circus Maidan since January 7 to protest the Citizenship (Amendment) Act (CAA) and the National Register of Citizens (NRC).
Chakrabarty stood listening on Friday evening as the protesters at Park Circus Maidan took turns to voice their concern over Union home minister Amit Shah's statement that the CAA would not be withdrawn.
Many also cited statements that the voter identity card was no longer a valid proof of citizenship. Some rued that the Centre had not learnt any lesson from the Assam experience. A few others said the voices from Park Circus should reach Parliament for the government to wake up.
Women recited poems. Men clapped. Some sang. And Chakrabarty watched.
Friday was Chakrabarty's fourth consecutive day at Park Circus Maidan. He has been leaving his home in Santoshpur every afternoon on the pretext of going to the bank and taking a taxi to Park Circus instead.
As the lights came up on the protest ground and the crowd kept swelling, Chakrabarty's eyes lit up. Chants of azaadi filled the air and the national flag fluttered.
Chakrabarty is hopeful that the protesters will triumph and the government will have to step back.
"I am a Brahmin. But are those harping on Hindutva really aware of what the texts have to say? What about
the basic tenets of non-violence, sacrifice and tolerance?" Chakrabarty asked. "Discrimination on religious lines is pushing a section to fight for survival in an India that doesn't seem to be my country." Chakrabarty doesn't remember his mobile number readily. He has it written in a small notebook that is tucked in his pocket. It has mobile numbers of his friends and family members in it.
Before leaving Park Circus Maidan on Friday evening, he added one more number to his diary — that of Ismail Ali
Zamadar, a Park Circus resident who has been turning up at the protest venue every other evening.
The sound of military boots stomping the area when Babri Masjid was demolished still gives Zamadar sleepless nights and he doesn't want to go through it all over again. The rhetoric on NRC and CAA leaves him tossing in bed.
"My parents were away in Minakhan near Basirhat (North 24-Parganas) when the mosque was pulled down and I was alone at home in Park Circus. The army was called in and they would be marching round the clock," Zamadar said. "We had to run to our uncle's place across the road every time we wanted to eat something."
A developer who feels happy to have worked with a Gujarati businessman who is "not like Modi", Zamadar said he joined the protesters in their prayers that India would finally do away with division on communal lines and he would continue to live in the Calcutta he had known for decades.