1900 traffic violation cases in one night
The crackdown figures also revealed 929 bikers were prosecuted for riding with more than two persons and 89 drivers were slapped cases for drink driving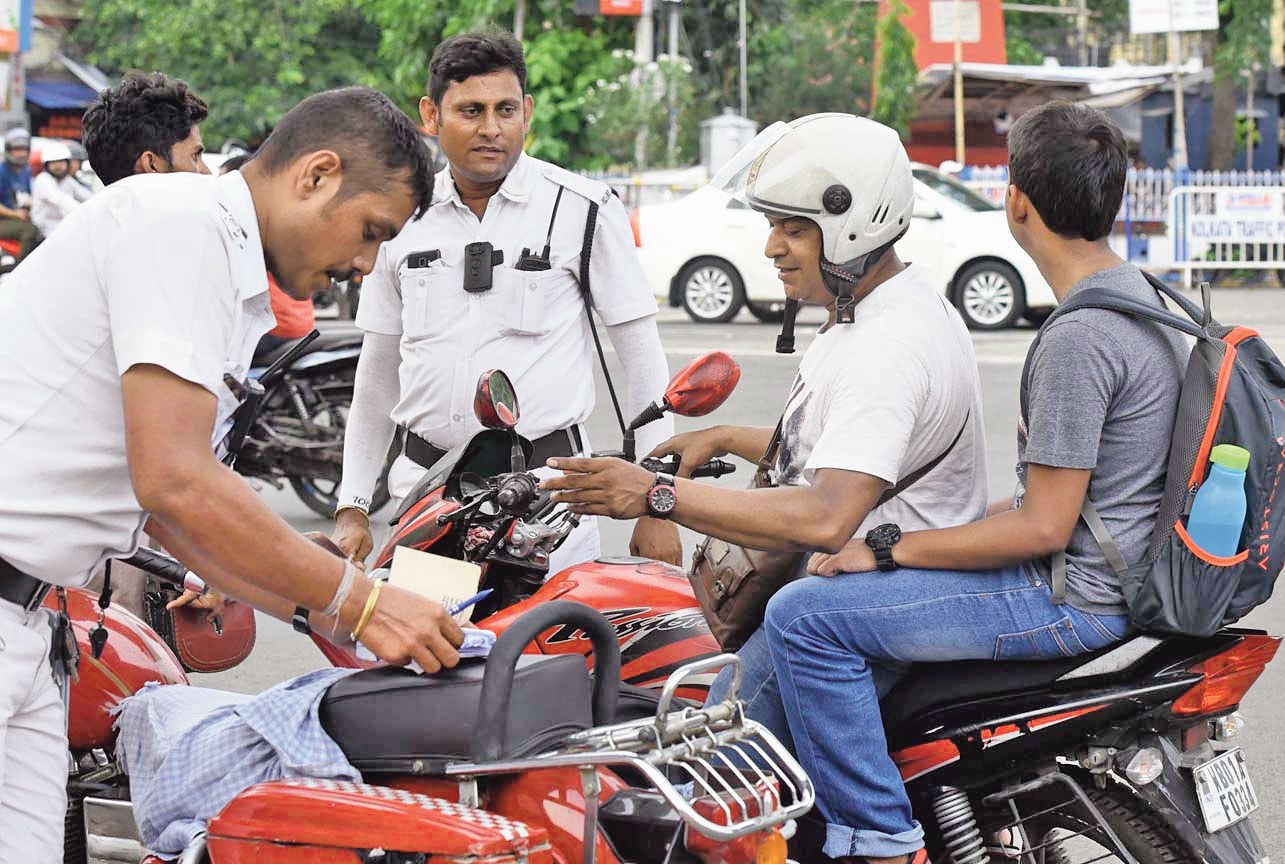 A rider being fined during a crackdown as his pillion rider was without a helmet.
Picture by Pradip Sanyal
---
Calcutta
|
Published 06.07.19, 07:29 PM
|
---
Over 1,900 cases were slapped and as many as 870 helmetless bikers prosecuted following a raid by police across Calcutta between Friday night and early hours of Saturday.
With these prosecutions, Lalbazar seeks to send out the message that there would be no let up in the drive that had started post-June 18 when a group of helmet-less bikers harassed model Ushoshi Sengupta while she was returning home late in the night.
The crackdown figures also revealed 929 bikers were prosecuted for riding with more than two persons and 89 drivers were slapped cases for drink driving. Over 70 vehicles were seized during the raid.
The numbers show that violations are still rampant across Calcutta.
On Friday night, teams of officers positioned themselves across parts of Camac Street, Park Street, Rash Behari Avenue, EM Bypass, Tollygunge Circular Road, Beleghata Main Road, Narkeldanga Main Road, Shyambazar, Behala and Patuli.
The force was deployed around guardrails that were strategically placed on the roads to force drivers slow down. Raids were even carried out in lanes and by-lanes around some of the prominent shopping malls in Calcutta.
During the checks, officers either asked drivers to take the breath-analyser test for drink driving or sought for documents relating to the vehicle, including driving license. Helmetless bikers had cases slapped on them or fined at the spot.
"At least 62 helmetless bikers were slapped with cases on Rashbehari Avenue connector," said an officer.
"Those who couldn't show relevant documents were asked to come with all papers and take back the vehicle from police stations concerned."
Over the next few weeks, the drive was scaled up with senior officers from police stations joining their traffic counterparts to organise joint raids by placing guardrails on main arteries. While the arrest count continued to rise, cops are also being left injured.
A constable of Beniapukur police station was injured during the night raid on helmet-less bikers around Park Circus on Friday night. The police said Tapan Saha was on duty at Park Circus seven point when one helmetless biker Izaz Ahmed allegedly tried to speed past him, hitting the cop on his legs. Izaz was later arrested.
On July 2 Tapan Oran, a traffic cop, was dragged by almost 100 metres when he tried to stop a helmetless biker from fleeing after hitting a pedestrian near Quest mall on Syed Amir Ali Avenue. Next day Anuj Sharma, police commissioner, met senior officers and told them that the crackdown would continue.
He however advised that officers should switch on their body-cameras every time a vehicle was stopped and officers shouldn't run trying to stop a speeding vehicle.